University of Winchester launches new Institute of Policing
15 Sep 2017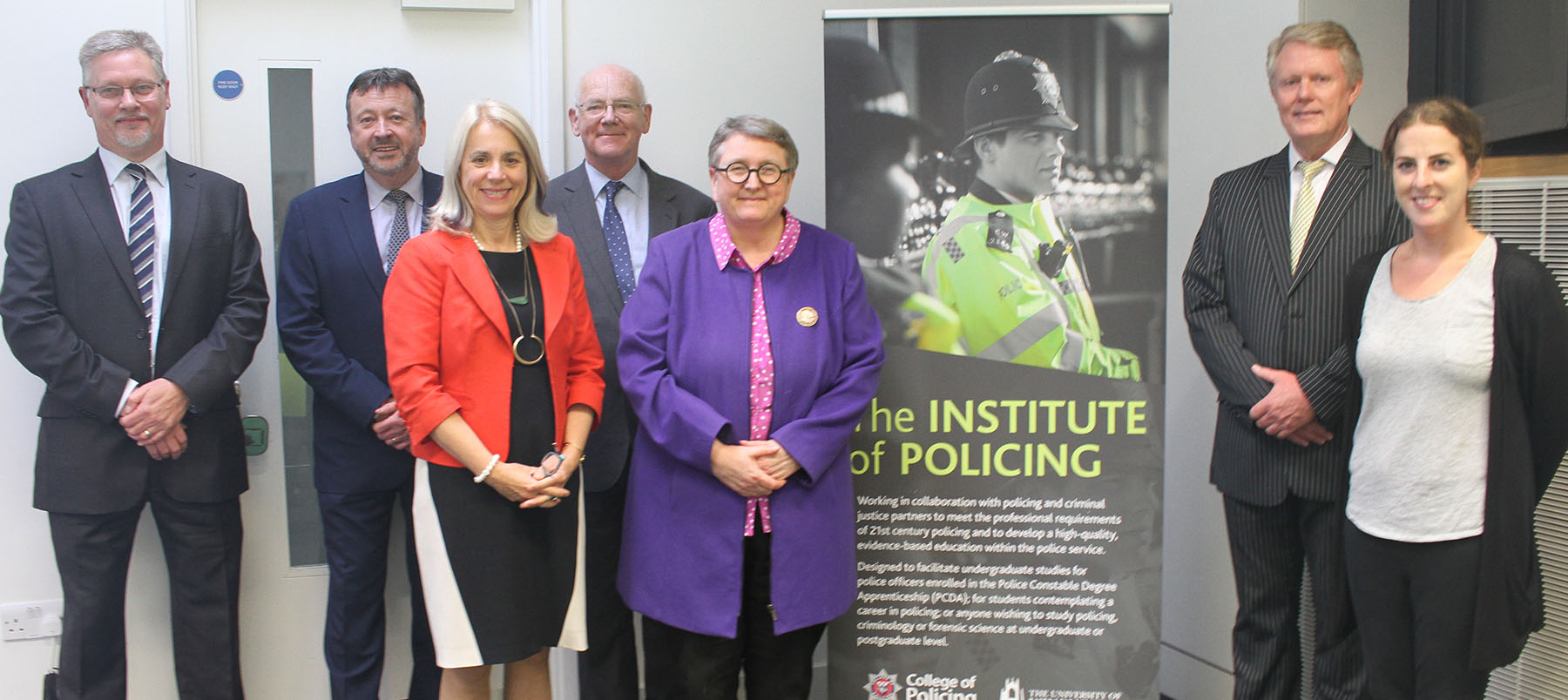 The University of Winchester has established an Institute of Policing to support the education and training of the next generation of police officers. It will offer a new degree-level apprenticeship for police constables in collaboration with various police forces, and the College of Policing, from September 2018.
The
Institute
was formally launched by Professor Joy Carter DL, Vice-Chancellor of the University of Winchester, at a special event at the University on Thursday 14 September

Professor Carter said: "The educational environment for policing in England and Wales will fundamentally change from 2020 onwards and this opens up new and exciting opportunities for universities like Winchester to influence change and ultimately impact upon the safety and security of our communities. As a values-driven university with social justice at the heart of all that we do, I'm delighted that Winchester will play a significant role in preparing students for successful careers with the police.

"The University is already a leading provider of degree apprenticeships in a range of subjects, including digital and technology management and business management and leadership, and we look forward to working with the College of Policing to develop courses which reflect the changing needs of police forces across the UK."

Reflecting the increasingly complex activities undertaken by people working in policing in the twenty-first century and the changing nature of police work, the BSc (Hons) Policing and Criminal Investigation degree programme will cover issues such as cyber security, public protection, public order and terrorism. The course will be founded on professional practice, leadership and problem-solving and embed transferable skills. The University already offers a number of undergraduate programmes in criminology, forensic studies and law.

The Director of the Institute of Policing, Johannes P Oosthuizen, a lecturer in criminology at the University and a former police officer with Dorset Police, said: "In the future, the University plans to offer additional police-related degrees and a Masters' degree apprenticeship for senior leaders to support them to gain further qualifications as their careers progress. Ongoing collaboration with regional police forces will see the Institute provide conferences and workshops around regional training needs and initiatives, as well as the sharing of resources and knowledge exchange activities."

Alan Smart, Education Partnership Development Manager at the College of Policing, who attended the Institute's launch event, said: "The College of Policing is currently developing a programme of work to design a Policing Education Qualifications Framework (PEQF), intended to support the development of policing as a profession. Many of these qualifications will be delivered through collaboration between police forces and higher education partners and we welcome any initiative which supports the delivery of the Police Constable Degree Apprenticeship and any future learning opportunities for officers."

"We work with a number of higher education establishments across Hampshire and the Isle of Wight as part of our commitment to continued learning and improvement. The Institute of Policing at the University of Winchester looks to be an exciting new facility and we look forward to working alongside students completing their studies there in the future," said Clare Simkin, Head of Organisational Learning at Hampshire Constabulary.​

The photo above shows (l to r): Alan Smart, Education Partnership Development Manager, College of Policing; Ian Etheridge, Head of Learning and Development and Governance Manager, Devon and Cornwall and Dorset Police; Professor Joy Carter, Vice-Chancellor, University of Winchester; David Munro, Police and Crime Commissioner, Surrey; Professor Elizabeth Stuart, Deputy Vice-Chancellor, University of Winchester; Johannes P Oosthuizen, Director, Institute of Policing; Emily Curtis, Research and Evaluation Office, Hampshire Constabulary.​
Back to media centre