University of Winchester marks Winchester Fashion Week 2018 with screening of critically-acclaimed fashion documentary Dior and I
5 Apr 2018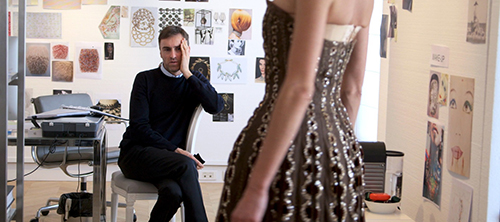 What does it take to create an haute couture collection for one of the most famous fashion houses in the world?
A behind-the-scenes look at designer Raf Simons' debut collection for Christian Dior as its new artistic director is the focus of critically-acclaimed fashion documentary Dior and I which has a special screening at the University of Winchester on Wednesday 18 April.
The free screening is part of Winchester Fashion Week (16-21 April) which the University is sponsoring again in 2018. This year's theme is luxury fashion.
"The University of Winchester is a long term supporter of Winchester Fashion Week and we are delighted that the University is sponsoring the week again this year, showing their continuing commitment to supporting local businesses and events in the city for residents and visitors to enjoy," said Paul Spencer, Projects and Operations Manager at Winchester Business Improvement District (BID) and organiser of Winchester Fashion Week.
Dior and I offers a privileged peek into the challenges Simons' faces as he aims to honour the traditions of the influential fashion house but also implement his own ideas and designs in just eight weeks. The film includes non-speaking cameo appearances by actresses Marion Cotillard, Isabelle Huppert, Jennifer Lawrence and Sharon Stone.
Dr Savithri Bartlett, a Senior Research Fellow who teaches the Cultural History of Dress and Sociological Perspectives of Fashion at the University of Winchester, is introducing the film and answering questions from the audience at the end.
"The title of the film refers to the connection between Raf Simons and the late master designer, which the film reveals through narrated segments from his 1956 memoir Christian Dior and I and there are many similarities between the two men," said Savithri Bartlett.
"However, at the heart of the film is the relationship between Raf and the veteran seamstresses and craftsmen that serve his vision - some of whom have worked for Dior for 40 years. Their relationship is very powerful and reflects inclusivity and the appreciation of others. They are all dedicated to perpetuating Dior's huge legacy and have an emotional bond with the products they craft," added Charlotte Lystor, programme leader for the University's Fashion Marketing and Media degree programme.
Dior and I will be shown in The Stripe, King Alfred Campus, University of Winchester, Sparkford Road, Winchester SO22 4NR on Wednesday 18 April 2018.
There will be an informal drinks reception at 6pm before the screening at 6.30pm. The screening will end at approximately 8pm and will be followed by a short Q&A session led by Dr Savithri Bartlett.
The film screening is free to attend but registration is essential at: www.winchester.ac.uk/diorandi
Back to media centre