University of Winchester returns to champion runners through Winchester Marafun Finish Line
23 Sep 2022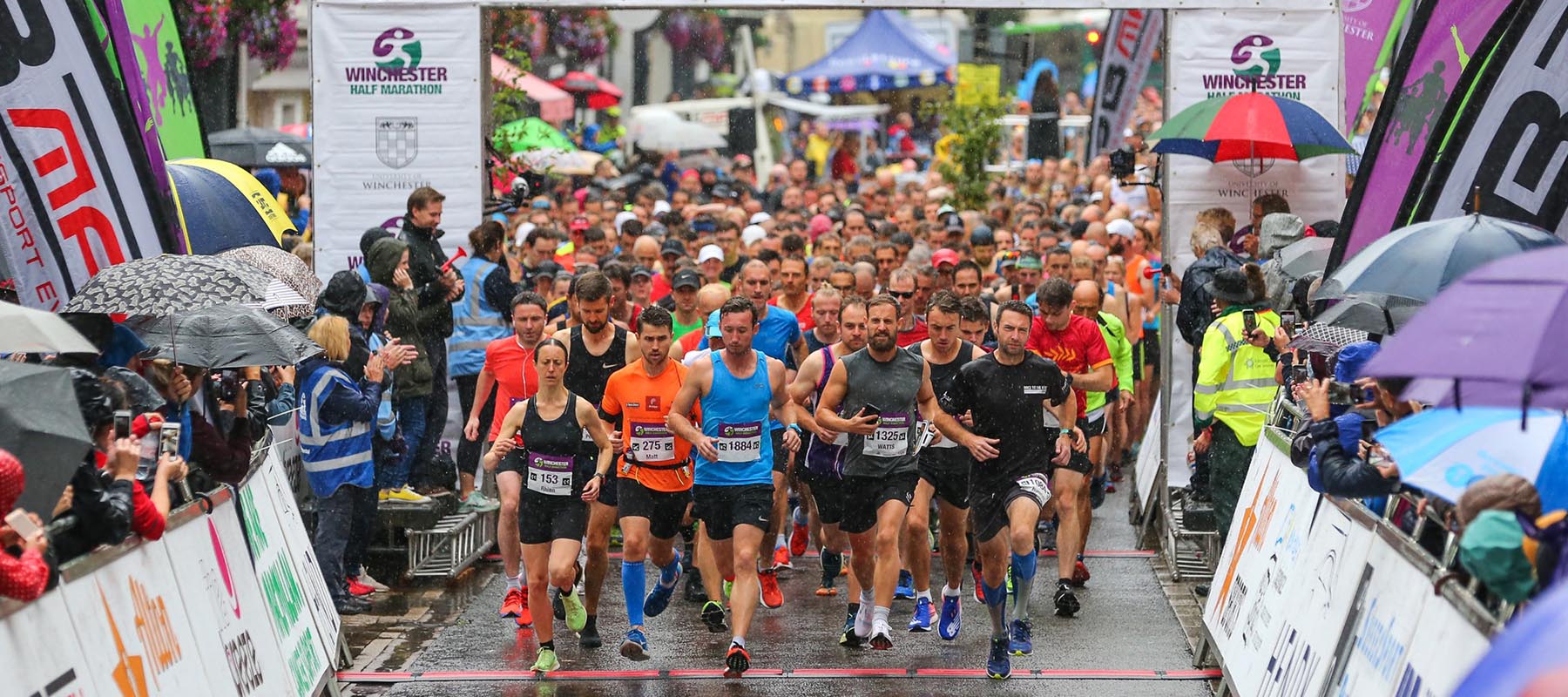 The University of Winchester returns as the Finish Line Partner of the Winchester Marafun event on Sunday 25th September.
The Winchester Marafun is set in the heart of Winchester and takes in sights of the city from the historic streets to the beautiful countryside. With two routes to choose from, runners are directed past landmarks such as the King Alfred Statue and St Catherine's Hill.
The University of Winchester has been Finish Line partner of the event since 2018 and is returning for a fourth year in 2022.
This year sees the University's Winchester Health Clinic, based at the new Sport and Leisure Park, involved in the partnership.
The Clinic provides high-quality physiotherapy assessment and treatment to the local community. Undergraduate students on the BSc (Hons) Physiotherapy degree programme work alongside Health and Care Professions Council-accredited (HCPC) Physiotherapy practitioners in the Clinic during placements as part of their studies.
Thanks to the Winchester Health Clinic, runners will be able to receive a free and well deserved post-race massage from the amazing team at the Clinic.
Chris Rees, Event Director of the Winchester Marafun commented: "We are delighted that the University of Winchester is returning to back to the event as our Finish Line Partner, and we thank the University for their ongoing support over the last three years of the event. Also a huge thank you to the Winchester Health Clinic for providing post-race massages to our runners, it will be greatly welcomed!"
Liam Newton, Winchester Health Clinic Manager, said: "Our team of Physiotherapy students and staff volunteers will be on hand to offer Marafun runners post-race recovery massages to ease tired muscles.
"It's a positive thing for our students, providing them with real-life experience and the problem solving abilities to become a competent professional physiotherapist. And it's also a wonderful opportunity for all of us to engage with the community of Winchester and further afield and to enjoy the wonderful atmosphere and experience the Marafun affords.
"Anyone interested in visiting our to access our fantastic Clinic for treatment, we offer discounted physiotherapy for just £40, bookable direct on our website www.winchesterhealthclinic.co.uk."
The University of Winchester and Winchester Health Clinic stand will be located on The Broadway within the Winchester Marafun Race Village.
Press Office | +44 (0) 1962 827678 | press@winchester.ac.uk | www.twitter.com/_UoWNews
Back to media centre