University of Winchester sends congratulations to Lady Mary Fagan
1 May 2018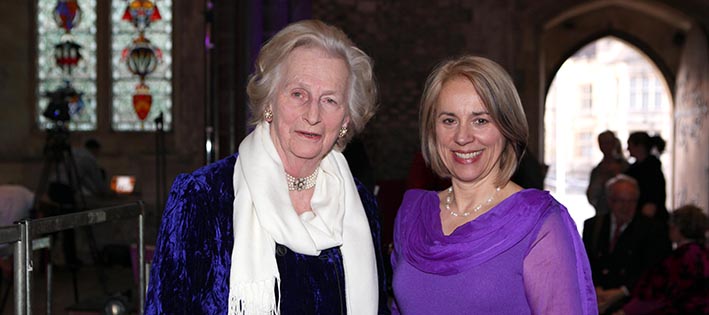 Her Majesty The Queen has appointed Dame Mary Fagan to be a Lady Companion of the Most Noble Order of the Garter.
Lady Mary was Chancellor of the University of Winchester from 2006-2014. While Lady Mary was Chancellor, the University grew and developed significantly, building on and enhancing its reputation nationally and internationally. Major new building developments, including the RIBA award-winning University Centre building, took place and opened during her time and Lady Mary developed the University's links to support educational development in the Gambia.
As Chancellor, Lady Mary oversaw nine graduation ceremonies in Winchester Cathedral, shaking the hands of thousands of graduates from the University. One of these ceremonies was particularly significant, when the University gave honorary degrees to hundreds of students who had studied at King Alfred's College.
Responding to the news, Professor Joy Carter, Vice-Chancellor of University of Winchester, said: "Lady Mary is a dear friend and supporter of this University. Under her leadership and continued support, the University of Winchester has cemented its place as a university of choice for thousands of students and has grown into an important pillar in the city and region. We are thrilled and incredibly proud that Lady Mary has received this immense and well-deserved honour."
Press Office | +44 (0) 1962 827678 | press@winchester.ac.uk
Back to media centre