University of Winchester shines an orange light for optimism
15 Nov 2017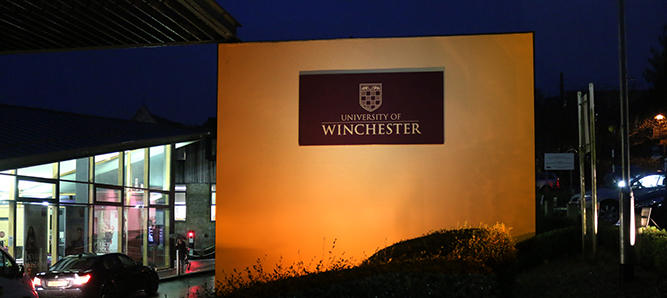 The University of Winchester is shining a light to end violence against women and girls to mark the United Nations International Day for the Elimination of Violence against Women.
On Saturday 25 November, the University's Orange for Optimism initiative sees an orange light shining on the sign at the entrance to the King Alfred Campus on Sparkford Road. The light will illuminate the sign for sixteen days of activism against gender-based violence until International Human Rights Day on Sunday 10 December.
According to a World Health Organisation report (2013) almost one-third of women worldwide who have been in a relationship say that they have experienced physical and/or sexual violence at the hands of their partner.
Brenda Sharp of the University's Institute for Theological Partnerships, which has organised the University's Orange for Optimism initiative, explained: "The twenty-fifth day of every month has been designated as 'Orange Day' by the United Nations Secretary-General's Campaign UNiTE to End Violence Against Women which was launched in 2008 as a way to raise awareness of this pervasive issue."
Orange is the colour chosen by the UNiTE campaign because, as they state: "Orange is a bright and optimistic colour and fitting to represent a future free from violence for women and girls across the world". As Brenda Sharp notes: "By shining an orange light here at the University to mark the UN campaign, we hope to help highlight gender-based violence and encourage action to end it."
Professor Joy Carter DL, Vice-Chancellor of the University of Winchester, said: "It is so important for us to take urgent action to ensure a safer future for all women and girls. As a values-led university, we take seriously our role to fight for integrity and justice in a world of compromises and prejudice. I am delighted we are joining forces with the UN and others around the world to campaign for a world free from violence against women and girls."
To coincide with Orange for Optimism, the Institute for Theological Partnerships (ITP) is hosting a talk at the University on Wednesday 6 December. Dr Nadia Aghtaie, a lecturer in gender-based violence at the University of Bristol, presents Justice Inequality and Gender-based violence: seeking justice through Sharia Councils in the UK.
Dr Aghtaie looks at the role of Sharia Councils in arbitrating cases of intimate partner violence and considers how justice is mediated through religious-based arbitration and how faith may influence personal and institutional conceptions of justice.
The talk takes place at 2pm on 6 December with tea and coffee served from 1.30pm. It is free to attend but registration is essential by emailing: Brenda.Sharp@winchester.ac.uk
This talk marks the beginning of a two-year project in ITP looking at the issue of gender-based violence, with an emphasis on the role of religion.
Back to media centre