University of Winchester student volunteers join city residents and council workers to support community projects
22 Feb 2019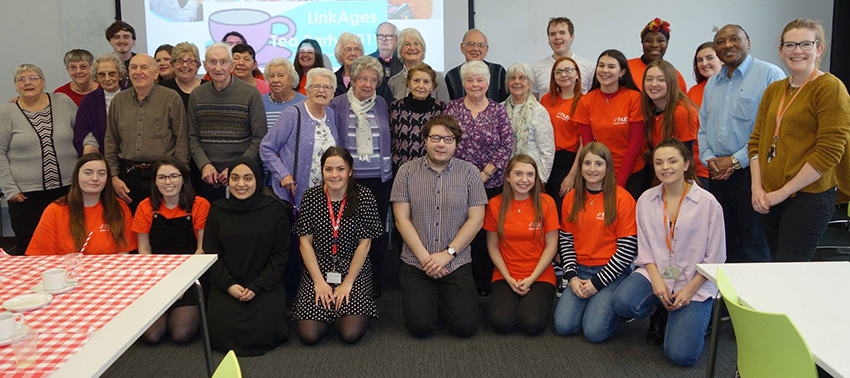 A packed week of events and activities saw student volunteers from the University of Winchester support local community projects around the city for national Student Volunteering Week 2019 (11-17 February).
A total of 66 University of Winchester students took part in a wide range of volunteering activities during the week, including a Community Action Day where students and the council teamed up to give Somers Recreation Ground in Stanmore a new lease of life.
Students from Winchester Hub painted benches and football posts, planted a total of 1000 bulbs and collected 30 sacks of rubbish alongside residents and tenant involvement and neighbourhood services officers from Winchester City Council. Organised by Winchester Hub in partnership with Winchester Student Union and the City Council, the day was supported by Osborne Property Services and Jewson.
Sim Dhanjal, Winchester Hub Manager, said: "Student Volunteering Week is a great way to showcase the fantastic work students are doing all throughout the year. This week allows us to bring together local residents and students to celebrate the community they create. Volunteering is a great way for students to develop key skills for life, and the local community to benefit from their enthusiasm, passion, and skills."
Volunteer and local resident Carmen Dolores McKenna-Sandin said: "It felt amazing getting involved in the local community, helping make the recreation ground look nicer through painting benches, football posts and planting flowers. It was lots of fun and I would highly recommend it to anyone thinking about volunteering."
Portfolio Holder for Housing and city council Leader, Cllr Caroline Horrill said: "This is a fantastic initiative which has made a real difference to one of the city's much-loved areas that is well-used by its community. This showcases the togetherness in Winchester and how the council and University can come together with local residents for the benefit of the area."
Professor Joy Carter CBE, DL, Vice-Chancellor of the University of Winchester, said: "Here at Winchester, we actively encourage and support our students to make the world a better place and volunteering is a fantastic way for students to do this. They engage with and make a positive contribution to the local community in which they live, while at the same time gaining vital skills and experience which will stand them in good stead once they graduate. Student Volunteering Week is a wonderful opportunity to celebrate volunteering and to encourage more students to get involved."
Other student volunteering activities during the week included a LinkAges tea party, featuring live music and a quiz, hosted by students at the University's King Alfred Quarter for residents of care homes and sheltered housing in the city. The LinkAges project tackles social isolation by connecting students with older people in care homes.
Winchester Student Union organised a Big Tidy Up, with a team of student volunteers picking up litter around Stanmore with local residents. The week ended with the University's first-ever Volunteering and Community Champion Awards to celebrate and recognise the time and effort dedicated by Winchester student and staff volunteers. Around 68 nominations were made recognising some 43 individuals and groups involved in voluntary work.
Events were organised by students and staff from Winchester Hub - the local branch of the national student social action charity Student Hubs, which offers practical volunteering, skilled placements and incubation - in partnership with Winchester Student Union and the University's Careers Volunteering Team. The Community Action Day was organised in partnership with Winchester City Council.
Press Office | +44 (0) 1962 827678 | press@winchester.ac.uk | www.twitter.com/_UoWNews
Back to media centre