University of Winchester student wins military leadership award
29 Apr 2019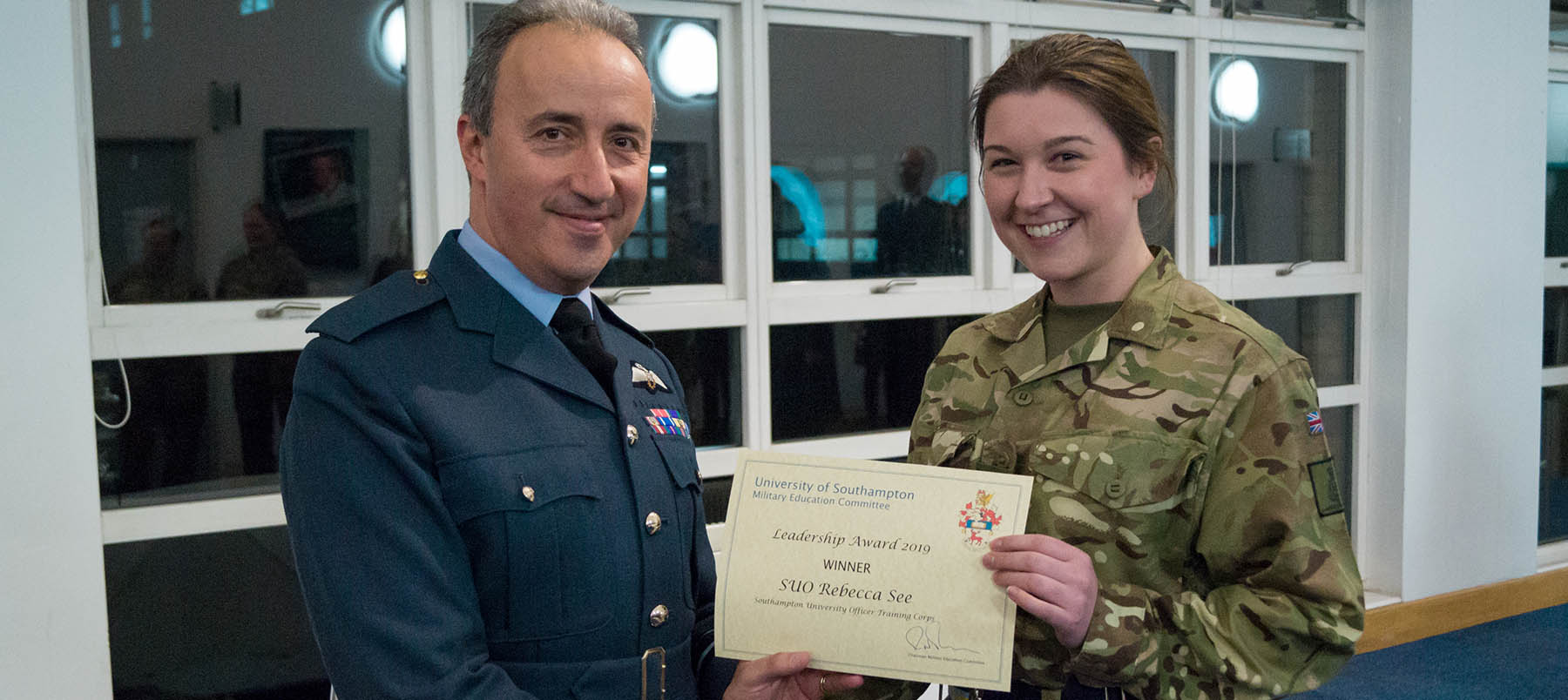 An officer cadet studying at the University of Winchester has been recognised with the top award for military leadership in the South.
Third year BA (Hons) Forensic Studies student and Senior Under Officer Rebecca See was awarded the Southampton University Military Education Committee (MEC) Leadership Award for her dedication to the Southampton University Officers Training Corp (SUOTC).
Rebecca joined the Officer Training Corp in 2016 after being inspired to sign up at Winchester Student Union's Freshers' Fayre. Since joining, she has successfully balanced her military training with her academic studies, receiving a scholarship through the Winchester Scholars Scheme for high academic achievement in her first year.
In September 2018, Rebecca was selected by the Officer Training Corp to jointly hold the top position of Senior Under Officer (SUO) alongside another Winchester student. In this role, SUO See oversees the SUOTC, acting as a mentor for officer cadets, enforcing discipline and working with staff to ensure training is effectively delivered.
Since taking up the position, SUO See has had a hugely positive influence on the unit she leads. Driven by her belief that informal social events benefit regimental life, she organised themed nights within the Officers Mess, such as Oktoberfest and Halloween, to allow officers to socialise in a relaxed environment and raise money for charity. Her largest event, the Officer Cadet Christmas Ball, was attended by over 100 people. She also introduced team-based sport evenings and career development workshops to the unit as a means to improve officer cadet physical fitness and support their personal development. All these actions, alongside a personal dedication to instilling confidence in others, demonstrated SUO See's passion for creating an environment where officer cadets grow and succeed.
SUO See said: "I was honoured to receive this award, especially given the competition as there were some fantastic leaders nominated. The SUOTC is not your average society. I've been skiing and mountaineering, I've windsurfed and played rugby. I have constantly achieved things that I didn't think were possible. But above all else, I've grown in confidence, made friends for life and developed leadership skills, gaining a recognised qualification in the process! I couldn't think of a better way to spend my three years at university."
"Huge congratulations to SUO See for this fantastic achievement," said Colette Fletcher, Assistant Vice-Chancellor at the University of Winchester. "We are delighted that Winchester is so well represented in the Southampton University Officer Training Corp and are proud to support individuals like SUO See as they undertake military training alongside their studies. SUO See's dedication and passion is a credit to the University and she clearly has a bright future ahead of her."
Alongside her studies and military activities, SUO See has maintained a career in Human Resources to fund her time at University. Over the last eighteen months, she has also trained and qualified as a voluntary Special Constable with Hampshire Constabulary, which sees her work with regular officers to police the Winchester community. Her skill at balancing multiple responsibilities was one of the reasons for SUO See being selected for the award.
The award was presented at the MEC Annual Lecture by Air Vice Marshal (AVM) Christopher Luck MBE. In addition to receiving a certificate and £150 prize, AVM Luck invited SUO See to sit in on Command Course classes at the Defence Academy. The visit gave SUO See wider experience of the military and showed her what studying the leadership course would entail.
Inspired by her time in the Officer Training Corp, SUO See is now considering pursuing a career within the army after completing her degree.
The Southampton University Military Education Committee Leadership award recognises an Officer Cadet studying a full-time undergraduate degree who has demonstrated outstanding leadership and academic attainment, a personal commitment that enhances their unit and who has acted as an ambassador for military core values and ethos.
Just four officer cadets are shortlisted for the award, with Commanding Officers putting forward a single candidate from the University of Southampton's four Service Units – Officer Training Corp; University Royal Naval Unit; University Air Squadron and Thunderer Squadron, Defence Technical Undergraduate Scheme. The winner was decided by the University of Southampton in consultation with the MEC chair, commanding officers and other MEC members.
Press Office | +44 (0) 1962 827678 | press@winchester.ac.uk | www.twitter.com/_UoWNews
Back to media centre