University of Winchester volunteers celebrated for outstanding contributions at awards ceremony
12 Apr 2022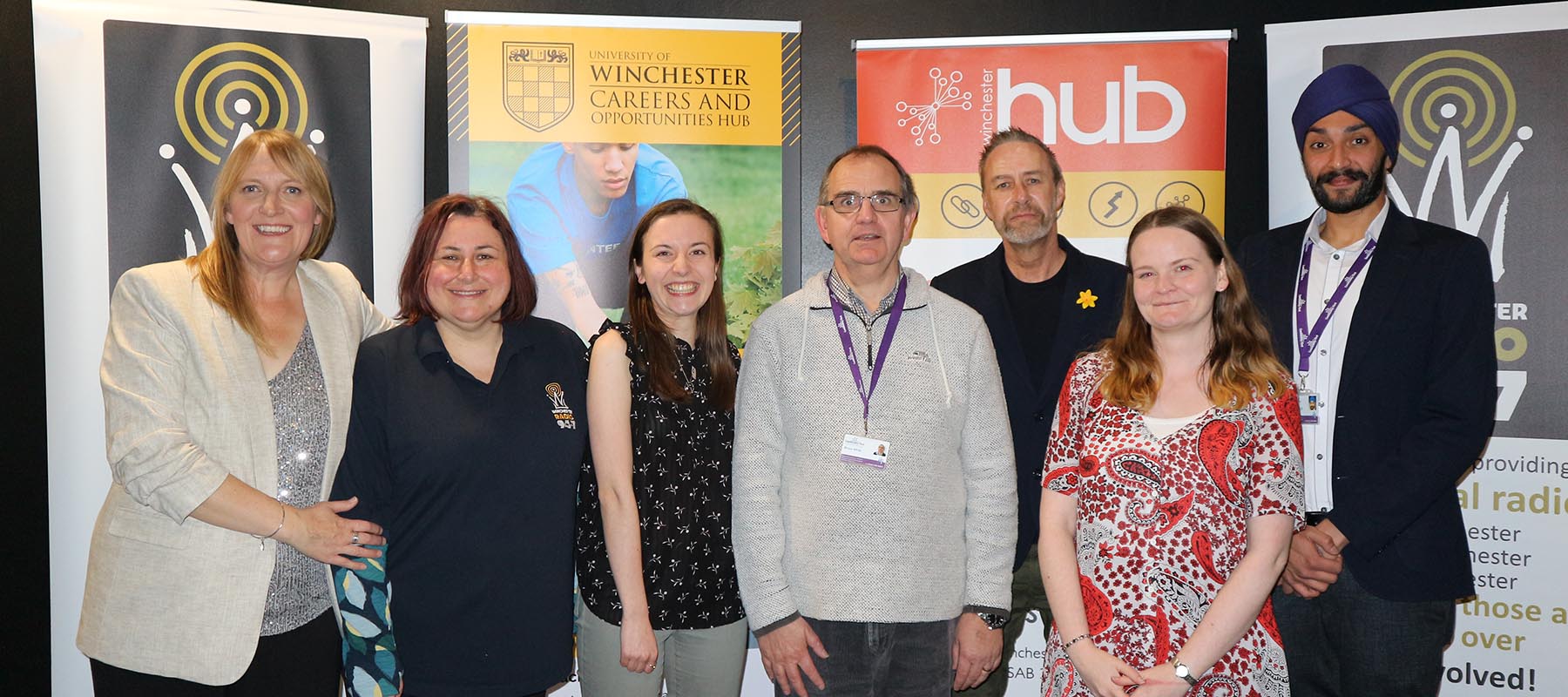 Student and staff volunteers from the University of Winchester, who work with organisations and people across the city and county, have been honoured at a special awards ceremony.
The University of Winchester Volunteering and Community Champion Awards 2022 celebrated the positive impact made by students and staff in the local community through their volunteering activities. With many more people needing support as the pandemic continues, this has been especially important this year.
Ten Champions were recognised for their volunteering and social action in the community chosen from 52 nominees.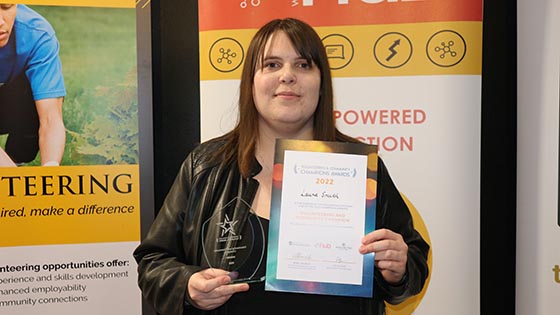 Laura Smith (above) was named Volunteering and Community Champion of the Year for her commitment, energy and drive as a volunteer with the Winchester Student Action for Refugees group, engaging others with volunteering and also for her work with University and community groups to support refugees.
Nina Lazarski, University Volunteering and Community Projects Officer, said: "The commitment, dedication and enthusiasm of our students and staff who volunteer is truly inspiring and we are very proud of them all. Each and every one of them has made a real difference and these awards are an opportunity to recognise their achievements and the impact they have made in the community, both locally and nationally."
Liz Alcock, Manager of the Winchester Hub, said: "Volunteering provides essential support to local causes within the community. It also offers an opportunity for students to learn about social causes and develop skills that will lead to them being active citizens for life. I hope these Awards will encourage others in the University and beyond to sign up to volunteer."
The full list of University of Winchester Volunteering and Community Champions 2022 is:
Student Community Volunteering Champion
Charlie Holland (BSc (Hons) Digital Media Developments: 3D Environment (Game and Heritage)) for his volunteering with Simon Says child bereavement support charity and his support for the young people who engage with their activities.
Staff Community Volunteering Champion
Ian Tonks (University Campus Manager) for his volunteering with and commitment to the RNLI based on Hayling Island
Student Change Agent Champion
Laura Smith (BA (Hons) Development, Religion and Peacebuilding) for her volunteering and drive with the Winchester Student Action for Refugees group, engaging others with volunteering.
Staff Change Agent Champion
Lydia Ferguson (Winchester Hub Programmes Manager) for her role supporting students who volunteer with the Winchester Hub committee.
Community Partner Champion
Emily Pierce-Goldberg (Volunteer Co-ordinator with Tudor House Museum, Southampton City Council Arts and Heritage department) for her commitment, engagement and support of student volunteers and university volunteering activities.
Hidden Gems Champion
Gregory Tyler (BA (Hons) Theology) for his volunteering with vulnerable community members, via St Vincent de Paul's group at St Peter's Catholic church.
Environmental Volunteering Champion
Rhea Warner (BA (Hons) Liberal Arts) (pictured receving her award below) for her volunteering with the Sustainability Society and connected activities, including Hedgehog Friendly Campus, Holm Lodge allotments and social change events.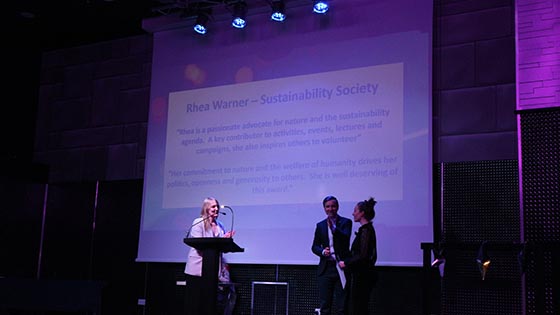 Creative Volunteering Champion
Natasha Moore (BA (Hons) Health and Wellbeing) for her volunteering with Winchester Hub's Woolly Matters project, creating and donating items to support homeless people in Winchester.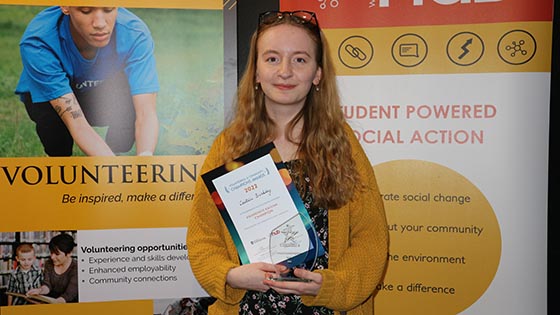 Awareness Raising Champion
Caitlin Brinkley (BSc (Hons) Psychology) (above) for her volunteering to raise awareness of environmental / social issues, including Black History Month, LGBT+ via her comms co-ordinator role with Winchester Hub.
Social justice is one of the University's core values and students and staff are actively encouraged to volunteer in the local community in which they live and work. Opportunities are available via the University's Employer Supported Volunteering scheme, Winchester Hub and the Careers Volunteering Service.
The judging and delivery of the University of Winchester Volunteering and Community Champion Awards were supported by a community judging panel of Anna O'Brien (Chair, Winchester Radio), Bruce White (Community Development Officer, Community First), and Jagat Singh (Community Service Co-ordinator, Community First).
All photos: Sophie Brennan Photography.
Press Office | +44 (0) 1962 827678 | press@winchester.ac.uk | www.twitter.com/_UoWNews
Back to media centre