University of Winchester Writers' Festival announces 2018 programme
9 Mar 2018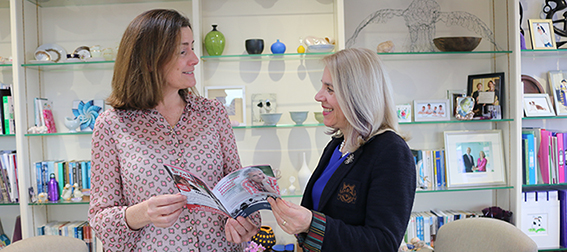 Bookings are now open for the University of Winchester Writers' Festival with the announcement of the 2018 programme of workshops, talks, readings and one-to-one meetings for this year's three-day event on 15-17 June.
Now in its 38th year, the Festival is open to emerging creative writers working in all genres and at all levels of experience. This year's event offers 17 intensive all-day courses and workshops and more than 30 talks, panels and presentations by authors, scriptwriters, bloggers and poets. One-to-one meetings with literary agents, commissioning editors and other industry specialists are also on offer.
Acclaimed novelist Patrick Gale is the Festival keynote speaker on Saturday 16 June, discussing his writing life, as well as the themes, settings and characters that distinguish his work. Patrick's recent works include A Perfectly Good Man, The Whole Day Through - set in Winchester - and the Costa-nominated A Place called Winter.
"The Winchester Writers' Festival is renowned for bringing emerging writers together for inspiration, support and learning," said Judith Heneghan, Festival Director and Senior Lecturer in Creative Writing at the University.
"It's a fantastic opportunity for writers to improve their craft, develop new work, learn more about the publishing process and network with each other and with industry experts, such as literary agents and commissioning editors."
Festival highlights include:
A short talk during the Festival dinner on Saturday night by prize-winning children's author Helen Dennis, who met her first editor at the Winchester Writers' Festival before going on to huge success with her series Rivers of Ink and Secret Breakers. TV rights for Secret Breakers have just been acquired by Sparticles Productions
Winchester novelist Claire Fuller, winner of the Desmond Elliott Prize for Fiction for her debut novel Our Endless Numbered Days, gives an all-day workshop on Sunday 17 June on Writing Short Stories
An open mic warm-up workshop with poet, performer and University of Winchester lecturer in poetry and creative writing Antosh Wojcik to help quell pre-performance nerves before the Friday night open mic readings
Tami Haaland, former Poet Laureate of Montana, USA, and a Professor at Montana State University, gives a one-day workshop on Sunday 17 June exploring how to use memory and experience as resources to create lively and imaginative poems.
This year sees the launch of a new scholarship for an under-represented writer of children's fiction sponsored by the Lindsay Literary Agency, which is based in Guildford. Open to writers of young adult fiction of any age, from an under-represented background (including but not limited to LGBTQIA, BAME and people with disabilities), the scholarship will cover the cost of three days at the Festival and includes access to all workshops and talks, four one-to-one appointments with industry experts, all meals, accommodation and travel.
There are also ten Festival Scholarship places available to young writers aged 18-25 from across the UK enabling them to attend for free, participate in workshops and make contacts with industry professionals.
The University of Winchester Writers' Festival takes place from Friday 15 to Sunday 17 June. Attendees may book to attend one, two or all three days.
Visit www.writersfestival.co.uk for the full Festival programme and to book places. Early booking is recommended to secure first choice.
Tickets are also available to attend Patrick Gale's keynote address only at 9-10am on Saturday 16 June in the Stripe Auditorium, University of Winchester, Sparkford Road, Winchester, Hampshire SO22 4NR.
Further information about the Festival Scholarship Scheme and writing competitions is available at www.writersfestival.co.uk
Pictured above: Judith Heneghan, Festival Director, talks through the Festival programme with University Vice-Chancellor, Professor Joy Carter CBE.
Press Office | +44 (0) 1962 827678 | press@winchester.ac.uk
Back to media centre