"When I joined Business in the Community, I didn't want random acts of responsible business." Five minutes with Amanda Mackenzie OBE
17 Nov 2017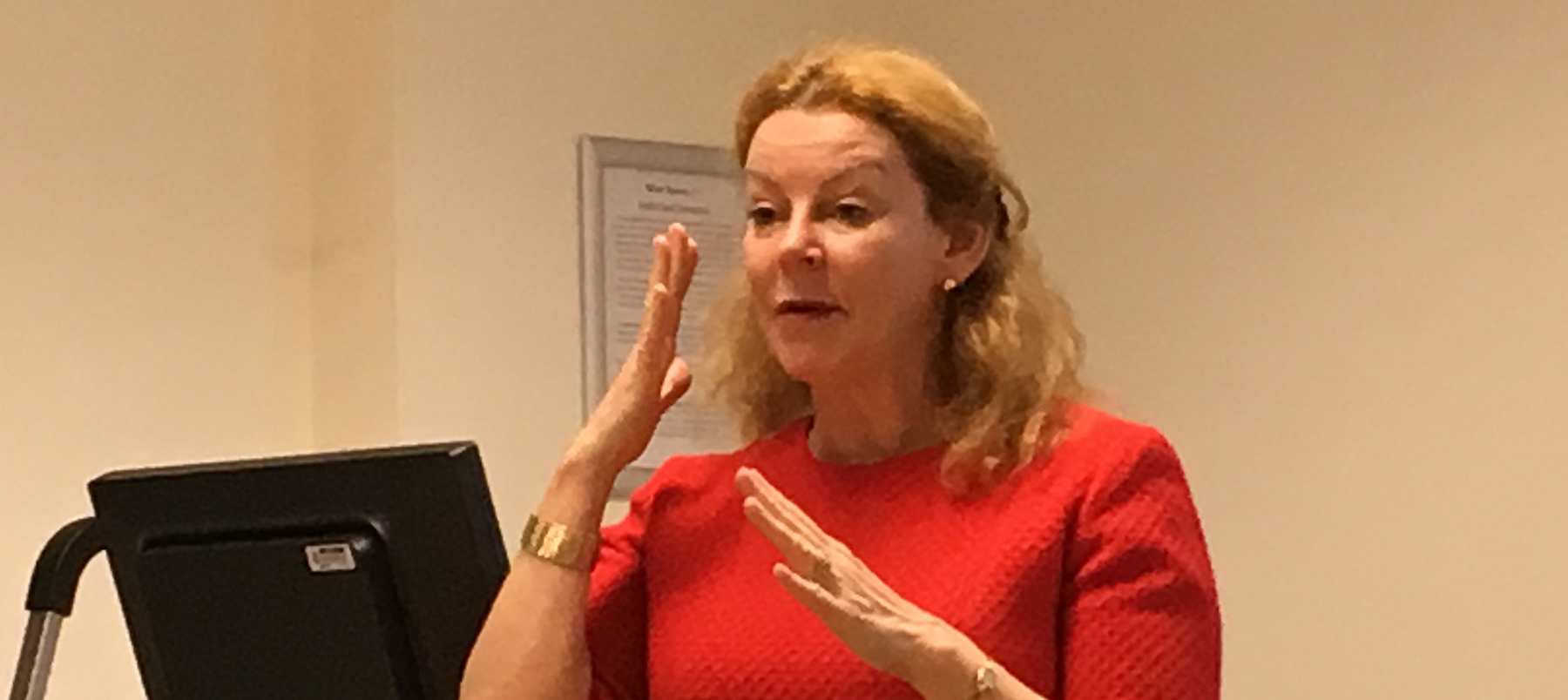 "When I joined Business in the Community, I didn't want random acts of responsible business." Five minutes with Amanda Mackenzie OBE
Amanda Mackenzie is the Chief Executive of Business in the Community.
Before starting at The Prince's Responsible Business Network, Amanda sat on Aviva's Group Executive, having been recruited to change the name from Norwich Union. She spent 18 months on secondment to film director and Comic Relief founder Richard Curtis and team as Executive Advisor/Chair for Project Everyone, launching The UN's Global Goals for Sustainable Development. She received an OBE in the New Year's honours 2014.
Before speaking at Winchester Business School, Amanda spoke to us about how responsible business means healthy communities and why collective strength is more effective than random acts of responsible business.
'Responsible business' has become something of a watchword recently: but what is it exactly and how does it differ from ideas of business that dominated the 80s?
What companies probably thought when Corporate Social Responsibility was emerging was: "How can we give back? We'll make lots of profit and perhaps feel a bit guilty about that." Then they gave some of that profit back.
Things have changed: leaders realise that if they genuinely want to manage their business and leave it in a better state for the generation of leaders that follows, they have to be more intrinsic. That means thinking about the entire business, how it operates and how it exists to create healthy communities in every sense.
The components of that are everything from the supply chain to designing packaging. It's about great employment practices, including employing people that are hard to employ, be they ex-offenders or ex-military. It's also about supporting issues like mental health. Like the Eye of Sauron in Lord of the Rings, there is focus on a particular issue and business works out what it ought to be doing about it. What is impressive about our President the Prince of Wales is that almost 40 years ago he realised that we will only create healthy communities if we put business at their heart.
Tell us about Business in the Community and how it is tackling some of the key issues in society through its values and programmes
We are a membership organisation: our members include about 70 of the FTSE 100, many of the biggest companies in the UK and about half of the FTSE 350.
We work with them and others to help them excel at responsible business, because if they are genuinely responsible, business as a whole will improve across the country and that will help all the communities around it.
When I joined Business in the Community, I didn't want random acts of responsible business. What we need is compound impact and our incredible membership base gives us collective strength when it comes together.
We're corralling efforts into cities and plan to trial innovative projects in Blackpool, Wisbech and Redcar that are not in a great place economically. The strength of business can help tackle some of those problems, working with local authorities, police and the third sector. Effectively it's community-led regeneration.
You recently commented that BITC needs to be like the 'TripAdvisor' of responsible business: what did you mean by that?
The trouble with any analogy is the minute you torture it, it probably falls apart and it's probably right to! I don't want to be in the business of rating the companies or partners that we work with. We want to be the go-to place for responsible business, with a framework that enables us to work with companies or to know who the very best companies are in terms of responsible business.
There's that wonderful line from an old Flash advert: We do the hard work so you don't have to. We should be the place for responsible business, it's as simple as that. I think people would say that we already are but, in a way, success for us is that we almost make ourselves redundant a programme at a time and then need to invent the next programme and the next one.
Earlier this year at Davos, there was a call for more responsive and responsible leadership – what does responsible leadership mean for you personally?
I think it means that I should make decisions that my children would be proud of and would be proud to inherit.
You were a member of the Davies review into the representation of women on boards. We continue to see low numbers of women represented: what needs to be done to change this?

I think it has moved a bit. In 2011 it was 12.5 per cent of FTSE boards were women and in 2017 it's 28 per cent.
It's a bit like keeping fit: sadly you can't let up on it because until it's genuinely culturally worked though and it's part of a whole generational shift - which frankly in five years it's simply not going to be - we just have to all keep after it.
Head hunters need to feel very uncomfortable if they don't put through balanced shortlists and that includes BAME and age too. It needs to be genuinely diverse, which in theory should also make it neuro diverse as well because ultimately that's what you're wanting. No-one wants me because I'm a woman, they want me because I think differently about things.
What might women in business learn from your career?
I'm not sure! What I learned from Project Everyone is that determination and passion can get you a very long way. Doing a job that you're really passionate about somehow provides a natural hammer to get through that glass ceiling. So I would say: always aim to do things you're very passionate about, don't forsake yourself.
I think that managing your energy and managing your confidence will both profoundly help you get where you want to be. But what women tend to do is work harder and be conscientious. But sometimes if you try too hard, it doesn't actually help you achieve the goal. It's like when you're practising the piano and it's not going right, just walk away and come back later.
Back to media centre