Winchester Basics Bank bags donations from University of Winchester students
24 Aug 2021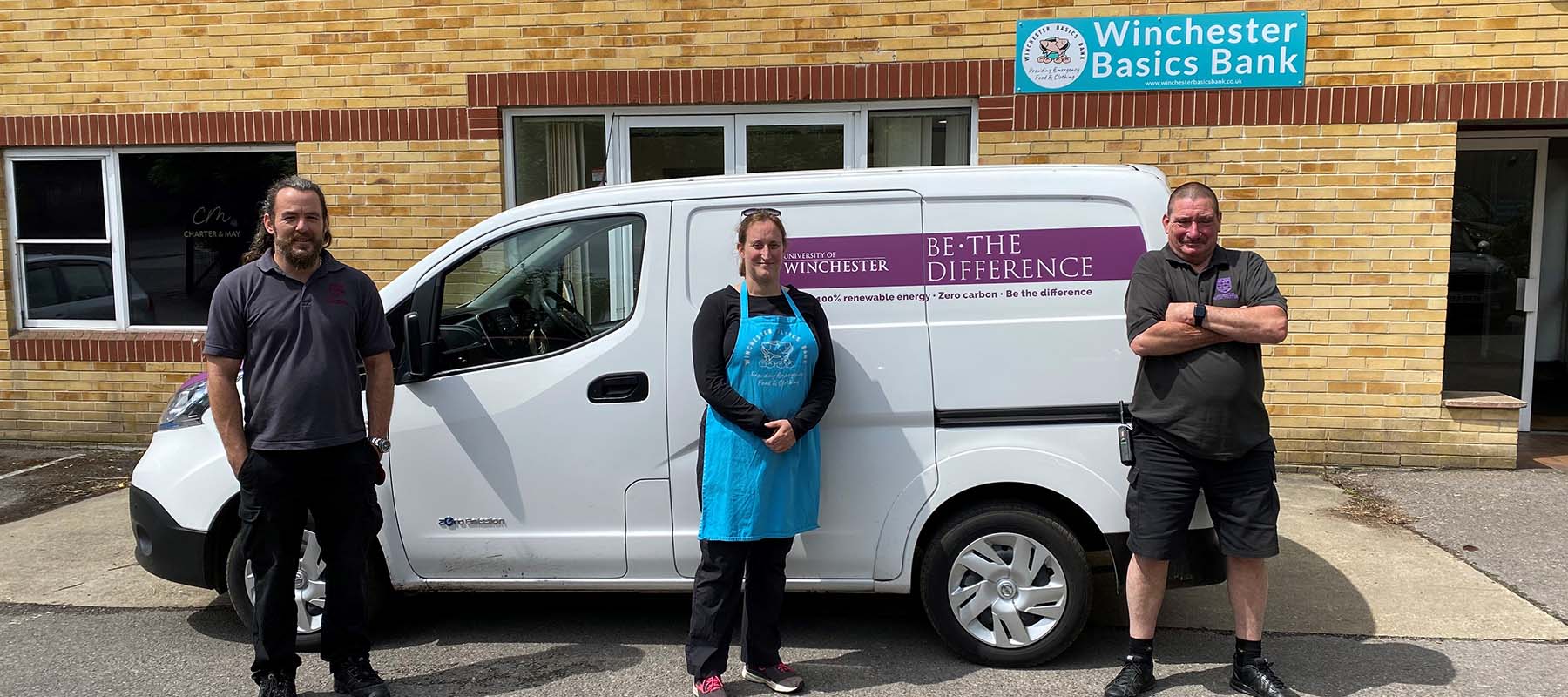 The University of Winchester and Winchester Basics Bank have joined forces to ensure that household items, clothes and unopened canned food no longer needed by students heading home for the summer are given a second life, thanks to the University's Bag It Up initiative.
£1000 of unopened food and 171 bags of clothes, household items and kitchen equipment, weighing roughly 1.2 tonnes, were donated by students living in University on-site accommodation to help people in need in the city. Two van loads were dropped off to Winchester Basics Bank by University Portering staff.
University Environmental and Sustainability Manager Anna Wyse said: "Sustainability is firmly at the top of the University's agenda and we are committed to recycling and reusing as many of these items as possible. This year we were so pleased to have saved 1.2 tonnes of items from entering the waste stream.
"Our Bag It Up initiative has been running for several years. It diverts reusable goods from our waste streams, saving money and reducing our carbon emissions. It is fantastic that we can partner with local charities to provide donations that really help their work and support people in need."
Winchester Basics Bank provides emergency food and clothing and is available for all people in the city and surrounding area. It is a charity founded and supported by local churches and aided by caring organisations and Winchester City Council.
Operations Manager Sam Watts said: "All the donated items will be of great help to a number of individuals and families, whether homeless, living in temporary accommodation or people facing low income or other emergency situations. The pandemic has meant more families than usual are finding things difficult, and it is really great to be able to help. It's been great to work with the University to rehouse items."
The Bag it Up initiative benefits a number of charities in the city as well as Winchester Basics Bank, including Trinity Winchester and Winchester Churches Nightshelter.
Photo above shows (left to right): Kevin Vaughan, Sam Watts and Paul Stickland.
Press Office | +44 (0)1962 827678 | press@winchester.ac.uk | www.twitter.com/_UoWNews
Back to media centre