Winchester gains University of Sanctuary reaccreditation for support of asylum seekers and refugees
8 Dec 2022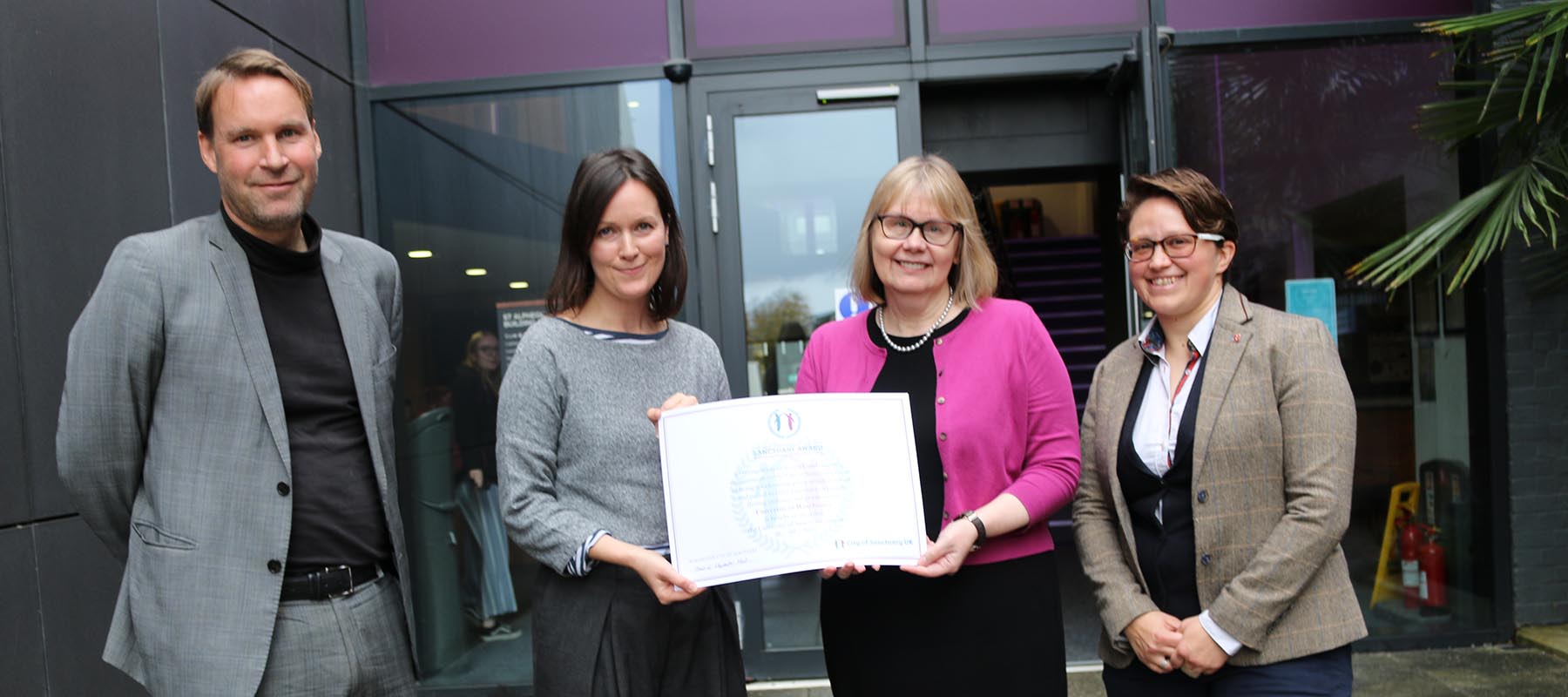 The University of Winchester has been reaccredited as a University of Sanctuary in recognition of its ongoing successful initiatives to welcome refugees and asylum seekers and support them in higher education study.
Winchester became the first University of Sanctuary in the south of England in 2018.
A short ceremony at the University saw the Award presented to Vice-Chancellor Professor Sarah Greer by Elizabeth Flint, Chair and Founder of Winchester City of Sanctuary, a volunteer run and led local community group organisation, which is part of a movement of welcome across the UK.
Elizabeth Flint said: "Congratulations to the University of Winchester on its reaccreditation as a University of Sanctuary. Its commitment and support to people seeking sanctuary has been unwavering. It has provided support to individuals and families, the hosts support network and schools of sanctuary, as well as offering scholarships and spearheading research. The University should be very proud of the place of sanctuary it has created."
Professor Sarah Greer said: "It is a huge honour for the University, its students and staff to be recognised once again with a University of Sanctuary award for our ethos of inclusion and welcome. We warmly welcome those fleeing violence and persecution in their own countries and value the contribution those seeking sanctuary bring to the University and more widely to the city of Winchester. I am very proud of the excellent work and activities going on across the University, which are helping to transform lives for displaced people and continue to make the University a place of sanctuary."
Sarah-Harder-Collins, Head of Participation and Success at the University, said: "As a university of sanctuary, we bring together our existing work supporting asylum seekers and refugees to help develop further support for those seeking sanctuary. We aim to embed this vision into all levels of the University, fostering a place of welcome by learning from and having strong links with our local community."
In 2010, Winchester was one of the first two universities in the UK to offer financial support for outstanding students seeking sanctuary in the UK to undertake a degree course.
In September 2022, the University welcomed seven Ukrainian Sanctuary Scholars onto its courses. All scholars were provided with a 100 per cent tuition fee waiver, £1,000 bursary, designated student advisor and support via the English Language Teaching and Support Unit (ELTSU). The University also invited local Ukrainians under the Homes for Ukraine scheme to join pre-sessional English Language courses for academic study and it continues to host English for Speakers of Other Languages (ESOL) classes for the local community, in partnership with Winchester City of Sanctuary.
The University also offers Sanctuary Awards, supporting two students a year seeking sanctuary in the UK to undertake a degree course. The Award offers a full tuition fee waiver and a bursary of £5,000 a year to support the costs of study. To date, 56 students from 17 countries have received awards, with 29 graduating so far.
Other initiatives include hosting family days for Syrian families in partnership with the Rural Refugee Network and residentials on campus for asylum-seeking children and young people; English language tuition offered by volunteer staff for refugee families settled in Winchester, and membership of the Council for At-Risk Academics (CARA) fellowship programme, which helps academics in immediate danger and those forced into exile.
At the ceremony, the University also relaunched its Forced Migration Network as the University of Sanctuary Network. Led by Dr Wayne Veck, A diverse group of University staff and students and external practitioners is engaged in research, teaching, and outreach and support relating to asylum seekers and refugees.
Photo above: (l to r): Dr Wayne Veck; Elizabeth Flint; Professor Sarah Greer and Sarah Harder-Collins.
Press Office | +44 (0) 1962 827678 | press@winchester.ac.uk | www.twitter.com/_UoWNews
Back to media centre