Winchester health experts launch exercise-based stroke rehabilitation clinic in Hampshire
18 Jan 2019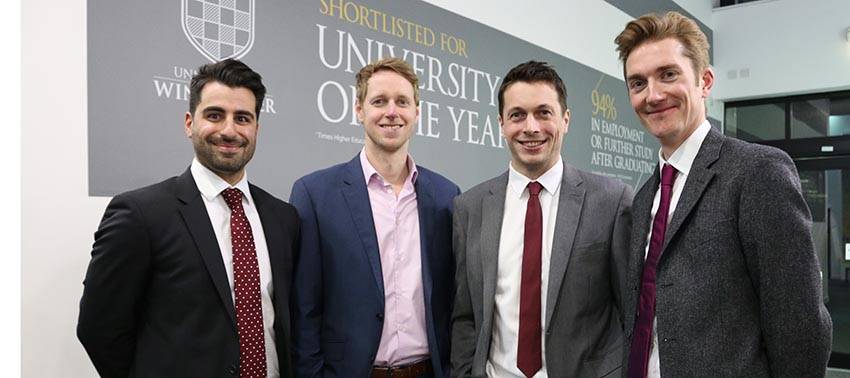 Health experts at the University of Winchester have set up a new community clinic to help improve the health, wellbeing and quality of life of stroke victims through exercise and education.
The Health Enhancing Lifestyle Programme (HELP) Hampshire Stroke Clinic will work with stroke survivors to help them find new forms of exercise that might suit them and will also run exercise sessions in-house. By helping stroke survivors to return to exercise, the clinic aims to improve their motor and sensory skills, promote their independence and raise their quality of life more broadly. The clinic opens in March 2019.
Strokes are a major cause of death and disability internationally. The physical effects of a stroke can be debilitating, varying from weakness or paralysis on one side of the body to muscle spasms or weakness and balance problems. Exercise can help improve an individual's health and wellbeing, reducing the risk of a future stroke.
The not-for-profit HELP Hampshire clinic will build on research carried out by Winchester academic Dr James Faulkner, who is the HELP Hampshire Programme Lead and an exercise physiologist, to provide tailored treatment to each patient. In partnership with collaborative research partners in the UK and abroad, Dr Faulkner has worked with over 100 stroke patients in hospitals and in their own homes to find out how to best support their recovery since 2015.
"Although 1.2 million people live with the effects of stroke in the UK, there are surprisingly few opportunities for stroke survivors to take part in community exercise and educational programmes. The HELP Hampshire Stroke Clinic will fill this gap, offering a new community service that will help patients, carers and the healthcare system. The programme is unusual in that it will utilise academic research and expertise to make a real impact in the local area while generating further insight to hone our understanding of stroke recovery, improving future treatments," said Dr Faulkner.
Dr Faulkner will manage the clinic with Ariyan Alimadadi, HELP Hampshire Programme Manager at the University of Winchester. The clinic team will treat patients referred by local GPs and Hampshire Hospitals NHS Foundation Trust, in particular Consultant Physicians Dr Lucy Sykes and Dr Nigel Smyth at Hampshire Hospitals NHS Foundation Trust. Clinic sessions will take place in the Carroll Centre, Stanmore; St Mark's Church, Oliver's Battery, and other locations in Winchester and wider Hampshire.
Collaborative researchers for the studies underpinning HELP Hampshire include:Dr Danielle Lambrick, Lecturer at the University of Southampton
Dr Lee Stoner, Assistant Professor at the University of North Carolina, USA
Dr Simon Fryer, Senior Lecturer at the University of Gloucestershire
Keeron Stone, PhD Researcher at the University of Gloucestershire
Andrew Mitchelmore, PhD Researcher at the University of Winchester
Amy Wright, Lecturer in Biomechanics at the University of Winchester.
In addition to benefiting patients, the programme will create learning and teaching opportunities for students at the University, particularly those on Physiotherapy and sports and exercise programmes. The clinic was launched at a special event at the University on 17 January.
Find out more about the HELP Hampshire clinic at: www.helphampshire.co.uk
Photograph above shows (left to right): Ariyan Alimadad; Louis Martinelli, Hobbs Rehabilitation; Dr James Faulker and Professor Simon Jobson, Dean-Designate of the Faculty of Health and Wellbeing for All Life at the University of Winchester.
Press Office | +44 (0) 1962 827678 | press@winchester.ac.uk
Back to media centre