Winchester research roundup June 2019
18 Jun 2019
This month's research roundup highlights a new study into why many women find gyms intimidating, celebrates the launch of the latest issue of student journal Alfred and discovers the power of labyrinths.
University of Winchester Business School academic leads international research team
Dr Martina Hutton, Senior Lecturer in Marketing, is currently Principal Investigator on an international study entitled Rhizomatic Spaces and Action sites in Transformative Consumer Research - leading four scholars on this project from the UK (University of Manchester); Europe (University of Helsinki), and the USA (Indiana University and Montclair State University).
Applying rhizomatic thinking, an open system of philosophy derived from the work of Deleuze and Guattari, the conceptual stage of the study focuses on establishing a guiding theory of method which characterises the progressive, emerging nature of Transformative Consumer Research.
TCR is a global academic movement organised around developing rigorous scientific findings to alleviate social problems as they intersect with the realities of consumption. As researchers attempt to maximise the societal impact of their studies through collaboration with an array of participants, communities and stakeholders they must remain adaptable, working across disciplinary boundaries on projects within and outside of the TCR community. Therefore, the link between the form and content of knowledge and relationships that form around that knowledge, necessitate the development of an epistemological framework in the growing web of TCR to capture the messy, non-linear, unbounded, disordered, complex and uneasy nature of social justice research.
Through a radical analytical reinterpretation of disparate data, the study also aims to empirically establish a cartography; a dynamic tracing of spaces and affective sites from writing, artworks, video, interviews, photographs and textual artefacts to conceptualise the complexity of transformative action sites located within TCR.
In May, the team presented their work at Florida State University and recently, Dr Hutton was appointed to the international selection committee tasked with establishing a Practitioner Advisory Council who will act as strategic partners in the support and development of future research initiatives within the TCR community.
Women put off by intimidating atmosphere in gyms, says study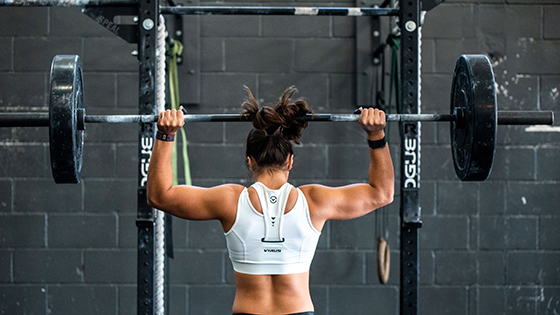 A new study has found women are put off using the weights sections of gyms by "an intimidatory atmosphere" among young men working out.
Dr Luke Turnock, Post-Doctoral Teaching Fellow in the Department of Applied Criminology and Forensic Studies, and PhD researcher Maria Moxey, discovered that women felt intimidated by men staring at them and by equipment that was designed only for men.
One gym member commented: "I can see they're looking at me, it's very obvious to me that they're [young male gym users] talking about me, and they make me uncomfortable. When they're in a group, they become overly confident, and they make comments and laugh about it - they'll be quite perverse." (20-year-old woman)
"Based on my observations in gyms, I have seen women come into the weights area, take equipment, and immediately leave. Crossing the divide into the male space could be intimidating. Many women commented on how better integration of equipment, and changes in structure could help the atmosphere in gyms," said Dr Turnock.
He suggested that changes should be made to the equipment layouts in gyms, so that there was a less distinct feeling of a men's area and women's area.
The results of the study were presented at the British Sociological Association annual conference in Glasgow.
Photo: Unsplash
Read the best academic work by our students in ALFRED
The Summer 2019 edition of Alfred, the University of Winchester's student journal, is now available.
In its tenth year, it continues to showcase some of the exceptional academic work by our students across a diverse range of disciplines. Just some of the subjects featured include: the use of sport to develop peace internationally, racehorse welfare, and the representation of African-American history and identity in contemporary film.
Broaden your reading and your mind by finding it here.
How to change the world - by engaging with UK Parliament through research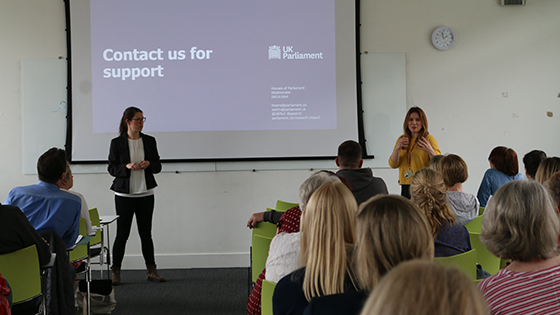 Academics at Winchester had an opportunity to find out first-hand how to engage with the UK Parliament through their research.
Sarah Foxen, a Knowledge Exchange Manager based at the Parliamentary Office for Science and Technology, spent a day at the University at the end of May, explaining the ways in which research can impact policy and how researchers can access parliamentary documents, research and reports to support their work.
Following an intensive three-hour workshop session with research-active academics in the morning, Sarah gave a shorter keynote address to a wider group of University staff and postgraduate students as part of the EdD/MA Summer School, finishing with one-to-one sessions with academics who are preparing impact case studies for REF 2021.
Dr Vicky Randall, Senior Fellow in Teacher Education, who organised the event, said: "Sarah's insight and knowledge about how Parliament engages with research will prove invaluable for academics with an interest in Parliamentary work, and specifically those who have a developing research or knowledge exchange profile in the area of UK policy. Our academics have the potential to make a real difference to society and help inform people in Parliament who have to make difficult choices that affect so many."
Responsible and inclusive management under the spotlight at research symposium
The day-to-day realities of delivering responsible management were explored in an interactive session led by Dr Simon Smith at a research symposium jointly organised by the Bristol Leadership and Change Centre and the University's Hoare Centre for Responsible Management.
The event - Responsible and Inclusive Leadership: Paradoxes and Possibilities - had a particular focus on Sustainable Development Goals (SDGs), Equality, Diversity and Inclusion (ED&I), and the Principles of Responsible Management Education (PRME), of which Winchester is a signatory.
PRME aims to develop a new generation of business leaders capable of managing the complex economic, environmental and social challenges faced by organisations in the twenty-first century. It plays a central role at Winchester, with regards to teaching, research and external engagement.
Dr Smith said: "The symposium events and professorial lecture created a rich and valuable dialogue around responsible leadership. I was personally able to discuss with a large group of practitioners and academics a theoretical framework I have been developing and wanting to move forward around the paradox of responsible leadership. I developed some great new networks and hopefully we will be hosting our own event soon in Winchester through the Hoare Centre for Responsible Management."
Funding for outdoor arts project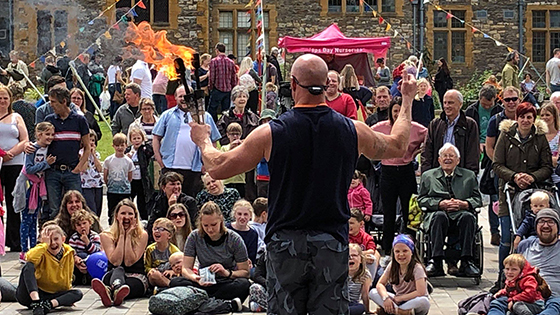 Two substantial funding awards have been granted to a Senior Fellow in Knowledge Exchange in the Faculty of Arts. John Lee, who is also a member of the Centre for Performance Practice and Research, received backing for one project to create a large multicultural festival in Somerset and another to develop a training programme for young people from a socially deprived area of Taunton. Together, they form part of a two-year initiative called Culture and Diversity: Outdoor Arts.
The Kaleidoscope festival is funded by Arts Council England (£12,800) and Taunton Borough Council (£13,000). It is part of a wider event, called Somerfest, that has become Taunton's mid-summer outdoor festival celebrating the diverse arts, cultures and communities of Somerset. Feedback from the festival - which took place on 15 June - included "This festival has a great spirit of community" and "You have created a wonderful atmosphere in all the different places of the event".
Funding for the training programme is part of a joint £50,000 award between John's not-for-profit outdoor arts company, FUSE, Somerset Arts Works and the One Team for Halcon. The aim is to support young people and young adults with workshops and community events in order to improve wellbeing and employment opportunities.
Photo: Sally Mann
Two new books from the Centre for the History of Women's Education
Two new books by members of the Centre for the History of Women's Education have been launched.
British and American School Stories, 1910-1960: Fiction, Femininity, and Friendship by Nancy Rosoff, Visiting Research Fellow, and Stephanie Spencer, Professor of History of Women's Education, looks at school and college fiction for girls in Britain and the United States, from the first half of the twentieth century and explores the formation and ideologies of feminine identity. It goes on to develop a transnational framework that recognises how both constructed and essential femininities transcend national boundaries.
Mrs Humphry Ward and Greenian Philosophy: Religion, Society, and Politics by Helen Loader, examines the distinctive insight of the Victorian writer and reformer, Mary Ward (Mrs Humphry Ward) into late-Victorian and Edwardian society. Mary Ward studied amongst other intellectuals at Oxford University in the 1870s, putting her in a unique position to participate in the issues that shaped her generation. Her writings and social reform activities are looked at, alongside a range of biographical sources, to show how she made a significant contribution to British Society.
Both books are published by Palgrave.
Why do people throw things at politicians? Expert insight from Winchester criminologist
In the wake of Nigel Farage being pelted with a milkshake on the campaign trail, Senior Lecturer in Criminology Dr Matt Clement, an expert in the history and politics of riot and protest, explained why people protest in this way in an interview with BBC News.
Blog highlight: How to find yourself in a labyrinth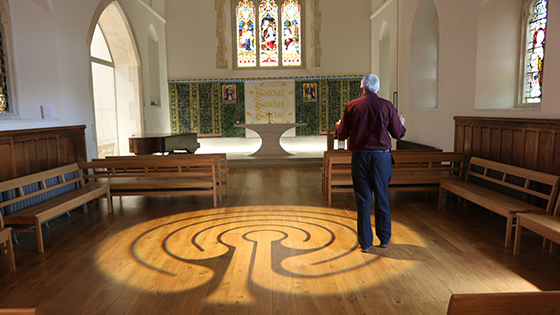 Who would have thought that getting lost could actually help you find something?
In our latest blog post, marking the installation of a new projectable labyrinth in the University Chapel, the Dean of Spiritual Life, Dr Terry Biddington, has been exploring the idea that people can use this unusual tool to meditate, reflect and 'find' their thoughts.
While labyrinths are often associated with getting lost, the word labyrinth is usually used to describe a pattern with one continuous path, with no dead ends, making them far from difficult to navigate. Historically, they have often been used to symbolise the journey we take through life.
Regardless of our beliefs, labyrinths can act as a tool to help us contemplate our thoughts, issues, problems and ideas. So, keep an eye out for a labyrinth, and perhaps follow its path. It may help you see things from a new perspective. Read the blog.
Press Office | +44 (0) 1962 827678 | press@winchester.ac.uk | www.twitter.com/_UoWNews
Back to media centre