Winchester students quiz Ambassador about peace process in Afghanistan
4 Dec 2018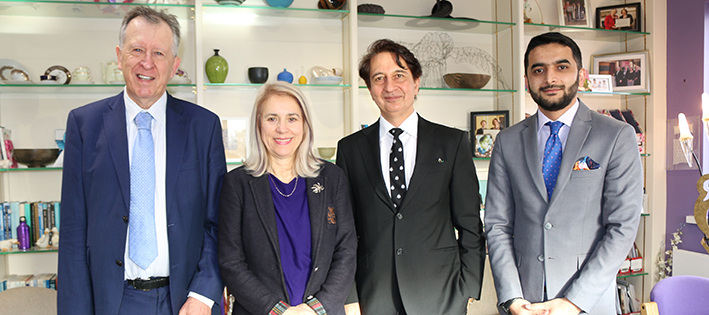 Students studying Politics and Global Studies and Journalism courses at the University of Winchester had an opportunity to quiz the Ambassador of Afghanistan to the UK about the peace process and elections in his country at a special roundtable discussion event this week.
His Excellency Said T Jawad gave a short presentation before responding to students' questions on a wide range of issues relating to the war and politics in Afghanistan, including the timescale for peace, negotiating with the Taliban, women's rights, how to tackle the opium trade and HE Jawad's role as Ambassador.
During the visit, HE Jawad had discussions about enhancing academic exchange between the University of Winchester and universities in Afghanistan through a scholarship programme with Vice-Chancellor Professor Joy Carter CBE, DL and Adrian Kendry, Visiting Professor of Economics and Security at Winchester, and former NATO senior defence economist and adviser to the 12th Secretary General. He also met experts from the University's Centre for Religion, Reconciliation and Peace.
Professor Carter said: "This was a fantastic opportunity for Winchester students to gain greater insight and understanding about the complex political situation in Afghanistan from His Excellency Jawad and we are very grateful to the Ambassador for hosting this roundtable discussion. We are proud that a number of students from Afghanistan already study here at the University and look forward to developing our relationship further."
"I really enjoyed my engagement with the students I met today," said HE Jawad. "We live in a global village: issues and matters that take place in other parts of the world create an opportunity for the students here to be part of the problem-solving teams to handle some of these challenges. This university provides a very good foundation for the students to be engaged globally in some of the bigger issues, but also more importantly to help them understand our challenges and progress and the difference between practicing and life and learning in a classroom."
HE Jawad visited the University in June this year when His Excellency Dr Abdullah Abdullah, Chief Executive of the Islamic Republic of Afghanistan, gave a speech during a three-day visit to the UK for high-level talks.
Pictured above, (left to right): Professor Adrian Kendry, Professor Joy Carter, His Excellency Said T Jawad and Naveed Noormal.
Press Office | +44 (0) 1962 827678 | press@winchester.ac.uk
Back to media centre