Winchester students take action as part of #IWILL volunteering week
21 Nov 2018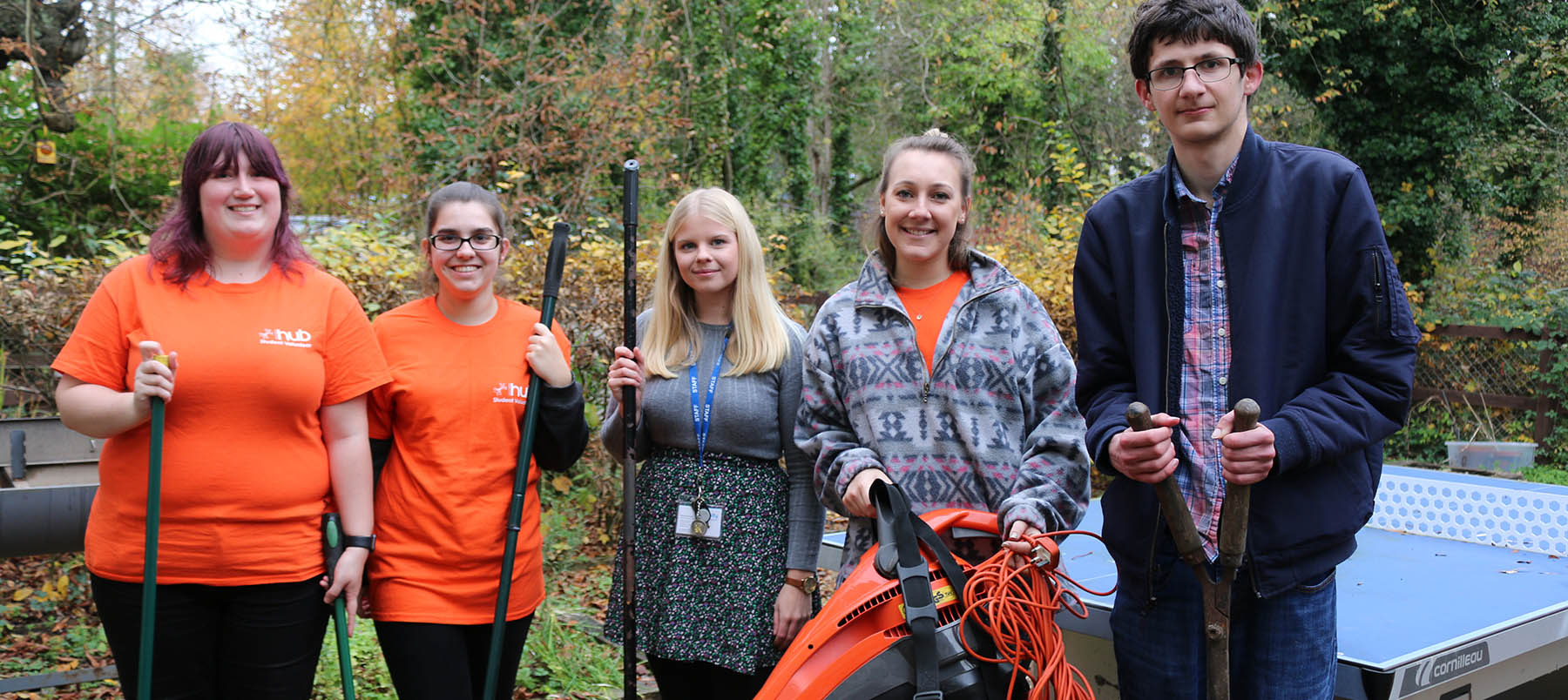 Students from the University of Winchester made a difference in the local community as part of national student volunteering campaign #IWILL Week (12-16 November).
Across the week, students from across the University took part in volunteering opportunities coordinated by Winchester Hub. The activities were organised by Ally White, a fourth-year student studying BA (Hons) Primary Education and student coordinator at Winchester Hub.
Ally White said: "I was delighted to organise the activities as part of Winchester Hub's #IWILL Week. Volunteering is a hugely rewarding activity, allowing us as individuals to spread kindness among those who need it. Consequently, I was happy to help others get involved. The three activities I chose were designed to help Winchester students engage with social issues that are prevalent in the local area and to give them an opportunity to make a difference in the community."
The activities saw students lend their support to elderly residents and get involved in tackling the issue of homelessness.
On Monday 12 November, the student volunteers ran an arts workshop at Matilda Place, a Winchester City Council-managed supported housing project that houses elderly individuals with dementia and other mental health conditions. The activity enhanced residents' wellbeing by encouraging them to express themselves by utilising autumn leaves and paint to create art.
The student volunteers also took part in an activity to support homeless charity Winchester Churches Nightshelter. Using over £70 raised in a raffle for a tattoo, which was kindly donated by local tattoo parlour Asgard Winchester, Ally led student volunteers on a shopping trip to buy vital resources for the shelter. In an arranged visit, the students then had the opportunity to donate the supplies in person and take a guided tour of the charity's facilities.
Katy Jones, a third-year student who took part in the Nightshelter visit, said: "I got involved with Winchester Hub's trip to the Nightshelter because I wanted to find out more about the issue of homelessness in Winchester, what charities are doing to tackle it and how the public can help. I feel I am very fortunate to have a roof over my head, so I was keen to understand how we can help the amazing people and organisations who are working to help those on the streets. It was great to find out more about the Nightshelter's work and to give back to the community during the visit."
On the final day of the week, Ally and the student volunteers completed vital groundswork at homeless and women's services charity Trinity Winchester. The team cleared up the facility's external entrance and car park and tidied up the art room and donation room inside the facility.
The response to the student volunteers' efforts were very positive from all the organisations involved.
Angela Grobbelaar, Administrator at Winchester Churches Nightshelter, said: "Volunteers donate on average 10,889 hours to the Nightshelter, saving us around £108,990 each and every year. We would not be able to open every evening and for full days on a Sunday and Bank Holidays if it weren't for our volunteers."
Participating in #IWILL Week is just one of the social action activities organised by Winchester Hub for students at the University. As a local branch of the national charity Student Hubs, Winchester Hub works in collaboration with the University to organise short- and long-term volunteering and community projects throughout the year. These are designed to encourage Winchester students to tackle societal challenges in the area and to become active citizens for life. Recent projects have included LinkAges, an elderly befriending service; School Plus, a flagship tutoring project that sees Winchester students supporting local schools, and a Youth Theatre project providing equal access creative arts workshops for 7-11 year-olds.
Lydia Green, Projects Officer at Winchester Hub, said: "The majority of our work is student-led. Students run our outreach projects, formulate ideas, and work as the powerhouse of social change on campus and in the community. This year's #IWILL Week is a materialisation of that. Through our work, Winchester Hub hopes to enable the students we work with to mould the Winchester social landscape in a positive manner."
#IWILL Week is a national campaign run by government that encourages the promotion of youth social action. It facilitates organisations all over the UK to promote and/or run events to empower young people to lead and take part in meaningful social action.
Back to media centre