Help Hampshire Stroke Clinic
A collaborative project that provides a health-enhancing lifestyle programme for people who have suffered a stroke or TIA in Hampshire, UK.
View content
About the programme
The Health-Enhancing Lifestyle Programme (HELP) for Stroke in Hampshire is a community-based exercise and education clinic designed to improve the health and quality of life of stroke survivors.
Clinic services
A HELP Hampshire Stroke Clinic is currently in the planning stages. The clinic will consist of an 8-week personalised exercise programme, with participants advised to take part in at least two group-based sessions each week. Stroke survivors will be referred to the clinic from Hampshire Hospitals NHS Foundation Trust, and local GP and physiotherapy practices. The exercise sessions will be complemented with online educational material.
HELP Hampshire hopes to expand to offer a range of clinics including paediatric and cardiac, a falls clinic and a healthy ageing clinic.
Fundraising
For HELP Hampshire to be a viable and sustainable community project, support from local industry partners is essential. We are therefore currently seeking sponsors to support the clinic.
Launch event
The initiative was formally launched on 17 January 2019. Read more.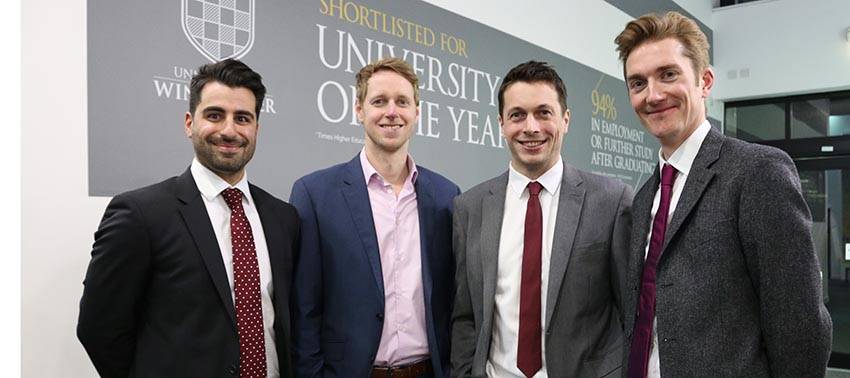 Left to right: Ariyan Alimadad; Louis Martinelli, Hobbs Rehabilitation; Dr James Faulker and Professor Simon Jobson, Dean of the Faculty of Health and Wellbeing at the University of Winchester.
Find out more and connect with HELP Hampshire
Contact the Programme Director, Dr James Faulkner, Reader in Sport and Exercise Physiology
Visit the HELP Hampshire website
Follow HELP Hampshire on Twitter
Praise for HELP Hampshire
Dr James Faulkner has been voted one of 100 'Nation's Lifesavers' by Universities UK in their MadeatUni campaign for his HELP Hampshire initiative. Read James' story on the MadeatUni website.