May 2022 at the University of Winchester
1 Jun 2022
Book launches, musical events, VIP visitors, awards and accolades and research success all featured in a busy month at the University. Enjoy the highlights below.
Research Excellence Framework 2021 results show consolidation of University research
University research rated 4* or world leading in terms of originality, significance and rigour has increased threefold since the last REF in 2014, the results of REF 2021 show.
There was also a significant increase in institutional research power, with the University now placed at 98 for research power, compared with 107 in 2014. This represents the 17th biggest increase nationally.
Pilot projects set to tackling loneliness in Hampshire
The University is part of a coalition which has received over £550k from the Department of Transport for pilot projects to understand how transport can play a role to help people feel less lonely.
The coalition is led by Action Hampshire, with the University evaluate and test three pilot projects, to assess what interventions work, and to share learning about ways to reduce loneliness through transport.
Law students host Attorney General for special visit
The student Law Society welcomed Attorney General for England and Wales, the Right Honourable Suella Braverman QC MP, to the University this month.
Ms Braverman offered a powerful insight into her journey to the top of the legal profession as the government's most senior legal advisor and answered students' questions on a wide range of subjects, including Brexit, the cost of living crisis, windfall taxes, the war in Ukraine, and the government's immigration policy.
Student nurse shortlisted for national award
Congratulations to final year student nurse Cyzel Gomes who was shortlisted for a Student Nursing Times Award 2022 One of seven student nurses from around the country nominated for the Mary Seacole Award for outstanding contribution to diversity and inclusion, Cyzel narrowly missed out on the award at a ceremony at Grosvenor House Hotel, Park Lane, London, on 27 May.
Open sanctuary to be created at West Downs Gallery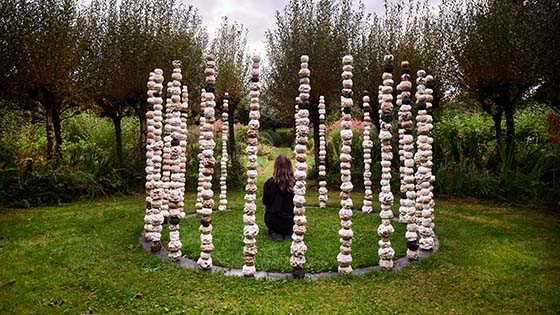 Starting this month, visitors are working closely with two artists to create a sculpture from hundreds of ceramic balls which, when completed, will form a circular space representing sanctuary.
In a series of workshops led by artists Fiamma Colonna Montagu and Sam Selwyn Bazeley, participants will be guided through a meditation whilst creating a ceramic ball using natural clays.
Royal Institute of British Architects award for West Downs Centre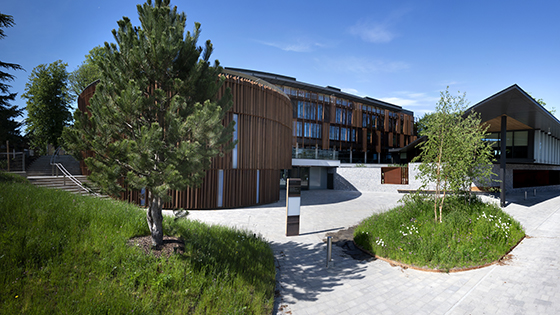 The West Downs Centre won a prestigious RIBA (Royal Institute of British Architects) South Award 2022 to add to a string of awards for the flagship learning and teaching building. A RIBA Regional Award is given to a UK building for its regional importance as a piece of architecture.
Premiere of powerful new documentary about the church's involvement in the trafficking of enslaved Africans
After the Flood trailer (1) from Aniku Ltd on Vimeo.
After the Flood: the Church, Slavery and Reconciliation - a new documentary by award-winning programme maker Professor Robert Beckford, Director of the University's Institute for Climate and Social Justice - unearths the Christian ideas that supported the trafficking of enslaved Africans.
The film received a premiere in London on 25 May, marking the second anniversary of the murder of George Floyd. The documentary was commissioned by UK charity the Movement for Justice and Reconciliation (MJR) and will be on general release later this year.
New anthology celebrates University poetry scene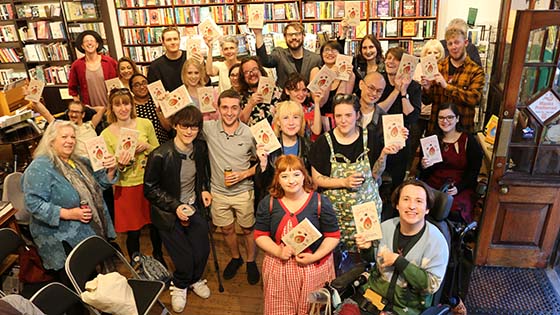 A new anthology of poetry was launched at a special event at P&G Wells bookshop, hosted by Glenn Fosbraey, Head of the Department of English, Creative Writing and American Studies and attended by contributors.
The Lost Art of Staring into Fires is the first collection from the University's vibrant poetry scene. It gathers together work written between 2010 and 2022 by thirty-seven authors, some current students and others who have gone on to receive critical acclaim. The anthology contains an array of styles, forms, and subject matter, ranging from the shocking to the hilarious, the thought-provoking to the abstract.
The book is available to buy online here at £12.99 A donation of 50p for every copy sold will be made to support the Disasters Emergency Committee Ukraine Humanitarian Appeal.
Transmedia 2022 showcases student digital media work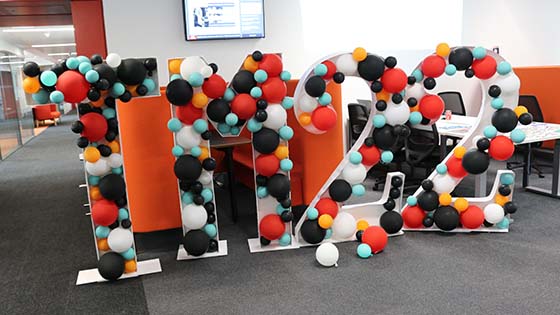 The work of students from the Digital Media Design, 3D and Computer Aided Design undergraduate programmes, including the MA Digital Media Practice and Pathways' students was showcased in the annual end of year exhibition - both physical and virtual - in May.
Transmedia 2022 was planned, shaped and organised by second year students under the guidance of programme leader Dr Debs Wilson and Project Focus Lecturer Marina Brkljac.
Visit the Transmedia 2022 website to explore the virtual exhibition and for more information.
University Music Centre leads evensong at Winchester Cathedral
The University's King Alfred Singers led a full Evensong Service in Winchester Cathedral on 18 May, the culmination of many hours of rehearsals which began in January 2022.
Conducted by Vicky Feldwick, Manager of the University Music Centre, the service featured music by John Stainer, Vaughan-Williams, and Thomas Walmsley, alongside original compositions by Vicky and Neil Valentine, Creative Director of the Centre. The service was officiated by Prescentor Canon Andy Trenier and the organist was Colin Harvey.
King Alfred Singers include University students, staff, alumni and community members.
Celebrations for International Nurses Day 2022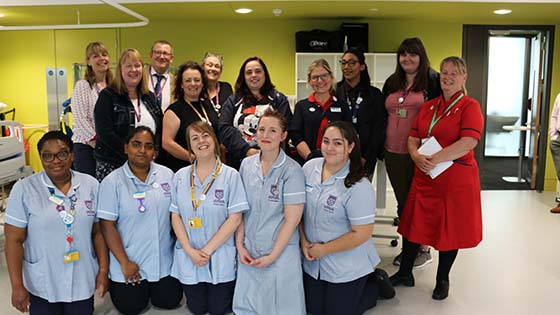 Students and lecturers from the University's Nursing degree programmes marked International Nurses Day on 12 May with a reception in the clinical skills facility in the West Downs Centre.
International Nurses Day is celebrated around the world on the anniversary of Florence Nightingale's birth to recognise the contributions made by nurses to society. Along with colleagues from Hampshire Hospitals and students joining us in September, students took part in a bedmaking competition and other activities.
Modern history expert featured in Channel 5 series about Chernobyl
Dr Natalya Chernyshova, Senior Lecturer in Modern History and a specialist on Belarus and Russia, is one of the experts interviewed in a new three-part Channel 5 documentary series The Chernobyl Disaster. The series is available to stream on the Channel 5 website.
Blog highlights
The Conversation featured an article by Dr Ana Aznar, Senior Lecturer in Psychology, about disciplining children. Read Smacking children - what research tells us here.
Also in The Conversation, Dr Tamas Lestar, Lecturer in the Department of Responsible Management and Leadership, explains why Seventh Day Adventists came to be often entirely plant-based or vegetarian, and what others might be able to learn from them. Read Why Seventh Day Adventists are so often vegan or vegetarian here.
In a new post on the University blog, Dr Simon Boxley, Senior Lecturer in Education and Head of the University's Centre for Climate Change Action and Education, discusses his new study. Read To fly or not to fly: climate change education visit to the farthest North here.
Press Office | +44 (0) 1962 827678 | press@winchester.ac.uk | www.twitter.com/_UoWNews
Back to media centre