November 2021 at the University of Winchester
2 Dec 2021
In November, the University joined organisations and individuals from all over the world in marking the crucial United Nations' COP26 Climate Conference in Glasgow. We also celebrated student success, awards for our flagship West Downs Centre and the festival of Diwali. Read on to find out more about our busy month.
University marks UN COP26 climate summit with support and events

Three undergraduate students travelled to COP26 to attend a variety of events and activities in the Green Zone at the Glasgow Science Centre, where youth groups, academics, artists, and businesses from across the UK and all over the world hosted events, exhibitions, cultural performances, workshops and talks. They also took part in the Global Day of Action for Climate Justice march. Find out more.
Professor Robert Beckford, Director of the University's Institute for Climate and Social Justice, also attended COP26, taking part in Christian Aid's The Time is Now in Glasgow Cathedral. Professor Beckford gave a reading at the event, which saw the Kingdon Choir sing Mercy, Mercy Me.
Visit our University and COP26 web page for an overview of how we got involved in the climate conference.
University hosts first Winchester District Young Person's Climate Assembly

Over 25 young people aged between 16 and 30 who live, work and study in and around Winchester came together at Winchester District's first-ever Young Person's Climate Assembly on 20 November convened by the Mayor of Winchester.
The event was hosted by the University at the Business School and co-convened by student Stuart Evans, who is the co-chair of the student Sustainability Society. Participants generated a call to action for councils, including 25 recommended actions covering energy, transport, buildings and homes, food, jobs and lifestyles. Find out more.
In other University sustainability news, Winchester was shortlisted for a Green Gown Awards 2021, in the Climate Action 2030 category.
Architecture and landscape design awards for West Downs Centre
The University's landmark West Downs Centre won a highly coveted World Architecture News WAN Award 2021 Gold Award this month.
The building scooped the Gold award in the global Education category, with the judges praising the building as being: "designed with great care for the human experience... combining beauty and sustainability". Find out more.
The West Downs Centre - designed by Design Engine Architects - also won a Landscape Institute 2021 award this month, for the courtyard garden and landscaping by Landscape Use Consultants. It was also shortlisted for an Architects' Journal AJ Award.
Support for families of former athletes with neurodegenerative disease focus of new research study
A new research study published this month explores the experiences of families living with an athlete with chronic traumatic encephalopathy (CTE).
Led by Dr Matt Smith and Dr John Batten at the University of Winchester in collaboration with Bournemouth University and Oxford Brookes University, researchers interviewed partners and children who had experienced an athlete go through severe cognitive and behavioural decline before dying, to understand the challenges they faced, as well as their emotional responses and coping strategies as they lived through these experiences.
Dr Matt Smith said: "We hope that understanding the emotions and coping strategies employed by family members at different timepoints of the disease will allow the findings to be used to support other families who are at various stages of living with and caring for an athlete with neurodegenerative disease." Find out more.
Winchester graduate wins Student Social Worker of the Year Award
Lucy Collier, a newly-qualified social worker who is a graduate of the University of Winchester's Step Up to Social Work programme, won the Student Social Worker of the Year Award 2021.
A disability social worker with Portsmouth City Council, Lucy received the award for her role in supporting families who require respite as part of their care packages.
Professor Simon Jobson, Dean of the Faculty of Health and Wellbeing at the University of Winchester, said: "Lucy deserves huge congratulations for her achievement and we are thrilled that she is already being nationally recognised." Find out more. Find out more.
Prestigious poetry prize for Winchester student
Congratulations to student Imogen Cooper who won the Hampshire Prize, part of the Poetry Prize at Winchester Poetry Festival 2021, for her poem FRANKENSTEIN.
It was the second consecutive year that Imogen won the prize, which is awarded to the best poem by a poet living in Hampshire, and she also had a second poem in the long list, (!) not delivered.
Lighting a way out of homelessness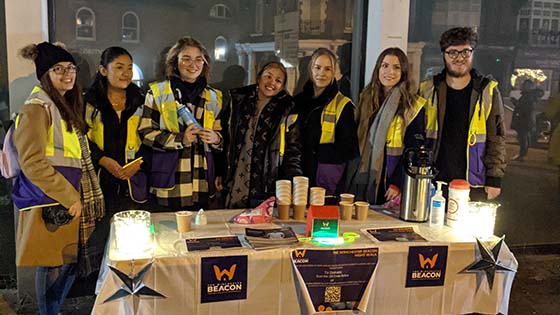 Eight student volunteers from the University organised and led a fundraising Night Walk around the city to raise awareness of the work of homeless charity, The Winchester Beacon, this month.
The event - planned as part of the students' volunteering module - saw around 50 people, including volunteers, supporters, staff and residents from The Winchester Beacon gather at Winchester Cathedral to begin the walk. Find out more.
University-sponsored Hampshire Hog auctioned in aid of animal welfare charity
Winton the Hog - sponsored by the University as part of Destination Basingstoke's Hampshire Hog sculpture art trail this summer - was auctioned in aid of charity.
Winton's colourful, unique design was created by University Artist in Residence Amy Goodman, who is the sculptor of two angels situated at King Alfred Quarter and in the courtyard garden in the West Downs Centre. Winton raised £800 for charity Nowzad, which works to relieve the suffering of animals in Afghanistan.
Celebrating Diwali with #TeamDaal
Diwali, the religious and cultural holiday celebrated by Sikhs, Hindus, Jains and Buddhists, was marked at the University by #TeamDaal. During the week-long event, free cooking kits were available for students and staff, with all the ingredients to prepare a traditional vegan daal curry. Students and staff were invited to sign a pledge towards anti-racism when they picked up their cooking kit.
A live 'cook-a-long' on Thursday 4 November hosted by Tasnim Curtis and Maisha Islam showed step-by-step instructions on how to cook the daal.
Watch the cook-a-long at this link.
New book by Winchester academic chosen as a book of the year
A new book by Professor Nigel Tubbs, Socrates on Trial (Bloomsbury, 2021), has been chosen by former Archbishop of Canterbury Rowan Williams as one of his books of the year in The New Statesman. Williams describes the book as: "An impassioned plea to the stupidities of current educational practice from one f the UK's best educational philosophers".
This month, Nigel also authored a blog for WONKHE, asking whether we are in danger of developing a two-tier education system - the good stuff for the elite, and job training for the rest?

Read his blog post here: Preserving the wonder as we widen access
November blog highlights
In case you missed them, here are some more posts from the University blog to catch up on.
David Raper, Senior Lecturer in the School of Sport, Health and Community, looks at what Daniel Defoe's 1722 Journal of the Plague Year in London might teach us as we move out of the current coronavirus pandemic. Read the blog.
PhD student in the Centre for Animal Welfare Becky Hammerton highlights why we should dispose of single-use face coverings responsibly to protect our environment, wildlife and animal companions. Read the blog.
Finally, post COP26, Dr Lisa Riley, Senior Lecturer in Animal Welfare, explains how small changes can lead to big improvements in biodiversity loss and climate change. Read the blog.
Press Office | +44 (0) 1962 827678 | press@winchester.ac.uk | www.twitter.com/_UoWNews
Back to media centre