University of Winchester students raise their voice for climate justice at COP26
5 Nov 2021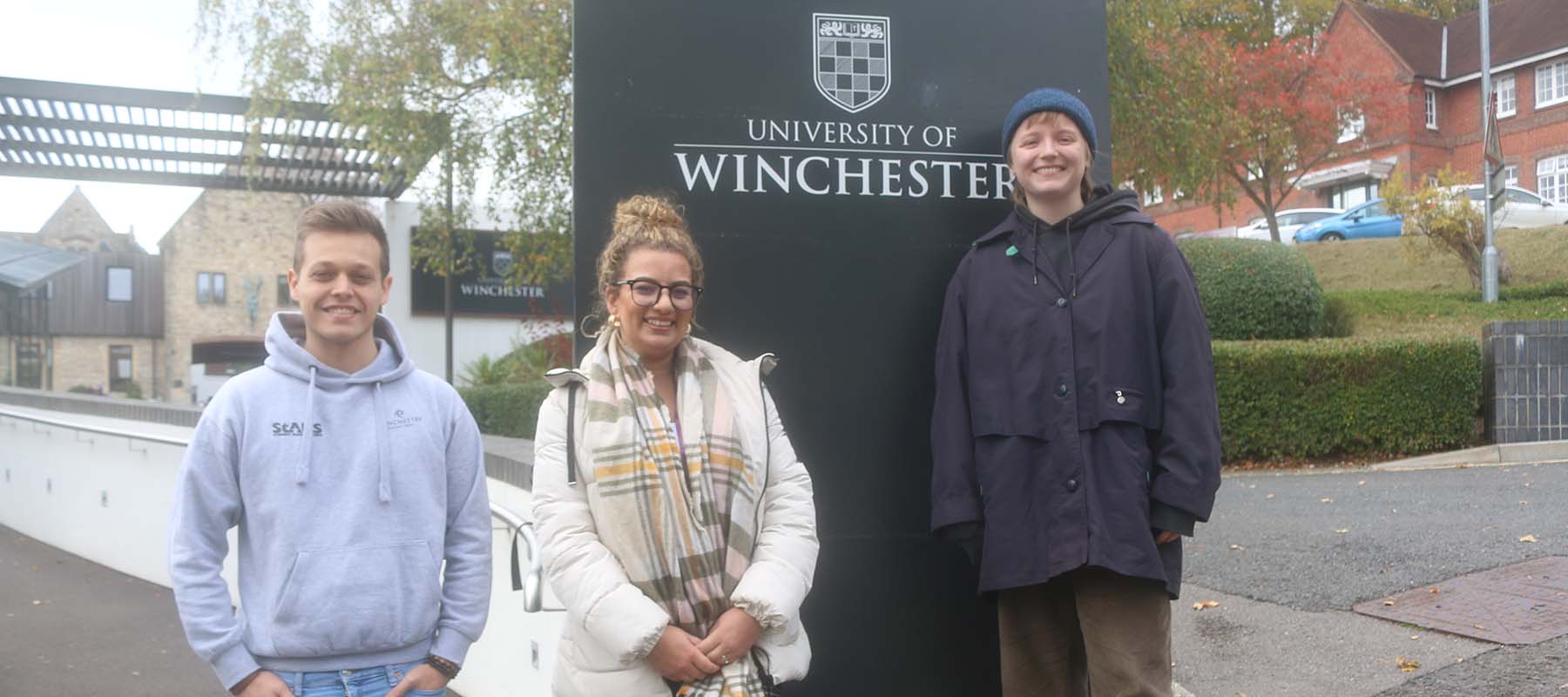 Students from the University of Winchester are travelling to Glasgow today (Friday 5 November) to get involved in the crucial UN Climate Change Conference COP26. The conference, which began on 31 October, is seen as a key moment in tackling the climate crisis.
During a four-day visit, students Stuart Evans, Alysha Duquemin and Somer Taylor-Haines will be attending a variety of events in the COP26 Green Zone at the Glasgow Science Centre, where youth groups, academics, artists, and businesses from across the UK and all over the world will be hosting events, exhibitions, cultural performances, workshops and talks.
They are also taking part in the Global Day of Action for Climate Justice march on Saturday 6 November, as well as events organised by the Climate Coalition and Extreme Hangout. The trio will be documenting their visit with a takeover of the University's social media channels.
Before heading off to COP26, Stuart, co-chair of the student Sustainability Society at the University, said: "We'll be looking at lots of different ways to combat climate change and bringing ideas back to the University to share ideas with students."
"I'm hoping to meet like-minded youth activists at COP26", said Alysha. "I'd like to challenge the government narrative of the official events and find out what can actually be done on the ground."
Somer said: "I hope for a future where these questions aren't a problem, where we're able to look at the Earth and not to see it as dying but seeing it as living alongside us."
Also attending COP26 is Professor Robert Beckford, Director of the University's Institute for Climate and Social Justice.
Professor Beckford is taking part in Christian Aid's special service at Glasgow Cathedral on Monday 8 November, where he will address the congregation. The University is a sponsor of a performance by the Kingdom Choir of Marvin Gaye's Mercy Mercy Me, which was written in 1971 and is one of only a few soul songs about the environment.
The University of Winchester is a member of the COP26 Universities Network, a growing group of over 80 UK-based universities and research centres working together to raise ambition for tangible outcomes from the UN COP26 Climate Change Conference.
COP26, which runs until 12 November 2021, brings together over 30,000 delegates from 197 countries to unite the world in tackling climate change. It comes at a crucial time, following last week's UN's Intergovernmental Panel on Climate Change (IPCC) report which showed that climate change is 'widespread, rapid and intensifying'.
Photo above shows Stuart, Alysha and Somer before they headed off to COP26 in Glasgow.
Press Office | +44 (0) 1962 827678 | press@winchester.ac.uk | www.twitter.com/_UoWNews
Back to media centre