Review of the Year: 2018 at the University of Winchester
8 Jan 2019
2018 was an incredibly busy and positive year for the University of Winchester. From new building developments and visits from politicians and leading public figures, to forging partnerships and championing values-driven social action, there was lots to celebrate each month. It was a tough choice, but here are our favourite moments from the past year. You can also enjoy our highlights in our short film below.


January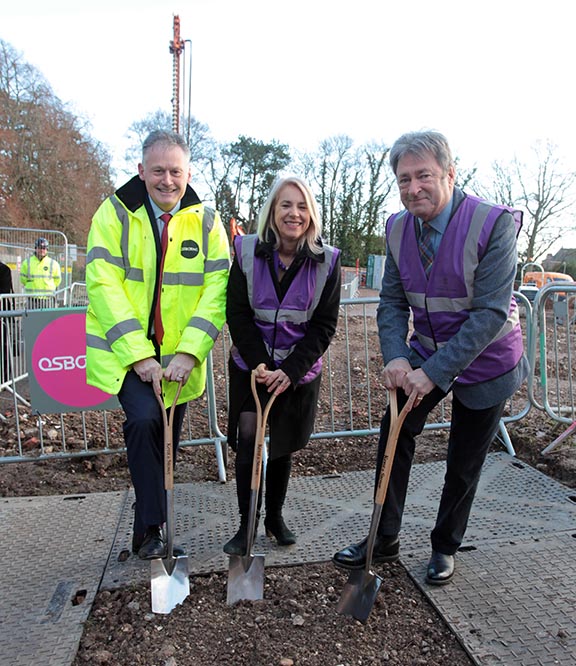 Our Vice-Chancellor Professor Joy Carter CBE DL and Chancellor Alan Titchmarsh MBE VMH DL marked the official start of construction of our new £50m landmark development at the West Downs Quarter with a traditional groundbreaking ceremony. The new teaching and learning building will be home to our Digital Futures programmes, with many of the other facilities open to the local community. Find out more
Pictured above at the groundbreaking (left to right); Andy Steele, CEO, Osborne; Professor Joy Carter, Vice-Chancellor and Alan Titchmarsh, Chancellor.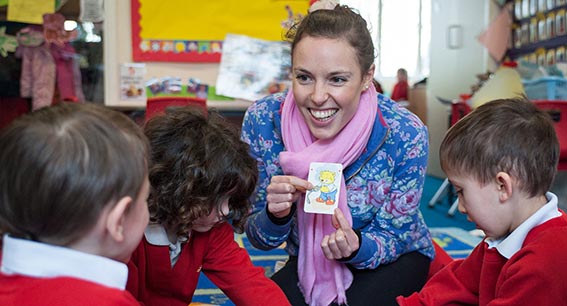 The quality of our Initial Teacher Education programmes were, once again, recognised by Ofsted when we were awarded an 'Outstanding' rating for our provision of both primary and secondary courses. This rating confirmed that Winchester is one of the best providers of teacher education in the country. Find out more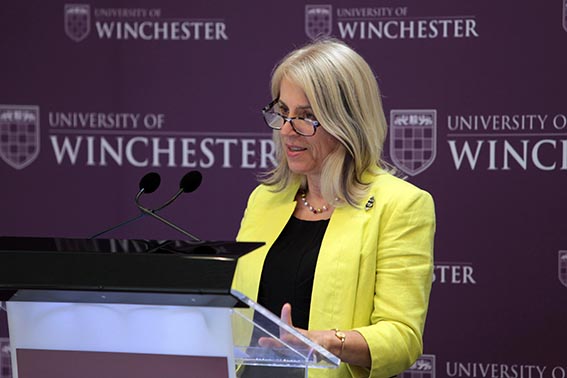 Joy Carter, Vice-Chancellor of the University of Winchester, was recognised in the 2018 New Year's Honours List with a CBE for services to Higher Education. Professor Carter is a strong advocate for equality, social justice and widening participation. Find out more
February
Our Vice-Chancellor, Professor Joy Carter CBE DL (pictured above front lright), and Alex Whitfield, Chief Executive of Hampshire Hospital Foundation Trust (HHFT) (shown left above), signed an agreement to form the Hampshire Collaboration for Health Research and Education. The partnership sees both organisations working together to increase research and education opportunities. Find out more
We supported the annual Hampshire Pride Festival in its fourth year. The event saw several hundred members of the LGBTI community march together through the city of Winchester in a show of unity. The University's LGBTI Spectrum Student, Staff and Allies Network jointly organised the event with Hampshire County Council's Lesbian, Gay, Bisexual and Transgender (LGBT) employee network. Find out more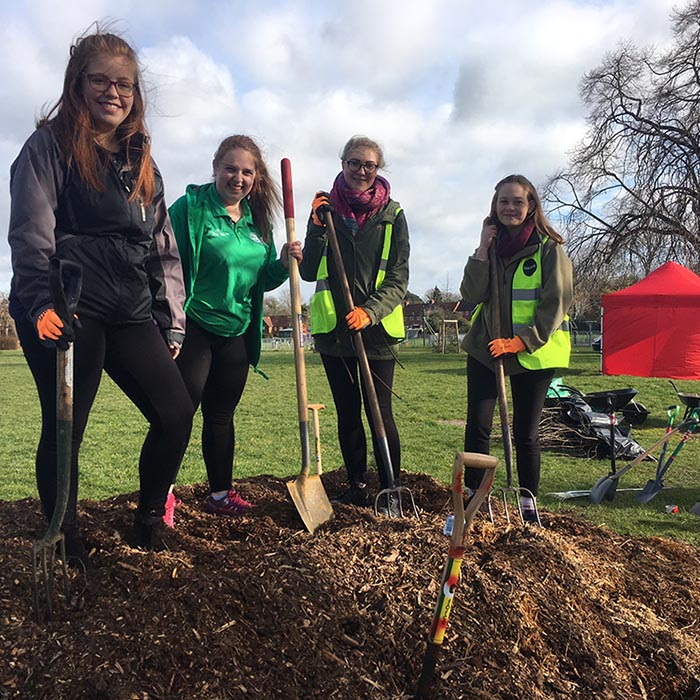 Our students supported the local community by taking part in national Student Volunteering Week. Events organised by Winchester Hub saw students tidy up and plant trees across the city, serve the elderly at a LinkAges Tea party, build houses for hedgehogs and take part in a variety of one-day volunteering opportunities with Winchester organisations.
March


Our new sound recording studios were opened by Mercury Prize-winning rock band alt-J. The industry-standard five-room studio complex features two control rooms, two live rooms and an ADR/Foley room for creating sound effects, as well as a green room.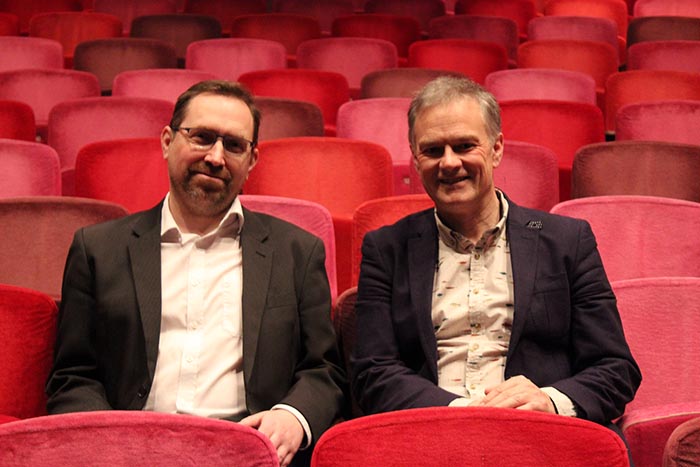 We signed a strategic partnership with the Live Theatre Winchester Trust – comprised of outdoor arts festival the Hat Fair and Theatre Royal Winchester – to work together on a series of student projects and educational events. Later in the year, the partnership saw our students participate in the Hat Fair and our Musical Theatre students perform their final-year project on the Theatre Royal Winchester stage. Find out more
Pictured above: Alec Charles, Dean of the University's Faculty of Arts (left) and Deryck Newland (right) at the Theatre Royal in Winchester.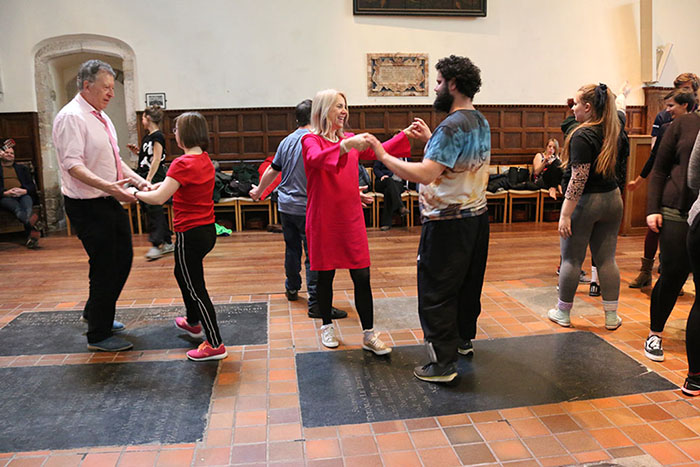 We 'danced our odd socks off' in a 21-hour dance-a-thon organised by members of the University's D@win Dance Company for World Down Syndrome Day. Vice-Chancellor Professor Joy Carter CBE DL (pictured above in St Lawrence's Church, Winchester) danced alongside Blue Apple Theatre co-founder Tommy Jessop and professional dancer Kate Francis, both of whom have Down syndrome, to show that people with the condition can live active and fulfilling lives.
April

Eleven undergraduate students took part in a two-week placement in South Africa as part of the University's partnership with the Nelson Mandela Museum. They spent time at the Museum and the surrounding areas, with teacher education students taking part in an enhanced placement at local schools and film students documenting the journey. Find out more
Vice-Chancellor Professor Joy Carter CBE DL and President of Winchester Student Union Tali Atvars signalled the University's dedication to creating a more sustainable future by signing a Sustainability Statement. The Statement formed part of our National Union of Students Responsible Futures accreditation. Find out more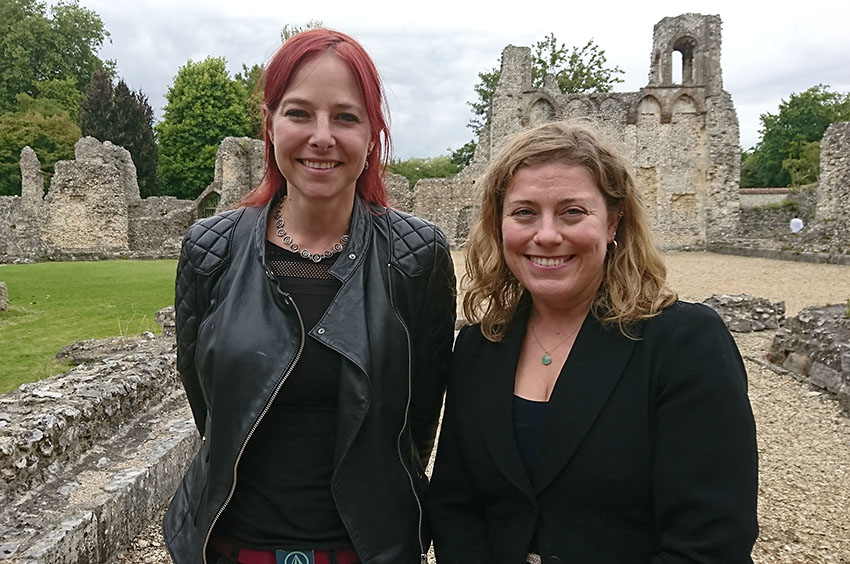 Archaeologist and historian Dr Katherine Weikert (pictured above right with presenter Dr Alice Roberts) helped uncover the history of Norman Winchester for Channel Four series Britain's Most Historic Towns. In addition to being interviewed, they showed Alice an archaeologically significant skeleton excavated from the St Mary Magdalen hospital in Winchester. Find out more
May
We hosted a special Human Library event that challenged stereotypes and prejudice. 24 volunteers acted as 'human books' who were 'on loan' to speak informally to visitors and share personal experiences. 'Titles' included Vegan, Transgender, Muslim and Refugee. Find out more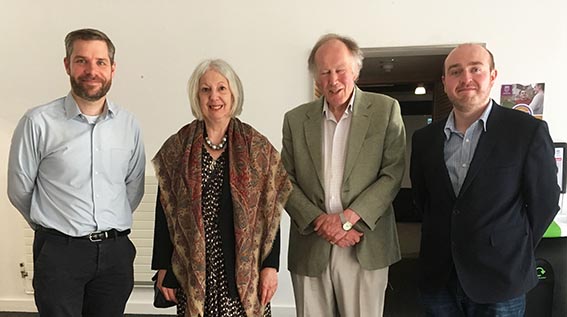 We launched our Centre for Medieval and Renaissance Research to lead innovative research into medieval history. The Centre brings together academics from History, Archaeology, Theology and English to enhance understanding of the British Isles and wider world from the end of the Classical Period to 1600. Find out more
Pictured above at the launch event (left to right): Dr James Ross, Reader in Late Medieval History; Barbara Yorke, Professor Emeritus of History; Michael Hicks, Professor Emeritus of History, and Gordon McKelvie, Lecturer in Late Medieval History
June

The University of Winchester contributes £266 million a year to the regional business community, the Economic Value of the University of Winchester report revealed. The University also creates nearly 10,000 jobs a year in the regional economy. Find out more

We welcomed Dr Abdullah Abdullah, Chief Executive of the Islamic Republic of Afghanistan, who gave a speech to an invited audience during a three-day visit to the UK. He spoke on a range of issues including peace initiatives, human rights, the power of education and the value of building partnerships with countries including the UK. Find out more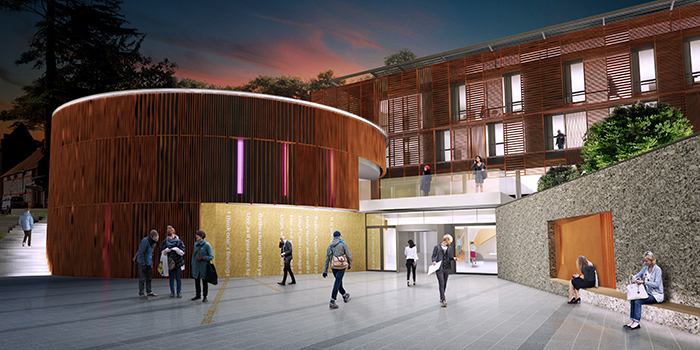 We secured a £30m loan from Triodos Bank, Europe's leading sustainable bank, to fund our landmark new development at West Downs. The new building will feature a number of cutting-edge sustainability features, including solar photovoltaic panels, rainwater harvesting and bat and bird boxes to promote biodiversity. Find out more
July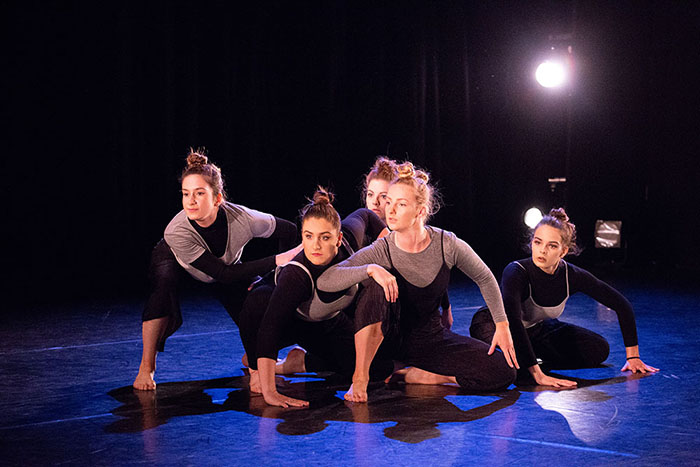 We signed five-year strategic partnerships with both Winchester Film Festival and The Point, Eastleigh an arts venue in Eastleigh. Both partnerships will create unique opportunities for our students to undertake work placements and work behind the scenes.
Pictured above: Winchester BA Dance students perform at their annual show at The Point, Eastleigh. (Photo: Stephen John Cook.)
Winchester was ranked in the top 20 UK universities with 87 per cent student satisfaction for 'teaching on my course' in the 2018 National Student Survey. We also achieved 84 per cent overall student satisfaction and ranked in the top quartile of UK universities for 'academic support' with 82 per cent student satisfaction. Find out more
August
Creative Writing PhD graduate and Associate Lecturer at the University, Dr Claire Gradidge, was shortlisted in TV duo Richard and Judy's annual 'Search for a Bestseller' competition for a novel she started writing as part of her PhD. The winner will be announced in January 2019. We have our fingers crossed! Find out more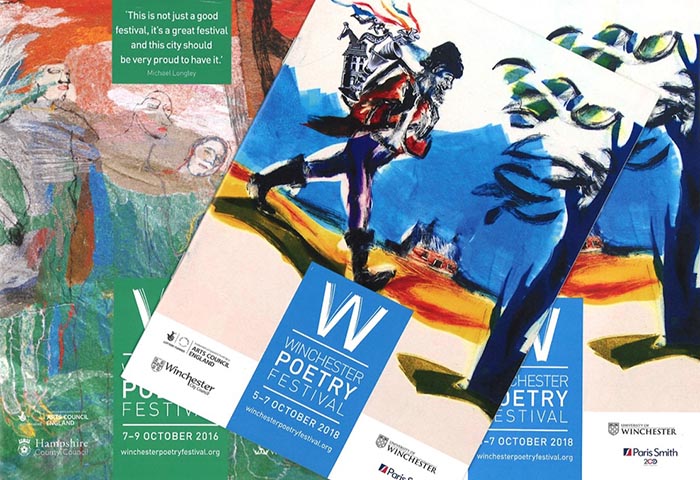 We signed a five-year strategic partnership with Winchester Poetry Festival to encourage more participation from young people and strengthen the cultural life of the city. This opened up opportunities for our students and saw the University host an educational project for local sixth-form students. Find out more
September

To mark the 100th anniversary of Nelson Mandela's birth, we hosted a major conference that explored how Mandela's commitment to and understanding of freedom might help us in current times. Find out more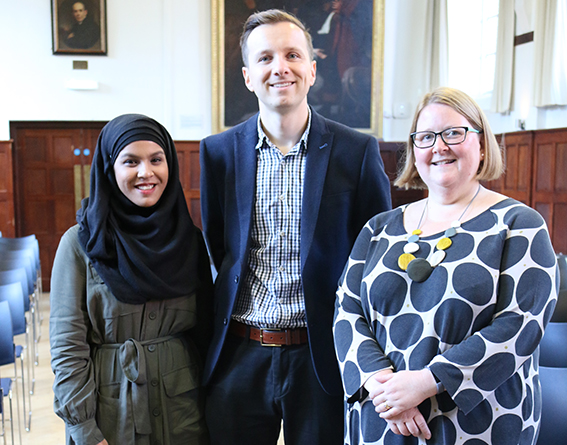 We launched our Centre for Student Engagement to help enrich the student experience at Winchester and create insight to help institutions across the UK ensure students have a worthwhile time at University. Find out more
Pictured above (left to right): Maisha Islam, Centre Administrator, Tom Lowe, Centre Manager and Programme Leader for the PgCert Student Engagement in Higher Education, and Visiting Fellow Dr Catherine Bovill.
October

Our new purpose-built, industry standard newsroom was opened by veteran ITN journalist and broadcaster Alastair Stewart OBE. The interactive space enables students to gain practical experience working as reporters in a simulated environment. Find out more

To coincide with the launch of the government's Care Leaver Covenant, Education Secretary Damian Hinds visited the University to see our leading work in improving access to higher education for care leavers. Find out more

In a traditional 'topping out' ceremony, Professor Joy Carter CBE DL and Chancellor Alan Titchmarsh MBE VMH DL laid the final section of concrete on the top floor of our new building at our West Downs Quarter to mark reaching the highest point in the build. Find out more
November

Former journalist and MP for Winchester and Chandler's Ford, Steve Brine, shared his advice and experience with student journalists at the University by acting as guest editor for a Winchester News Online (WINOL) news bulletin.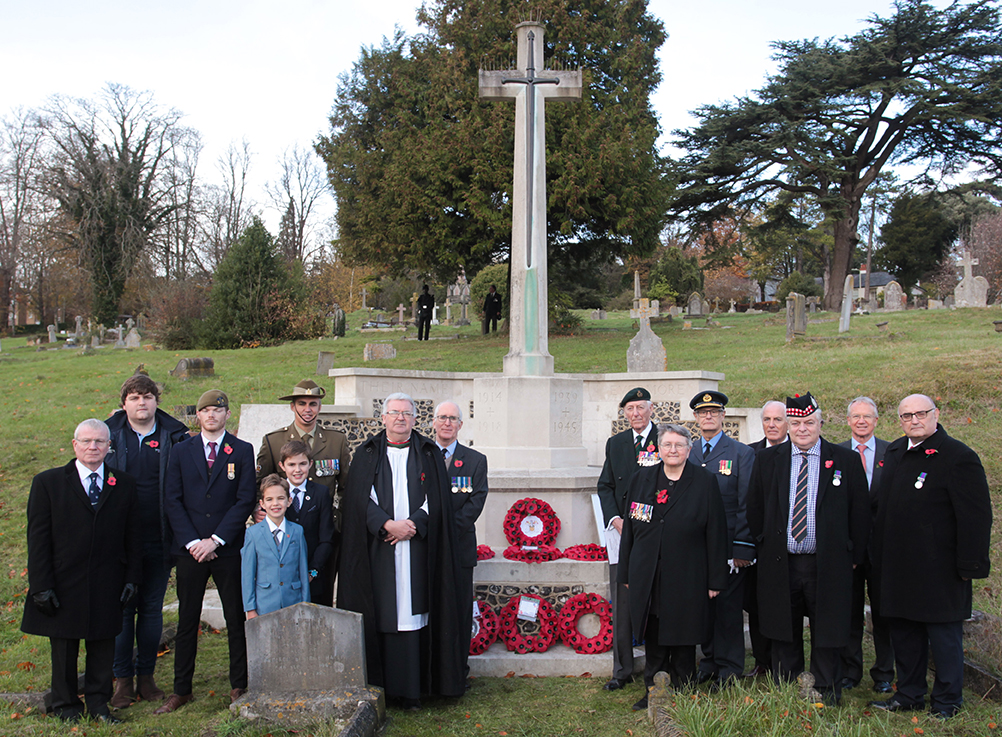 We led a special Act of Remembrance at the War Memorial and Cross of Sacrifice in West Hill Cemetery to mark the centenary of the First World War. After the service, there was a reading of the names of those remembered and guests viewed a special exhibition about the history of the Cemetery in The Stripe. Find out more
Dr Phil Marter, Senior Lecturer in Archaeology, and t student Will Reid used their expertise to bring forgotten war stories back to life for HISTORY® TV show WW2 Treasure Hunters. The series kicked off with a one-hour special focusing on the WWI transit camp at Magdalen (Morn) Hill, on the outskirts of Winchester. Find out more
December

In recognition of our initiatives to welcome refugees and asylum seekers and support them in higher education, we received a Sanctuary Award from the UK charity City of Sanctuary. We became the first University of Sanctuary in the south of England. Find out more.

Our Chancellor Alan Titchmarsh MBE VMH DL shared his advice for making the most out of life at our inaugural Christmas lecture. The festive-themed event also gave visitors the chance to enjoy interactive demonstrations led by University academics. Find out more

Students from our Politics and Global Studies and Journalism courses had the opportunity to quiz His Excellency Said T Jawad, Ambassador of Afghanistan, about the peace process and elections in his country when he visited the University. During a short presentation, HE Jawad discussed the war and politics in Afghanistan, negotiating with the Taliban and women's rights, among other topics. Find out more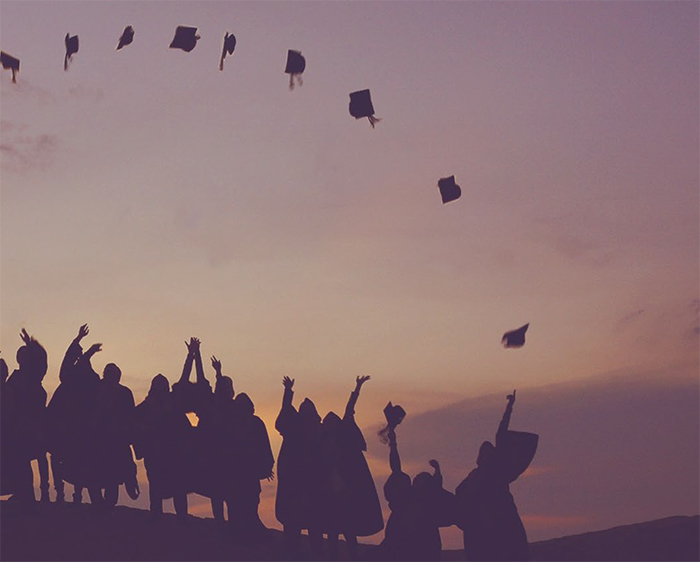 The University was recognised by the United Nations' (UN) Principles of Responsible Management Education (PRME) for its commitment to Sustainable Development Goals (SDGs) in an end of year bulletin. The UN praised the University's recent Sharing Information on Progress report as an exemplary way of communicating sustainability metrics alongside financial and operational performance and showing how the University's actions fit into the Six PRME principles.
Back to media centre