University of Winchester and Nelson Mandela Museum sign partnership agreement
28 Sep 2017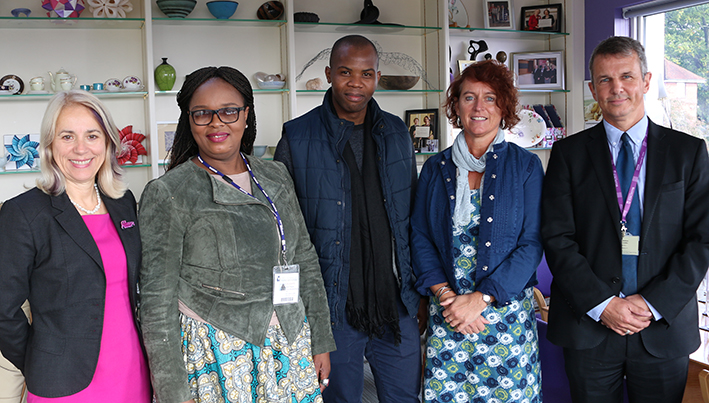 The University of Winchester and the Nelson Mandela Museum in South Africa have signed a partnership agreement which will see the two institutions collaborate on joint teaching and research activities, study visits and launch an exchange programme.
Winchester is the first university in the UK to establish a link with the Museum and the partnership will boost its research and teaching activities and foster international academic cooperation.
The Nelson Mandela Museum, based in Mthatha, in the Eastern Cape, was founded to keep alive the values of Nelson Mandela and tells both his story and that of the struggle for civil rights in South Africa. It opened in 2000, ten years to the day after Mandela's release from prison.
"The Museum is a living memorial to Nelson Mandela's values and vision, seeking to inspire and enrich all who visit it. Its values link strongly with our own and our partnership offers hugely exciting opportunities to work together in the future," said Professor Joy Carter DL, Vice-Chancellor of the University of Winchester.
"These include developing relationships between the Museum and our Institute for Value Studies and the Winchester Centre of Religion, Reconciliation and Peace, as well as offering our students' a fantastic chance to develop their understanding of different cultures and of global issues, including climate change, environmental issues and population growth."
Mr Bonke Tyhulu, CEO of the Museum, said: "The signing of the agreement with an international university continues in the footsteps of Madiba. Through this partnership, the Museum will continue to have international relevance. It also enables the Museum to truly become a window of development not only for the Mthatha communities, but throughout the Eastern Cape."
The agreement was formally signed at the University during a visit by two representatives of the Museum, Mandisi Msongelwa (Chief Financial Officer) and Nelisiwe Thwala (Senior Manager Heritage and Conservation).
Matthew Lowden, Senior Lecturer in the Faculty of Education, Health and Social Care, who is leading on the partnership for the University, said: "The first group of 12 Winchester undergraduates studying teacher education and film will visit the Museum in April 2018 on a two-week placement. They will spend time at the Museum and in surrounding areas, including at local schools for an enhanced placement for students on teacher training programmes. Students will also have the opportunity to learn in depth about Nelson Mandela, his life, philosophies and achievements."
Winchester also hopes to develop partnership links for research and teaching with Walter Sisulu University, which is based near the Museum. It offers teaching programmes at both undergraduate and postgraduate level and has strong links with local primary schools.
Back to media centre