University of Winchester experts help uncover the history of Norman Winchester for TV show
17 Apr 2018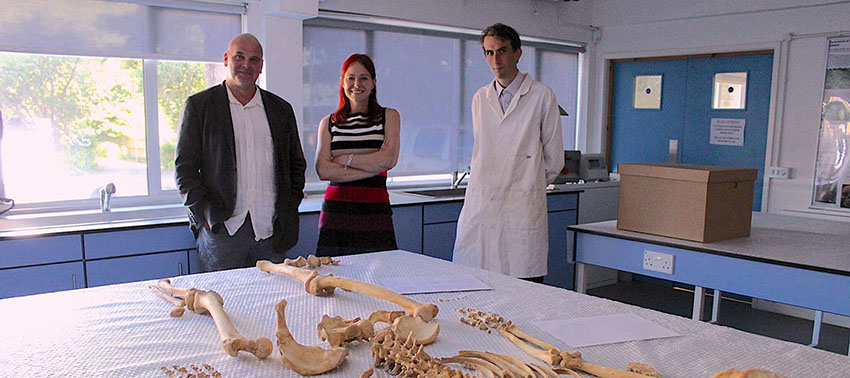 Medieval history and archaeology experts from the University of Winchester feature in an upcoming episode of the Channel Four series Britain's Most Historic Towns which focuses on Winchester, to be broadcast on Saturday 21 April.
Archaeologist Dr Simon Roffey and historian Dr Katherine Weikert are both interviewed by presenter Dr Alice Roberts, who tells the story of Norman England through key moments in the history of Winchester, Britain's most Norman city. Alice attempts to storm a castle in chain mail, investigates the origins of modern surgery and tucks in to an appetising eel pie.
She also visits the University archaeology lab to see the remarkable set of human remains excavated from the hospital cemetery of St Mary Magdalen in Winchester, the country's earliest excavated leprosy hospital and one of the most extensively excavated medieval hospitals in western Europe. University archaeologists have been working on the site since 2007.
The programme will show Dr Simon Roffey, Reader in Medieval Archaeology, and University researcher David Ashby examining one of the excavated skeletons and taking samples for radio carbon dating with Alice Roberts.
Simon said: "The fact that our excavation and post-excavation work at the medieval hospital of St Mary Magdalen has featured again on television really shows both the importance of this site and our work there, as well as its continued ability to catch the public imagination."
Research at Winchester has argued that the hospital of St Mary Magdalen may represent the beginnings of institutional health care and that such early hospitals, founded in the first few decades of the Norman Conquest, indicate a high level of social responsibility towards the care of leprosy sufferers. This goes against traditionally-held misconceptions that the disease was especially stigmatised in medieval society.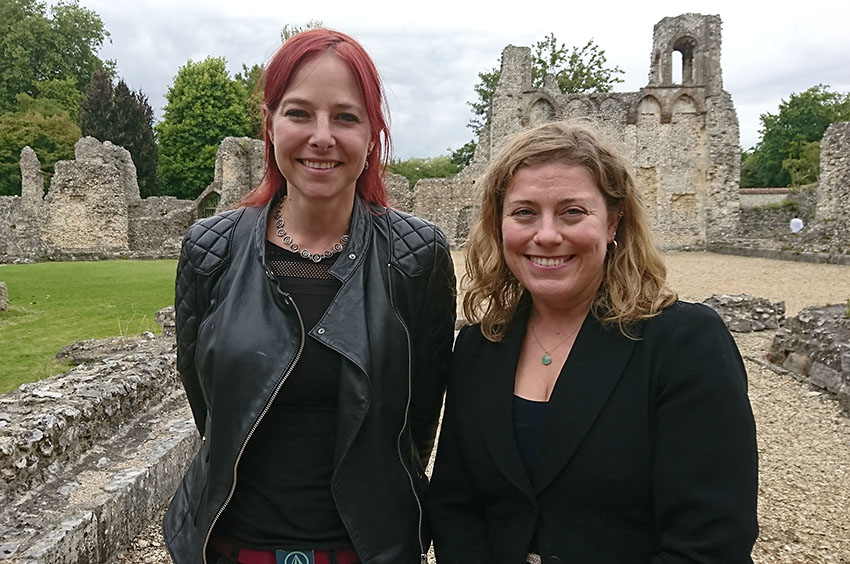 In another segment of the programme, Dr Katherine Weikert, Senior Lecturer in Early Medieval European History (above with Alice Roberts during filming), visits the Bishop's Palace with Alice Roberts to talk about the twelfth-century Anarchy - a civil war between King Stephen and Empress Matilda - and Winchester's key role for both sides. The Rout of Winchester in 1141 was a crucial pivoting point of the Anarchy, which eventually saw Matilda's son, Henry II, inheriting the crown and ushering in the Plantagenet dynasty from the Norman rulers.
"Medieval Winchester isn't just important on a local or regional scale, but was one of the great cities of the Conquest era, a power base to the Anglo-Saxon and Norman rulers, as well as the church with the powerful medieval bishops of Winchester. I'm delighted that the production chose Winchester as its Norman city and that I could show some of Winchester's great history to its audience," said Katherine.
Britain's Most Historic Towns featuring Winchester goes out at 8pm on Saturday 21 April on Channel Four.
Back to media centre