University team to undertake archaeological investigations for Central Winchester Regeneration site
12 Jun 2020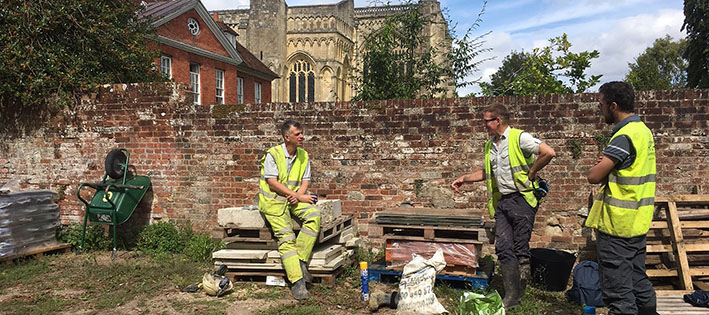 ARCA Geoarchaeology, a specialist team of archaeologists at the University of Winchester, are set to undertake borehole investigations across the Central Winchester Regeneration (CWR) site.
ARCA has been appointed by Winchester City Council to drill boreholes to extract and examine sediment samples, and install dipwells to monitor water levels. The team, led by Professor Keith Wilkinson, will collect and analyse data to inform future development proposals for the city centre project.
ARCA is the successful commercial arm of the University's Department of Archaeology. Launched in 2005, it carries out work locally as well as further afield, from Bristol to continental Europe. ARCA does not carry out excavations but has particular expertise in geoarchaeology, geomatics and geophysics.
Borehole techniques ensure minimal damage to underlying material and the deposits preserved underground. In line with best practice and expert advice, the borehole investigations will be undertaken to provide valuable insights into underground conditions and will form an important part of the ongoing planning and design process for the 4.9 hectares site.
The first phase of the investigations will begin in August and will last for up to 18 months.
Professor Elizabeth Stuart, First Deputy Vice-Chancellor of the University of Winchester, said: "We are delighted that the University's ARCA consultancy will work together with Winchester City Council on the archaeology of the CWR scheme. ARCA's particular geoarchaeological expertise is ideally suited to understanding the archaeology beneath this historic city."
Cllr Kelsie Learney, Cabinet Member for Housing and Asset Management, said: "In common with our residents we care deeply about our city's heritage and want to understand more about this special site so we can ensure a suitable approach to future redevelopment plans. I'm really pleased to be working with the University of Winchester on these archaeological investigations given their expertise and passion for the location. Now more than ever, the Central Winchester Regeneration scheme is set to play a vital part in our local economy, and this is another important step forward in this exciting project."
Photo shows (left to right): ARCA team members Professor Keith Wilkinson, Dr Phil Marter and postgraduate student Will Reid taking a break from drilling boreholes in the grounds of Winchester Cathedral (in background) in September 2019.
Press Office | +44 (0) 1962 827678 | press@winchester.ac.uk | www.twitter.com/_UoWNews
Back to media centre