Winchester research roundup December 2017
22 Dec 2017
The latest research news this month includes the exciting story of how archaeologists from Winchester are piecing together the history of a WWII Spitfire crash, an art installation in which the human voice sings songs of the ancient forest and the opening of a new study space for postgraduate research students.
We Wink, We Wink, Our Voices Blink lights up Lancaster
We Wink, We Wink, our Voices Blink... group of orbs, Light Up Lancaster from Tract and Touch on Vimeo.
An installation which invites audiences inside a unique and sensual voice and light landscape had its first showing at the Light Up Lancaster festival in November.
We Wink, We Wink, Our Voices Blink was conceived by Yvon Bonenfant , Professor of Artistic Process, Voice and Extended Practices at the University of Winchester, in his role as lead creative at Tract and Touch.
Inspired by the New Forest, the artwork conjures a natural world in which the human voice sings songs of the ancient forest and generates patterns of colour in hanging orbs. The orbs sense movement and respond, twisting, shaping and styling the sound and light.
We Wink, We Wink, Our Voices Blink is supported by the University of Winchester, Arts Council England Grants for the Arts and powered by The Point, Eastleigh.
Excavation unearths evidence about WWII Spitfire crash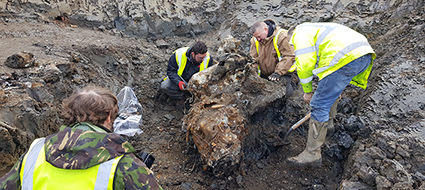 In 1940, a Spitfire crashed in a field in Lincolnshire killing its pilot Sgt Emrys Lewis. Almost 80 years later, a team of archaeologists, including senior lecturer Dr Phil Marter and Archaeology students Will Reid and Mike Mann, gathered at the crash site to record and recover the remains of Spitfire N3924.
Read Phil's account of the crash and the excavation on the University blog.

Winchester expert develops new professional educational standards for Wales
An academic from the University of Winchester has been instrumental in developing new professional standards for further education (FE) teachers and work-based learning (WBL) practitioners in Wales.
Professor Bill Lucas , Director of the Centre for Real-World Learning at the University of Winchester, led the development of the new standards for the Welsh Government. The standards provide a framework for progression and a tool for developing institutional strategies to improve teaching and learning. They also reflect the importance of ongoing professional learning for staff and the role vocational learning plays in creating the skilled, innovative and adaptive workforce Wales needs. Find out more.
"I hope that Wales will see itself at the forefront of thinking about what it is to be a WBL or FE practitioner in this important part of the new millennium," Bill Lucas said.
Watch an interview with Professor Bill Lucas about the news standards at the link above.
Professor A C Grayling opens new postgraduate study room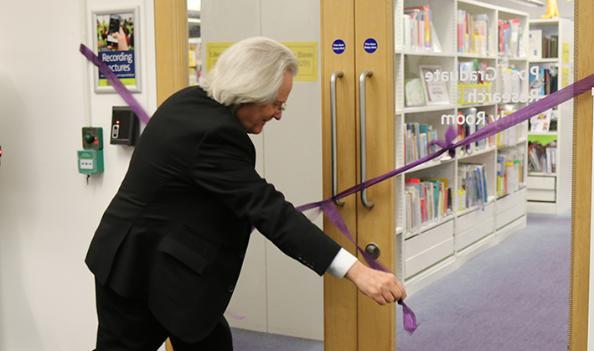 A dedicated study space for postgraduate research students in the Martial Rose Library was formally opened by philosopher and author Professor A C Grayling on 4 December.
There are around 250 postgraduate research students from a range of doctoral programmes studying at Winchester this academic year. Around three-quarters are part-time, with many studying for pleasure or for the challenge, while others are on the pathway to becoming academics or researchers.
Dr Judith McCullouch, Director of Postgraduate Students, said: "The University's new postgraduate research study space is an important step in creating a community of practice, bringing together postgraduate research students from different disciplines and offering opportunities for collective learning and peer support."
New Statesman article on YouTube families quotes Winchester research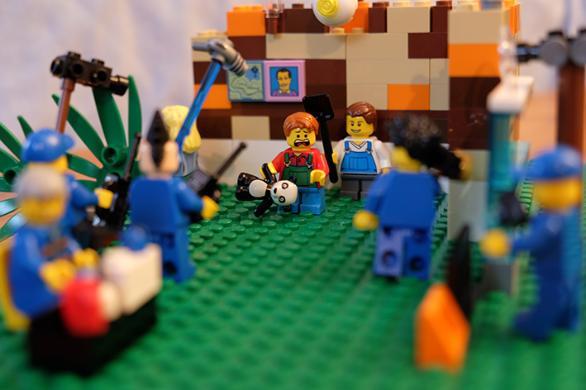 The recent phenomenon of 'sharenting' on YouTube and 'science entertainment' television programmes such as Channel Four's The Secret Lives of Four Year Olds has raised important questions about the impact of broadcast and social media on the privacy and best interests of young children.
Are we failing to protect the child stars of YouTube, an article in the New Statesman in November, references research by the University's Department of Law into 'Generation Tagged'.
In the article, co-author of the report third-year Law student Rachel Hendry, highlights that the privacy and interests of children in traditional broadcast media are protected by ethical and legal safeguards in a way that children of YouTube are not. Read the New Statesman article.
Have Generation Tagged Lost Their Privacy? is authored by Marion Oswald, Helen Ryan, Emma Nottingham, Rachel Hendry and Sophie Woodman and makes eight recommendations, including the introduction of a Children's Digital Ombudsman who could provide a way for children's interests to be better represented in respect of all forms of digital publication.
Spirituality explored through the lens of music education
Spirituality and Music Education: Perspectives from Three Continents (2017, Peter Lang), a collection of essays edited by June Boyce-Tillman , Professor of Applied Music, was launched at the international Spirituality and Music Education (SAME) conference in London in early December.
The book explores the growing interest in spirituality in music education. With the notion of spirituality struggling to find a way through the dominant ideology of secularisation in the West, it presents an array of lenses through which to examine the many complex strands within the concept of spirituality. Find out more.
Ethical framework for the use of algorithmic tools in police decision-making mentioned in Commons Committee
Research by Marion Oswald, Head of the University's Centre for Information Rights, was mentioned in oral evidence to the Science and Technology Committee inquiry into algorithmic decision-making on 12 December.
Conducted jointly with Sheena Urwin, Head of Criminal Justice, Durham Constabulary, the research explores the use of algorithmic tools to improve police force decision-making and proposes ALGO-CARE, an ethical framework of key practical and legal concerns that should be considered in relation to the use of algorithmic risk assessment tools by the police.
Click here to watch the Parliament TV film: Sheena Urwin mentions the article and the ALGO-CARE framework (c. 11.45 on the clock) and Professor Kate Bowers (UCL) refers positively to the framework (c. 11.54 on the clock).
Back to media centre