Winchester research roundup May 2019
31 May 2019
The latest updates on research and academic activities at the University of Winchester.
Government funding for project to commercialise mobile biometric authentication research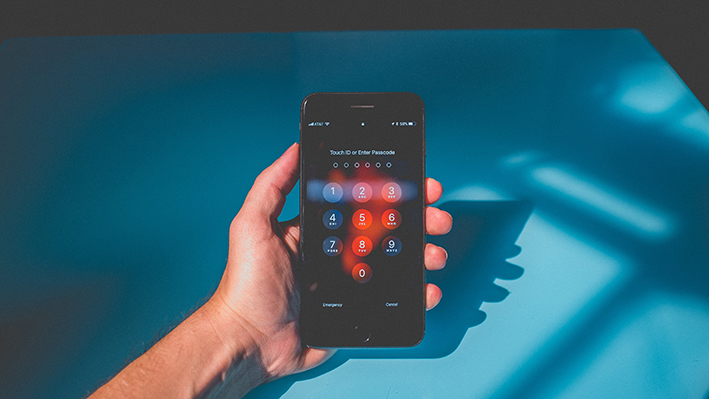 A team led by Dr Ben Sanders, Head of the Department of Digital Futures and an expert in cyber security, has secured government investment from Innovate UK (part of UK Research and Innovation) to commercialise new research in the area of mobile biometric authentication.
Biometric authentication verifies a user's identity using unique characteristics to log into a phone, service or app. The architecture will use existing hardware technologies such as facial recognition, keystroke analysis, application usage and fingerprint recognition to continuously authenticate users based on their physical, psychological and behavioural characteristics.
"The modern mobile handheld device is capable of providing a plethora of multimedia services through a wide range of applications over multiple networks. These services are predominantly driven by data, which is increasingly associated with personal and commercially sensitive information," said Dr Sanders.
"There is an increasing dependence on mobile devices, with more than five billion users globally, and this raises the security requirement for reliable and robust verification techniques of end-users."
Dr Taihai Chen (University of Southampton) is the Commercial Strategy Officer, with experts in secure software development, machine learning and artificial intelligence Andrii Iakovliev and Svitlana Braichenko (universities of Winchester and Southampton) also part of the team. A feasibility study is being undertaken over the summer.
Photo by NeONBRAND on Unsplash
Winchester praised amid calls for universities to boost support for armed forces and their families
The University's work to support ex-forces personnel and their children in getting into higher education has been praised by the Government. It comes as the Universities Minister and Defence Minister sent a joint letter to UK higher education institutions, asking them to sign up to the Armed Forces Covenant, which the University signed in 2016 to demonstrate its commitment to supporting military personnel, families and veterans.
A news article on the Gov.uk website highlights Dr Judith McCullouch and Dr Michael Hall's 2016 research and Winchester's wide-ranging activities to support military service families:
According to Winchester's research, the participation rate for young people from military service families in higher education is 24 per cent, compared to about 43 per cent for the overall population.
Recent initiatives underway include the Service Children's Progression (SCiP) Alliance - which is hosted at the University - becoming a leading partner in a national 'year of the Service child voice' campaign. Read the Gov.uk news story online.
Information rights expert's evidence features in landmark Parliamentary report on data ethics
The All-Party Parliamentary Group on Data Analytics report Trust, Transparency and Tech: Building Ethical Data Policies for the Public Good cites extensively from written evidence by Marion Oswald, Director of the University's Centre for Information Rights.
Marion Oswald's Whitehall Report Machine Learning, Algorithms and Police Decision-Making: Legal, Ethical and Regulatory Challenges, co-authored with Alexander Babuta (Royal United Services Institute) and Christine Rinik (University of Winchester) is also cited.
The landmark inquiry into the future of technology and data ethics sets out recommendations for government and policy makers to grasp the technological opportunities and meet the ethical challenges that big and open data present. It looks at how public trust can be built and retained in four key policy areas: connected and autonomous vehicles; education; policing, and healthcare.
Download Trust, Transparency and Tech: Building Ethical Data Policies for the Public Good here.
Photo: courtesy Policy Connect
New paper explores how to support disabled 'bad boys' in alternative further education provision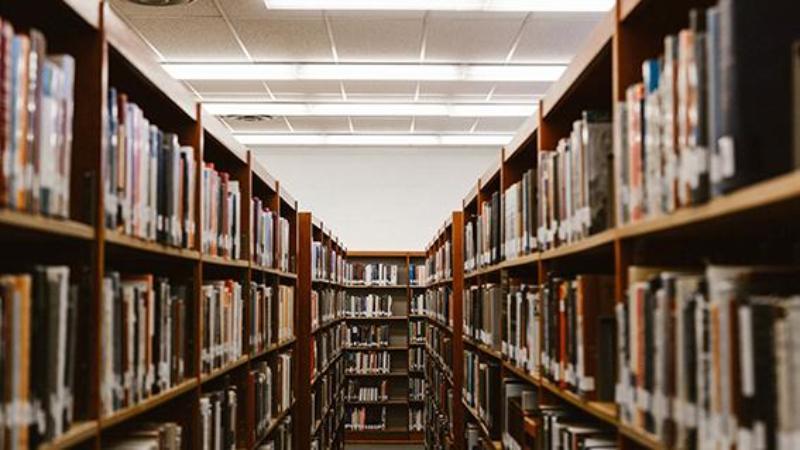 A new Open Access paper by Dr Craig Johnston draws on a study researching the experiences of a group of school-aged (14-16 years) disabled students in 'Alternative Provision' (AP) in England. AP, a recent policy innovation, is a substitute for mainstream schooling located outside 'regular schools', often in further education colleges.
The study explores how the young men, defined in terms of disability, understood and managed their everyday experiences and how the college's AP practices might include them, making AP a supportive phase of their education careers.
Speaking to the Disability Talk website, Craig, who is a Senior Lecturer in the Faculty of Education, Health and Social Care, explained: "Since publication a couple of weeks ago, this Open Access article has had a very good reception with over 1,200 downloads. I am keen for the voices of these young people to be heard as far as possible, especially amongst practitioners. Academically, I am trying to bring youth studies and disability studies closer together as often, in the literature, disability is treated as separate from gender, race, etc."
Alternative Spaces of Failure. Disabled 'Bad Boys' in Alternative Further Education Provision is published in the Journal of Disability and Society. Download the paper here.
Photo by Priscilla Du Preez on Unsplash.
'Claustrophobic' story set in Kiev marks debut novel for adult readers by Winchester writer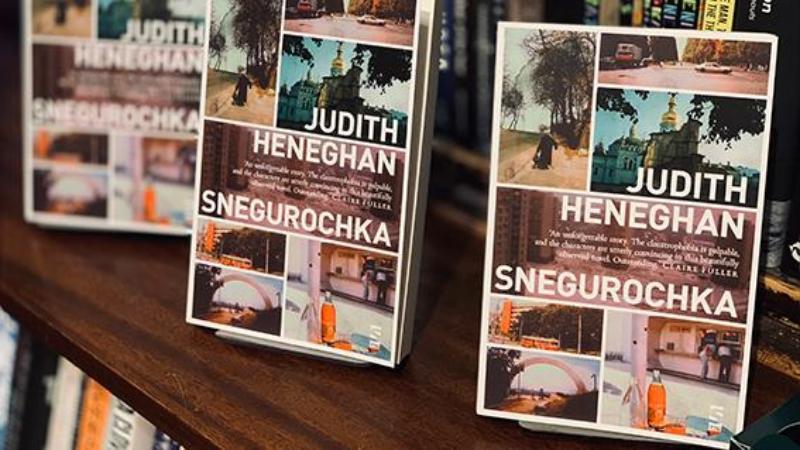 Judith Heneghan, Programme Leader for the MA Writing for Children and Young Adults course, has published her first novel for adult readers.
Snegurochka (published by Salt) is set in Kiev in 1992 and follows Rachel, a troubled young English mother, who joins her journalist husband on his first foreign posting in the city. Terrified of the apartment's balcony, she develops obsessive rituals to keep their baby safe. Her difficulties expose her to a disturbing endgame between the elderly caretaker and a local racketeer who sends a gift that surely comes with a price.
Judith said: "Snegurochka has been brewing for over 20 years, but I received invaluable encouragement from the Doctor of Creative Arts programme here at Winchester, led by Professor Andrew Melrose. Salt, too, have been hugely supportive and I'm thrilled that my novel is joining their dynamic and outward-looking list."
Winchester-based novelist and alumna Claire Fuller said of the book: "An unforgettable story. The claustrophobia is palpable, and the characters are utterly convincing in this beautifully observed novel. Outstanding."
Criminology students collaborate with Hampshire PCC on research projects
Students studying on the MSc Applied Criminology course at Winchester have undertaken research in partnership with the Hampshire Police and Crime Commissioner (PCC).
The research is providing insights into relevant topics such as domestic abuse, stalking cybercrime and sexual offences and will support the PCC in shaping and investing in services for victims and offenders and influencing policies on how crimes are dealt with.
Johannes Oosthuizen, Director of the University's Institute of Policing, said: "We have been privileged to work together with the PCC's office in order to conduct research around contemporary issues and topics in the criminal justice sector.
"Our postgraduate students have not only been able to develop their research skills with working professionals but have also acquired valuable employment experience which will greatly benefit their postgraduate employment. We look forward to a productive and continued academic collaboration with the PCC's office in the future."
Other universities involved in the partnership include Portsmouth, Southampton and Southampton Solent. Find out more.
Professional accolade for Neil Marriott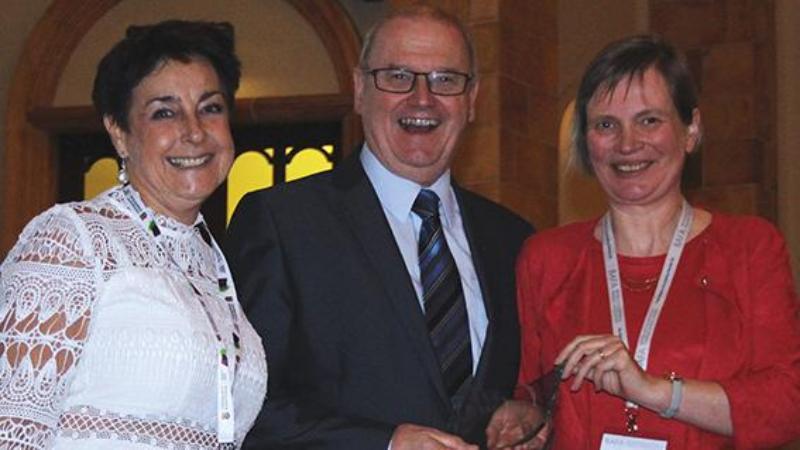 The inaugural British Accounting and Finance Association (BAFA) Outstanding Contribution to Accounting and Finance Education Award has been awarded to Deputy Vice-Chancellor Professor Neil Marriott. The award recognises an individual who has made a substantial and direct contribution to UK Accounting and Finance Education over the course of his or her career.
Neil said: "I am particularly pleased that the BAFA Trustees have nominated me to receive this inaugural award. It is significant that BAFA is recognising those who have made a considerable contribution to the profession and to the Association in their career. It is important that an academic's contribution to teaching is recognised as well as their research. Accounting can be a difficult subject to teach effectively and to be recognised as making a significant contribution in this way is a great honour."
Neil is pictured above receiving his award from Professor Lisa Jack, President of the British Accounting and Finance Association (right) and Professor Christine Helliar, past president (left) at the annual BAFA conference in Birmingham.
Expert comment: How overtourism is affecting iconic destination Venice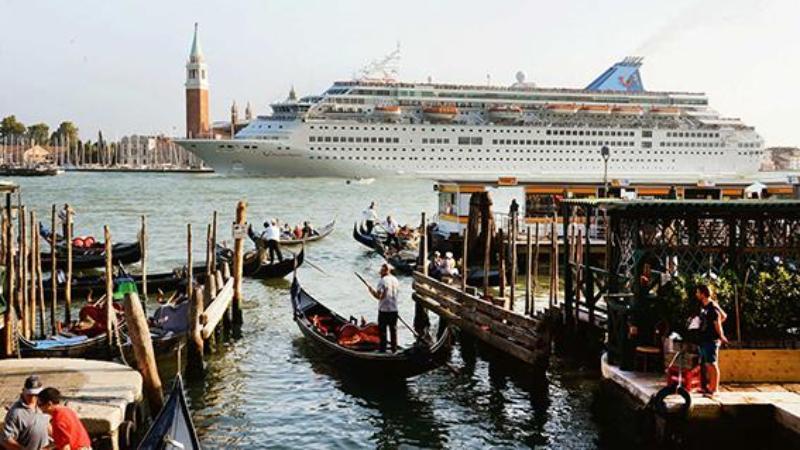 If you are off on holiday in the coming months, look out for the AirBnb magazine and an article on endangered destinations and mindful travel, in which Dr Hugues Séraphin, Programme Leader of the BA (Hons) Event Management course, comments on overtourism in Venice. He argues that reducing visitors is vital because of environmental and social impacts. Read the article here.
Blog highlight: Unlocking the history inside Winchester Cathedral's mortuary chests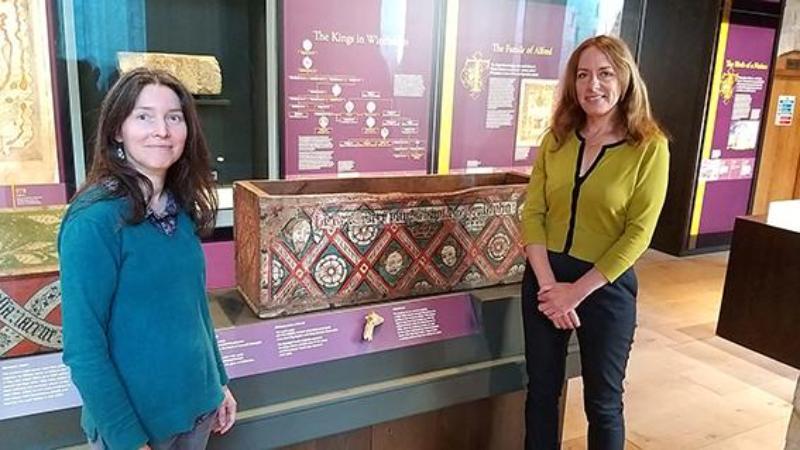 A new exhibition, Kings and Scribes: The Birth of a Nation, which opened this month at Winchester Cathedral, presents a selection of findings from a research project led by the University of Bristol to analyse the human bones from six Winchester Cathedral mortuary chests thought to contain the remains of an Anglo-Saxon Queen alongside several Anglo-Saxon Kings and Bishops.
In this blog post, Dr Heidi Dawson-Hobbis, a biological anthropologist who worked on the project to analyse the bones, gives an insight into how researchers are piecing together history and the identities of the individuals contained in the chests. Read the post.
Heidi is pictured (above left) at the exhibition. Image copyright: Hampshire Chronicle.
Press Office | +44 (0)1962 827678 | press@winchester.ac.uk | www.twitter.com/_UoWNews
Back to media centre