'Words to live by' from University Chancellor Alan Titchmarsh at Christmas lecture
7 Dec 2018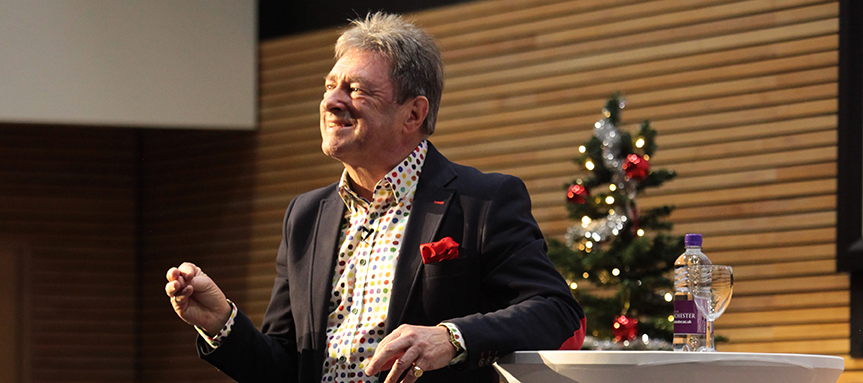 University of Winchester Chancellor, broadcaster and novelist Alan Titchmarsh MBE VMH DL, shared his advice for making the most out of life at a special Christmas lecture this week (5 December).

The inaugural festive-themed event invited young people, their families and members of the local community to enjoy interactive activities and be inspired to live life to the fullest and thrive. In a talk infused with warmth and humour, Alan shared personal and professional experiences and anecdotes, before answering questions and signing copies of his latest books.

Alan offered advice to young people considering their future paths in life, saying: "The greatest gift is finding out what you are good at. The lucky ones are those who find out what it is and do it for a living. Make sure that you do a job which makes your soul sing."
He argued that in order to thrive and flourish in life, it is important to hold on to a generosity of spirit, have the confidence to be true to yourself, keep in touch with people who make you feel good about yourself, and take risks to try out new things.
Before Alan's inspiring talk, guests had an opportunity to take part in hands-on demonstrations led by University academics.
Guests trekked through landscapes with dinosaurs using Virtual Reality (VR) headsets showcased by the Digital Futures team. The Sport, Exercise and Health team set visitors a challenge with a reaction testing machine - just one of the industry-standard pieces of equipment available at Winchester. With experts from the Nursing and Physiotherapy teams, visitors also explored anatomical model skeletons and body parts and found out how online prescription tools help physiotherapists design tailored exercises for patients and monitor their effectiveness.

Other interactive and creative elements included steering a small robot around the venue with an iPad; handling religious artefacts with the Theology and Religious Studies team, and writing experimental poetry in under 280 characters for Twitter as part of the #Winchestertwitterpoems project.

The demonstrations were accompanied by music from brass quartet band The Brass Santa's and carols sung by the University of Winchester Music Centre.
Press Office | +44 (0) 1962 827678 | press@winchester.ac.uk
Back to media centre