Alt-J launch state-of-the-art sound recording studios at University of Winchester
29 Mar 2018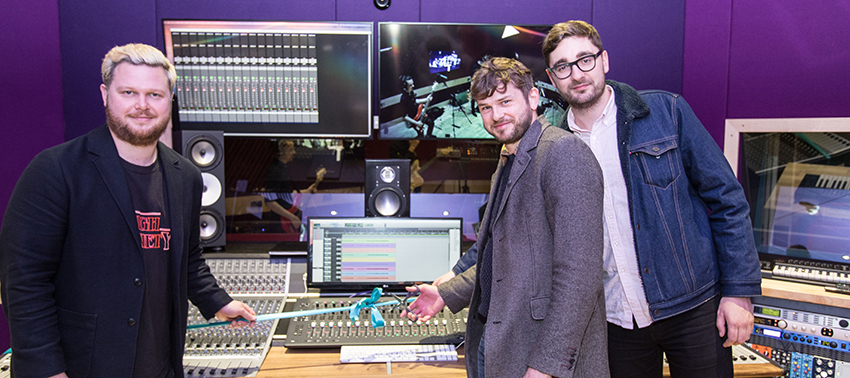 Two members of Mercury-Prize-winning indie rock band alt-J launched the University of Winchester's new state-of-the-art sound recording and post production studios today Thursday 29 March.
Frontman Joe Newman - who has links with Winchester, having grown up in Hampshire - and keyboardist Gus Hamilton-Unger toured the studio complex and met students and teaching staff before a ribbon-cutting ceremony. The visit took place the day before the band set off on a world tour.
They were accompanied by their record producer Charlie Andrew who has worked with artists including Madness and Rae Morris and was named Music Producers Guild Producer of the Year in 2016.
Gus said: "We're blown away by the facilities here, which are outstanding. We've recorded in a lot of studios over the years and this definitely beats some of the professional non-university facilities that we've used and seen, so it's pretty amazing. It's incredible to imagine being in a band at university and being able to book in here and record."
"It's an amazing environment you have and if you've got an outstanding studio, which you do, great things can come from that," added Joe.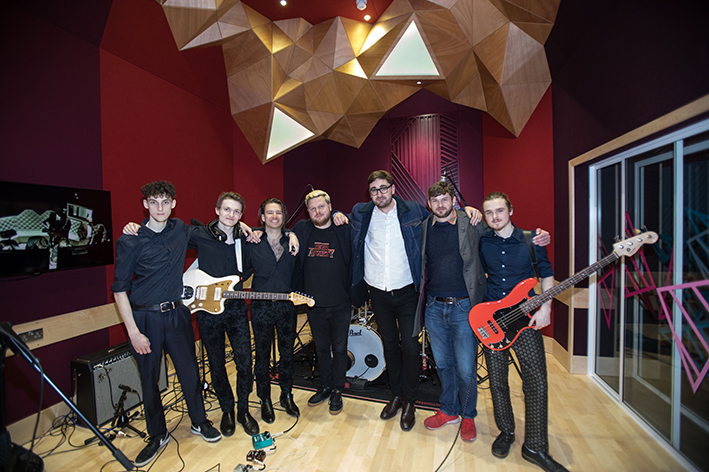 The flagship facilities - created by world-renowned acoustic architects Veale Associates - are fully equipped to industry standard, making use of both analogue and digital technology. The five-room complex features two control rooms, two live rooms and an ADR/Foley room for creating sound effects, as well as a green room.
Both control rooms feature Audient consoles, with the world's first height-adjustable ASP8024-HE console in control room two. The console allows ergonomic operation for wheelchair users and can be raised all the way to a comfortable standing position.
The large live room features an acoustic diffuser which provides excellent sound diffusion and is the first manufactured by the Italian Wood-Skin company to be installed in the UK. A flexible lighting system creates an atmospheric mood in the room.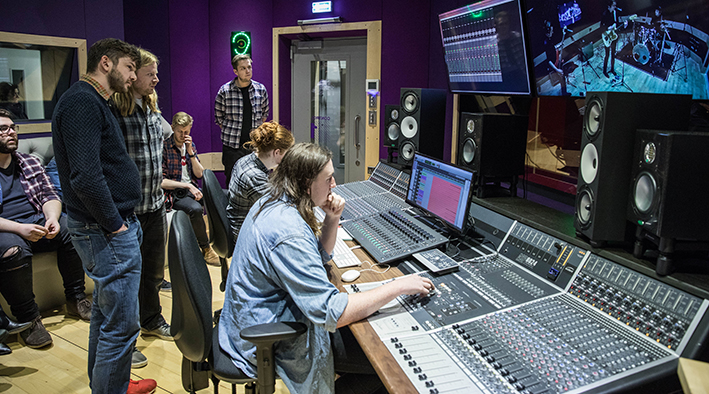 The studios' technical design features a wide range of hardware and software dynamic and effects systems.
"I'm delighted that Joe and Gus were here today to open these stunning facilities which are set to help us achieve our ambition for the University of Winchester to become a leading provider of sound and music education," said Professor Joy Carter, Vice-Chancellor of the University of Winchester.
Professor Alec Charles, Dean of the Faculty of Arts, said: "The studios comprise a unique set of spaces that are inspiring environments, offering plenty of scope for collaborations and interactivity for students training for a career in sound."
"They provide the perfect facilities for our degree programme in music production and performance and students will be able to transition into music and sound industries secure in the knowledge that they have studied in a true-to-industry facility."
Veale Associates president Eddie Veale said: "We have brought our extensive commercial expertise to this project to create the highest quality studio spaces for teaching and learning at the University of Winchester. Students need to be equipped for the future and I believe that they should have state-of-the-art facilities to enable them to do that."
Back to media centre