August 2019 at the University of Winchester
6 Sep 2019
August saw the successful launch of the University's new Faculty of Health and Wellbeing and we welcomed former England rugby team captain Lewis Moody back on campus to support his team of coaches. We also won an award for our commitment to being an Armed Forces friendly-employer; as well as asking the important question, what are the issues of keeping primates as pets? Read on to find out more.
Health and Wellbeing Faculty launch
The University officially launched its new Faculty of Health and Wellbeing, which is now home to students studying courses including physiotherapy, nursing, animal welfare, social work and sport. This comes at a time when the University and Hampshire Hospitals NHS Foundation Trust have pledged to work together to help address the growing demand for healthcare professionals in the region. As part of this partnership, students will gain access to cutting-edge medical equipment, on-the-job training and teaching spaces within the Royal Hampshire County Hospital site, next to the University's King Alfred Quarter.
"As institutions, we share the same values and aspirations for the communities we serve. We believe that health and wellbeing are at the heart of what it means to flourish," said Professor Joy Carter CBE, DL, Vice-Chancellor of the University of Winchester.
"Health and wellbeing are everyone's concern and our new Faculty reflects their importance in wider society and at the University," said Professor Simon Jobson, Dean of the Faculty of Health and Wellbeing. "Improving health and wellbeing for individuals and communities is a growing sector which requires highly skilled graduates. We hope to expand our current programmes and degree apprenticeships in the future with an exciting range of new courses to further boost teaching and research in this important area." Find out more.
Training with Lewis Moody and the Mad Dog Academy
Former England rugby team captain Lewis Moody and his coaching team from Mad Dog Rugby Academy visited the University of Winchester for the second year running, to seek guidance from internationally-renowned sports coaching expert Richard Cheetham. Richard, Senior Fellow in Sports Coaching, advised the coaches on new techniques and how to get the best out of mixed ability groups when they return to their academies. He shared a technique known as differentiation that allows the training of mixed ability groups through the medium of basketball. Richard's extensive sporting expertise provided the captains with a holistic approach to coaching, training them to be inclusive in their own application of teaching.
Silver Award for support of Armed Forces personnel and their families
The Ministry of Defence Employer Recognition Scheme Silver Award has been granted to the University of Winchester in recognition of its commitment to being an Armed Forces-friendly employer, and its support of the wider forces community and of the families of military personnel.
As a signatory to the Armed Forces Covenant, the University pledges to ensure military personnel, including reservists and veterans, are treated fairly. Winchester has implemented a variety of supportive initiatives including a flexible working policy and additional leave allowance to enable reservists to balance weekly training commitments and fulfil their deployment duties. Mentors, who are themselves ex-forces employees, are also available to veterans, service leavers and the wounded, injured and sick to help with the transition into civilian work.
Find out more about the opportunities offered at Winchester, and read personal experiences from a veteran and a military spouse who work at the University.
Winchester Churches Nightshelter donations from University students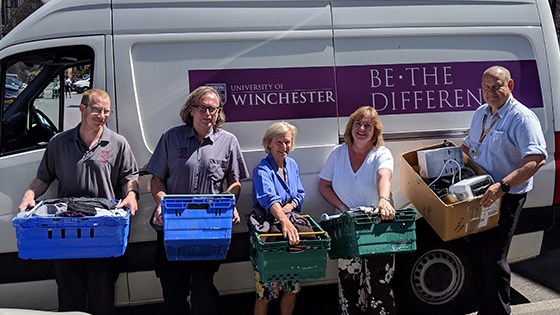 The University of Winchester and Winchester Churches Nightshelter joined forces to ensure that household items, clothes and unopened canned food no longer needed by first-year students heading home for the summer are given a second life, thanks to the University's Bag It Up initiative.
Campus Manager, Ian Tonks, contacted the Nightshelter to see if they could make use of items such as blankets, pans, clothes, kettles and canned food.
More than 500 green bags, weighing roughly 1.8 tonnes in total, were donated by students living in University on-site accommodation, with over 1.2 tonnes benefiting a number of charities in the city, including Winchester Basics Bank and Emmaus Hampshire, as well as Winchester Churches Nightshelter.
"Our Bag It Up initiative - now in its third year - prevents reusable goods from ending up in landfill and enables us to partner with a number of local charities to provide donations that really help their work," said Ian Tonks. See the full story here.
West Downs development update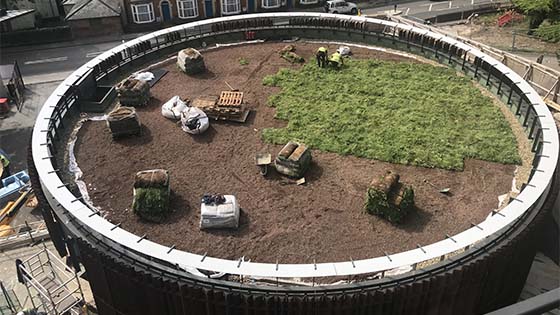 In keeping with the University's commitment to a more sustainable future, a green roof has been laid on the Auditorium of the West Downs development on Romsey Road. This offers numerous benefits from improving the biodiversity of the site to contributing to a more energy efficient building. One other significant step for this development was the 88-meter high tower crane coming down, signifying that the build is coming to an end. The development is due to be completed in early 2020.
You can find out more about the West Downs development here, and take a look at the timelapse camera footage.
Blog Highlight: The issues of keeping pet primates
Quite simply, primates are not domestic animals - they have not been selectively bred to tolerate close human proximity, and their complex psychological and physical needs cannot be met in a household situation. As pets they suffer social isolation, poor health, depression and psychosis, performing self-harming behaviours and other abnormalities. With a lifespan of 30 years for some species life as a pet is certainly not a barrel of monkeys!
As the Labour party restated its commitment to a total ban on keeping primates as pets in August, Dr Lisa Riley discusses the problems of primate pet-keeping and considers what can be done to relieve primate suffering. Dr Riley is a lecturer in animal welfare and a member of the University's Centre for Animal Welfare.
Read the full blog here for more insight into the issues surrounding this controversial topic.
Press Office | +44 (0) 1962 827678 | press@winchester.ac.uk | www.twitter.com/_UoWNews
Back to media centre