Blue Apple and University of Winchester cement fruitful partnership with residency
9 Apr 2018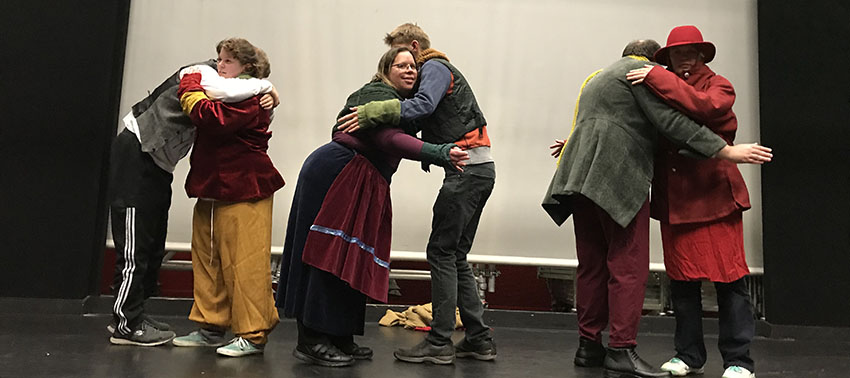 Blue Apple Theatre is moving its headquarters into the University of Winchester where the Blue Apple team will work closely alongside colleagues in the Faculty of Arts, thanks to a five-year residency announced by the University today Monday 9 April.
Blue Apple is a high-profile regional charity that works with performers with learning disabilities to develop their skills and create ambitious productions in dance, theatre and film. It is supported by National Lottery funds and the People's Health Trust and by Hampshire County Council and Winchester City Council.
The two organisations have developed strong ties in recent years. This has created opportunities for University arts staff and students to work on productions with Blue Apple's talented and inspiring casts.
Most recently Blue Apple performers have been working with the University's dance company, in collaboration with students from James Madison University in Virginia, to participate in joint student performances in both Winchester and the United States.
Creative writing and film production students are also collaborating closely on ongoing projects with Blue Apple.
University of Winchester Vice-Chancellor Professor Joy Carter CBE commented: "After years of fruitful cooperation with Blue Apple, it's great for the University to be cementing our relationship with the charity in this way. This initiative will offer brilliant opportunities for our students and staff and for fans of fantastic dance and theatre across the region and beyond."
"It's really exciting for us to be moving into this vibrant university environment," said Simon Morris, General Manager of Blue Apple. "We're looking forward to developing new and exciting areas of collaboration as Blue Apple goes from strength to strength. The Tower arts centre has been our wonderful home for a long time and I would like to thank Kings' School for all their support in recent years."
Dean of the University's Faculty of Arts, Professor Alec Charles added: "Every time I see a Blue Apple production, it moves and inspires me and impresses me with its beauty and wit. It's a real honour to be able to build such close ties with this wonderful organisation."
"Becoming theatre in residence at the University of Winchester in one of the most exciting steps for Blue Apple to date. I look forward to Blue Apple members and students working together, creating a wonderful synergy of friendship, performance and opportunities for all, on and off stage," added Jane Jessop, Blue Apple Founder.
Back to media centre