Celebrating and discussing progress in animal welfare at the UK Parliament
28 Mar 2022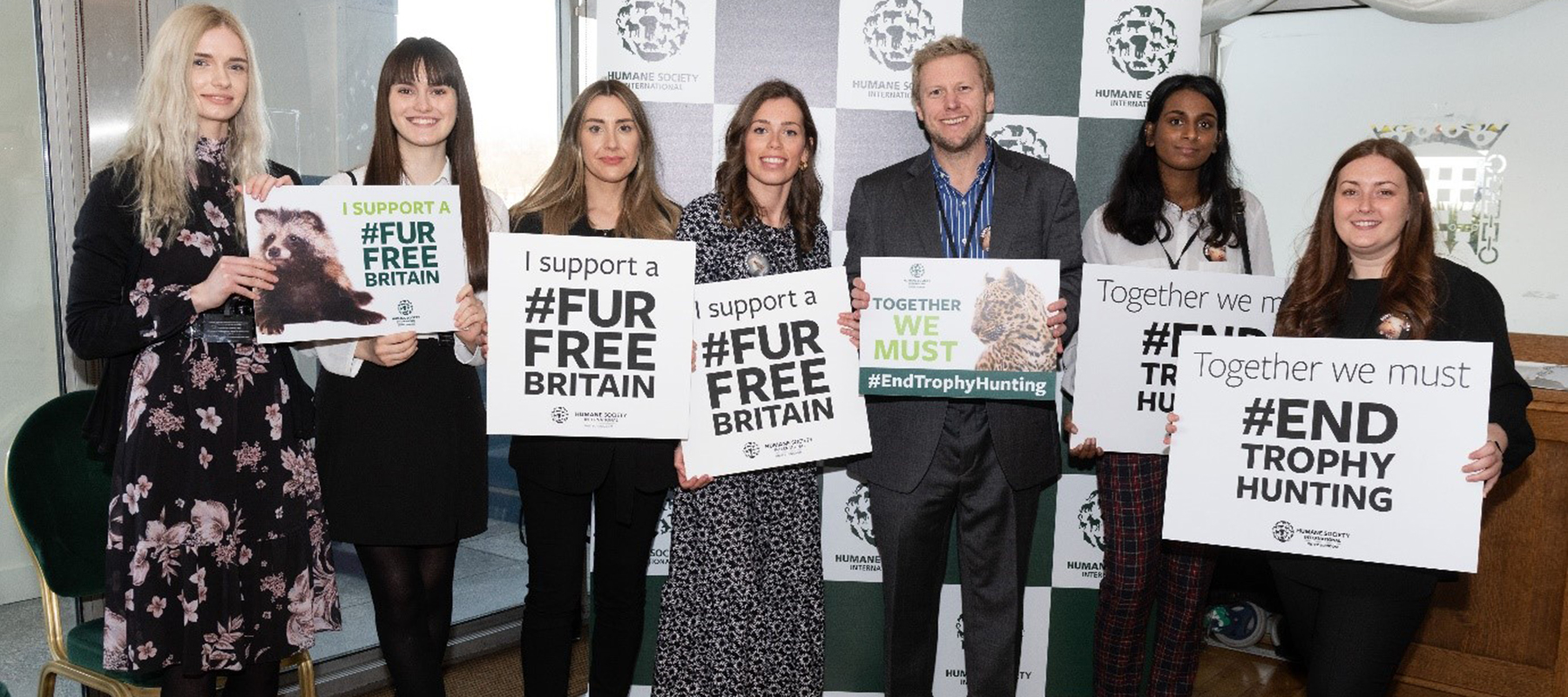 Students studying animal welfare recently attended a reception hosted by Humane Society International UK at the Houses of Parliament. Dr Steven McCulloch, senior lecturer in Human-Animal Studies and Programme Leader for the BA (Hons) Animal Welfare and Society degree programme who led the visit, describes their experiences.
In the final year of the University of Winchester's BA (Hons) Animal Welfare and Society degree programme we explore the Political Representation of Animals.
This year's cohort were lucky enough to be invited to a Parliamentary reception hosted by Humane Society International (HSI) UK to celebrate and discuss Parliamentary progress in animal welfare. There was a particular focus on the Sentience Bill, hunting trophy ban, and HSI's Fur Free Britain campaign.
The event was held at Parliament's Terrace Pavilion. As part of the political lobbying process, Parliamentarians can sponsor events organised by lobbyists. In this case, the Conservative MP Tracey Crouch and the Labour MP Christian Wakeford sponsored the event. The Terrace Pavilion is a large room adjacent to the River Thames, with doors open on to the outdoor terrace with a fantastic view of Westminster Bridge and Big Ben.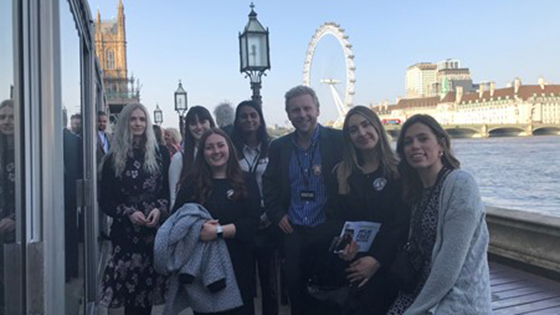 Dr Steven McCulloch and BA (Hons) Animal Welfare and Society students Sara Holdsworth, Charlotte Johnson, Hari Kirupaharan, Emily Morgan, Natasha Hunt, and Ellie Thomas on the Terrace Pavillion, Houses of Parliament (photo credit, Beth Powell).
The reception was a veritable throng of government ministers, MPs, members of the House of Lords, senior officials of leading UK and global animal protection non-governmental organisations (NGOs), and celebrities. On the way in, we were greeted by Chris and Lorraine Platt, founders and directors of the Conservative Animal Welfare Foundation and introduced to longstanding animal welfare champion Sir Roger Gale MP.
The Sentience Bill establishes the Animal Sentience Committee, which will scrutinise how government policy impacts sentient animals. It replaces and strengthens Article 13 of the Treaty of Lisbon, now that the UK has left the European Union. Hunt trophies are the heads or other body parts that hunters keep as a souvenir of their conquest. The Conservative Party has pledged in its 2019 general election manifesto to ban imports from trophy hunting of endangered animals.

HSI UK, along with the Fur Free Alliance, has long campaigned to end the import and sale of fur in the UK. The UK has banned fur farming under the devolved Fur Farming Prohibition Acts. Despite this, the UK has continued to permit the import and sale of fur from farmed and wild trapped animals. Mink, foxes and other species suffer greatly in small barren cages on fur farms. Wild animals that are trapped for their fur suffer due to pain, fear, and sometimes even predation.
Nick Palmer, Head of Compassion in World Farming (CIWF) UK, greeted the students and offered some friendly advice about employability. CIWF is the world's leading organisation that campaigns against industrial farming, which is arguably the greatest cause of suffering to animals there is. CIWF is an official partner of the University of Winchester Centre for Animal Welfare, and each year two final-year students are offered internships to learn about and contribute to Compassion's important work.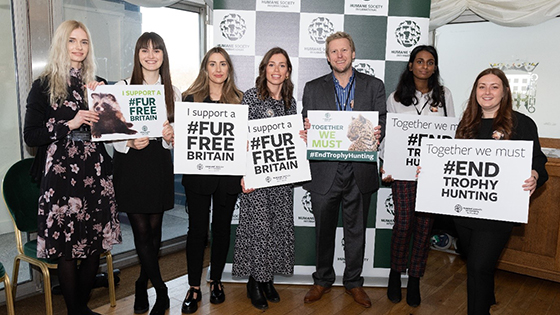 Dr McCulloch and the BA (Hons) Animal Welfare and Society students supporting Humane Society International UK campaigns for a Fur Free Britain and to End Trophy Hunting (photo credit, Peter Stevens).
We were then whisked away by a professional photographer to help promote the campaign. Having learned about the horrors of fur production and trophy hunting, the students were very willing to promote these important causes.
The reception then heard some short speeches about the issues under discussion. Claire Bass, Executive Director of HSI UK, welcomed us to the reception. She spoke with conviction about the cruelties of the fur trade and trophy hunting, and implored the Conservative Government to ban the import and sale of fur and hunt trophies.
Queen guitarist and animal rights champion Brian May spoke passionately about trophy hunting. He described how the act of keeping a souvenir of a killed animal was a macabre and sickening practice that should be outlawed. He ended with a plea to ban the practice and for society to become more compassionate to animals sooner rather than later, and within our lifetimes.
Downton Abbey star Peter Egan delivered a rousing speech about the need to be compassionate to animals. Peter received an honorary doctorate from the University of Winchester in 2017 for services to social justice and animal welfare. At the Parliamentary event Peter asked the students about their dissertation projects in Animal Welfare and was kind enough to pose for a photograph with us.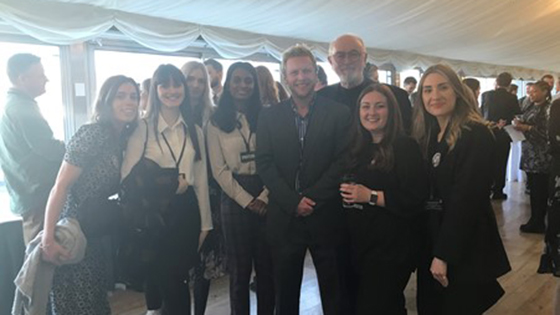 The BA (Hons) Animal Welfare and Society students meet Peter Egan, Downton Abbey star. Peter received an honorary doctorate from the University in 2017 for services to social justice and animal welfare (photo credit, Beth Powell).
George Eustice, Secretary of State at the Department for Environment, Food and Rural Affairs, spoke for the government at the event. Eustice's words were carefully crafted and key stakeholders listened intently to each word. Eustice reiterated the government's strong position on banning the import of hunt trophies.
Stanley Johnson, conservationist and father of Prime Minister Boris Johnson, cheered on Eustice's commitment to banning hunt trophies. On the import of fur, Eustice was less committal. Guardian journalist Helena Horton, also at the event, had penned an article on her interpretation of events by the same evening.
During a break, the MPs scurried away to vote in divisions. We were visiting a live working Parliament with MPs voting in the chamber as well as being lobbied in the adjoining function rooms. During these divisions, we were invited to help ourselves to refreshments. Colleagues in animal protection commented that this was the first Parliamentary event where the food was all vegan. And the Parliamentary offering was some of the finest vegan food that I've tasted.
During refreshments, we were lucky enough to be chatting with David Bowles, Head of Public Affairs at the RSPCA, and Mark Jones, Head of Policy at the Born Free Foundation. David and Mark gave excellent advice to the final year BA (Hons) Animal Welfare and Society students. The key message was to do lots of volunteering and go above and beyond what other applicants might have done. The bottom line was for graduates to show how keen they were through the experience on their CVs.
"The Parliamentary reception with HSI UK was a great opportunity to see the important work that is being done within the animal welfare sector," said student Ellie Thomas.
"I really enjoyed meeting so many key individuals and felt honoured to be in a room with so many important people who are lobbying for crucial legislation. It really was an eye-opener and great to see the subjects we are studying come to life in front of us. I am grateful for this opportunity and will always remember it as a highlight of my university experience."
During this break the Green MP Caroline Lucas, catalyst for the Sentience Bill, waltzed through to have a quick word with David Bowles. Baroness Sue Hayman, architect of the ground-breaking 2019 Labour Animal Welfare Manifesto, watched over proceedings intently. Lord Trees, veterinary surgeon and cross bench peer, observed proceedings. There was clear cross-party support for the Humane Society International UK and wider animal protection lobby agenda of banning the import of hunt trophies and fur products.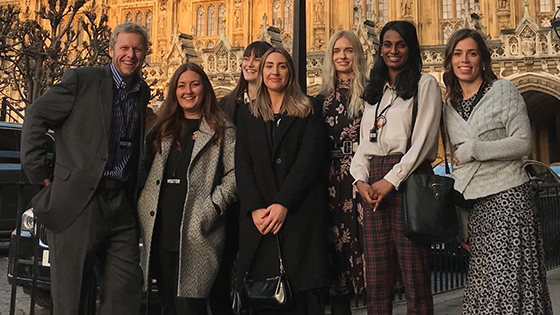 Outside Parliament on the way to St Stephen's Tavern (photo credit, Beth Powell).
And before too long our party of senior NGO officials, Parliamentarians, journalists and celebrities were herded out of the Terrace Pavilion. The lobbying had been done and it seemed a great success. We were invited to continue the discussion at St Stephen's Tavern. Phil Mansbridge from the Conservative Animal Welfare Foundation talked of strategy. Claire Bass talked about the importance of personality types and teamwork in lobbying.
There was Amstel and Sauvignon Blanc and rosé and gin and tonic. It was a day of social justice for animals. It was a day of becoming for students. 'A beautiful day', wrote the great Freddie Mercury and Queen. And so it was.
Press Office | +44 (0) 1962 827678 | press@winchester.ac.uk | www.twitter.com/_UoWNews
Back to media centre