Celebrations at groundbreaking ceremony mark construction milestone
18 Jan 2018
A traditional groundbreaking ceremony took place today (Thursday 18 January) to mark the first official day of construction of the University of Winchester's new landmark development at West Downs.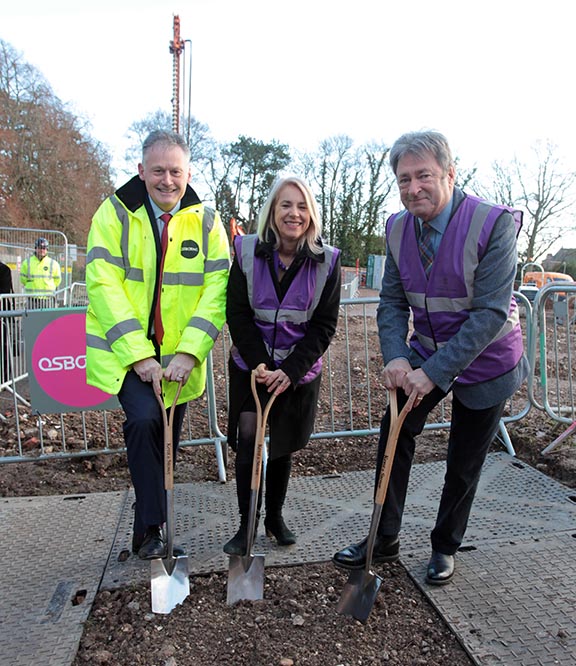 University Vice-Chancellor Professor Joy Carter DL, CBE turned the first turf on the building site on Romsey Road, alongside Andy Steele, CEO of construction company Osborne, and Alan Titchmarsh DL, MBE, Chancellor of the University. During the ceremony, Andy Steele presented Professor Carter and Alan Titchmarsh with an engraved spade to commemorate the event.
The £50m new development, which will be built on undeveloped land within the West Downs site next to the Grade-II-listed West Downs Centre, will provide first-class teaching and learning facilities. It will be home to Digital Futures, the University's computer and digital-related degree programmes.
Designed by award-winning Winchester-based architects Design Engine, the building will open in autumn 2019. The contemporary design features an art gallery; a 250-seat auditorium for performances; a café and food hall; a contemplation space; courtyard garden and library. Many of the facilities will be open for members of the local community to enjoy.
Professor Joy Carter said: "I am delighted work is now under way on this exciting new development at West Downs, which represents a significant investment for both the University and the city of Winchester. As a values-driven institution, we are passionate about creating an environment in which students can flourish as individuals: this new development is both a symbol of that passion and of our commitment to high standards of academic achievement."
The development is being built by Osborne, one of the UK's leading construction businesses.
Andy Steele, Chief Executive at Osborne, said: "This is an exciting phase in our partnership as we provide the new teaching and learning building for the University of Winchester. We are pleased to be part of this groundbreaking ceremony as a first step in this important project."
Richard Jobson, Founding Director of Design Engine, said: "We are thrilled to see the West Downs scheme move one step closer to fruition. This is our fifth major project for the University of Winchester and we look forward to working closely with the client team and main contractor Osborne to deliver a landmark building
All recent University developments meet the highest environmental standards and the new development is no exception. It boasts a number of sustainable building features, including rainwater harvesting, solar panels to help power the building and environmentally-friendly building materials. A wildflower roof on top of the auditorium will flower between April and October every year and bat and bird boxes built into the building facades will enhance the biodiversity of the whole site.
Photograph: Dominic Parkes
Back to media centre