Chaplaincy in focus: Dean of Spiritual Life, Revd Dr Terry Biddington
23 Jan 2019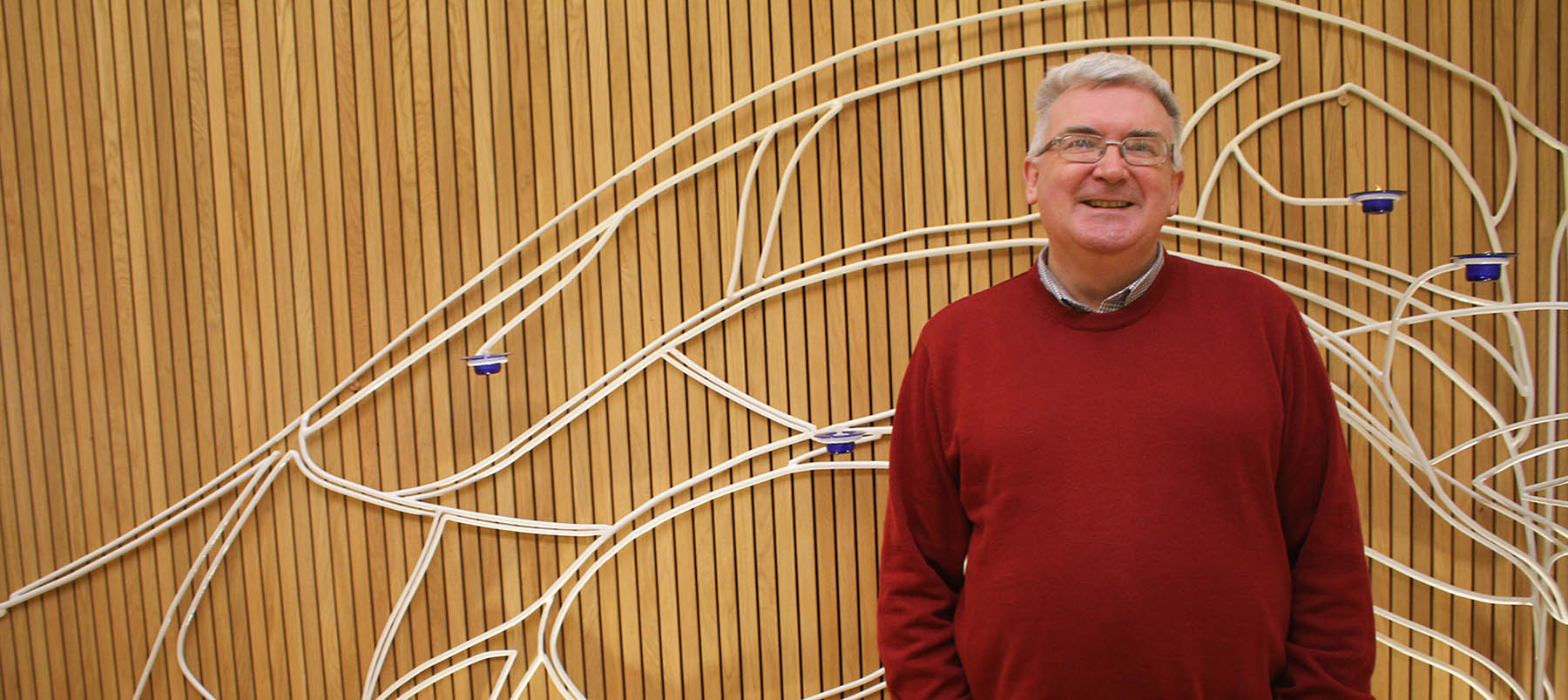 As one of our core values, spirituality is important at the University of Winchester. We spoke to Revd Dr Terry Biddington, Dean of Spiritual Life, about the role spirituality plays in university life, the importance of multifaith spaces and what the University does to encourage students and staff to engage with their spirituality.
1. Your job title Dean of Spiritual Life is unusual and interesting - what does your role involve?
It is unusual! In fact, we are the only University in the world that has such a role.
In addition to teaching, research and running the chaplaincy service, my role is to support and develop the spirituality value of the University. As an institution, we are keen to ensure that spirituality is expressed in a way that actually means something tangible and practical, positively impacting the lives of students and staff and any other visitors to the University.
With this in mind, I spend my time finding ways to drive the spirituality strategy and to engage students and staff, as far as they wish to be engaged. This translates into running events and activities to enhance spiritual wellbeing.
I also work to embed spirituality into the life of the whole University. For example, I am currently working with a group of colleagues, both academics and professional support staff, to promote mindfulness, stillness and silence in the classroom and to encourage contemplative pedagogy in the design of teaching materials and methodologies. The aim is to cultivate deeper learning through focused attention, reflection and embodied learning. For example, I'd like to see teachers make room for silence and more embodied and heart-centre learning to complement traditional approaches, using things like slow reading, careful textual analysis and attentive listening to enhance the learning experience.
I am also working on introducing a projectable labyrinth on the floor of the chapel and a phone app to encourage use of the University's many green spaces for silent reflection and physical exercise.
2. Spirituality is one of the University's core values - but what is it exactly and what is it to you personally?
The two criticisms that some people make is either that spirituality is a meaningless term or that it is a word with too many religious overtones. I understand where they are coming from but for me, personally, I understand my spirituality to be about that perfectly ordinary collage of things, practices and habits that give my life meaning.
While religion and religious practices might play a role in someone's spirituality, I believe spirituality consists of those highly individual practices and rituals we all have that help us make the most of our lives. This could be a morning coffee or an evening gin and tonic, it could be spending five minutes standing still and doing nothing, or exercise, or exploring or looking at the natural world around us. Someone's spirituality could involve any sort of intentional practices that help people create a kind of rhythm, a pattern to our life, which can provide both support in times of difficulty or stress, and rigour and resilience to engage with the challenges of life.
3. One of your research interests is multi-faith spaces and how different groups can share physical spaces. What particular opportunities does Winchester's built environment offer for this and how do you think the new contemplation space at West Downs might support this?
Multi-faith spaces have been burgeoning all over the world since the 1980s. Now there isn't a major hospital, international airport, prison or a university that doesn't have a shared religious space. These spaces are devoid of religious symbols enabling people of different faiths to utilise them, either sequentially or at the same time. They provide a way of recognising that people who practice religions have similar, though different, religious needs and practices and that, by learning to share a space, we can open ourselves up to other people's 'otherness' and perhaps begin to change our perceptions. And of course, non-religious people can use them for simple silence, chilling and thinking.
From my research, I have found that something curious is happening across the world. While the number of multifaith spaces is increasing, they are becoming not only better designed but more visionary. Sweden, for example, is just building the world's first church-mosque with the express intention to encourage people step beyond the tired religious stereotypes and prejudices and to try to work for a better world.
The new contemplation space that's being built as part of the West Downs development has been beautifully designed to provide a bright, interesting, calming space to be shared by those of different faiths and of no faith. The central open meditation space will be surrounded by individual spaces or 'dens' built into the wall for people to go and sit in to do their own practice. It will host a range of contemplative practices and also be a place for students and staff to get away from their screens for five minutes, relax, pray, meditate or do whatever they wish to do to promote their own wellbeing.
4. We are proud to be a multi-faith institution. How do you think this benefits the staff and student life at the University of Winchester?
I think any public institution today that doesn't take note of the fact that we live in a multifaith society will inevitably fail to serve society. And at Winchester we know we can't be a truly successful and happy university community without recognising and celebrating our diverse and increasingly multifaith population. I believe that catering to those of different faiths is important not just to ensuring that everyone's religious needs are met but because it enriches the spiritual life of the whole university. Consequently, I believe we honour our institution's Christian foundation best by ensuring chaplaincy provision reflects and serves that diversity. So, since I arrived, I have expanded the provision of Christian Chaplains and have appointed a Buddhist Chaplain and a Muslim Chaplain. We are also thinking about whether we need to appoint a Pagan Chaplain. After all, whatever our faith, we all need to work to understand our neighbours and get behind the often sad and harmful stereotypes surrounding those of different faiths to improve religious literacy and help benefit the common good.
5. What are the challenges of encouraging students and staff to engage with spirituality in their daily lives?
I'd say that there are several major challenges. The biggest challenge has to be our busyness, we don't always take the time we need to nourish our spiritual selves. I also believe that indifference and, in certain circles, reluctance to talk about anything that has to do with the private world of religion or spiritual practice are challenges we need to address.
However, I have found that here at Winchester lots of students are not afraid to explore and talk about spirituality. In a survey we did among first years last year as they registered, 180 students ticked to say that their top priority in coming to Winchester was to explore their spiritual selves. Additionally, at a spirituality-focused student engagement activity in Freshers Week this year, we also found that, while a large proportion of the 70 students who attended labelled themselves as atheist or agnostic, they were still very keen to explore their spirituality. My top priority over the coming year will be to work with others to address this.
Find out more about spirituality and the chaplaincy team at the University here.
Back to media centre