Chew fancy a brew? University of Winchester recycled coffee cups campaign shortlisted for national award
28 Mar 2018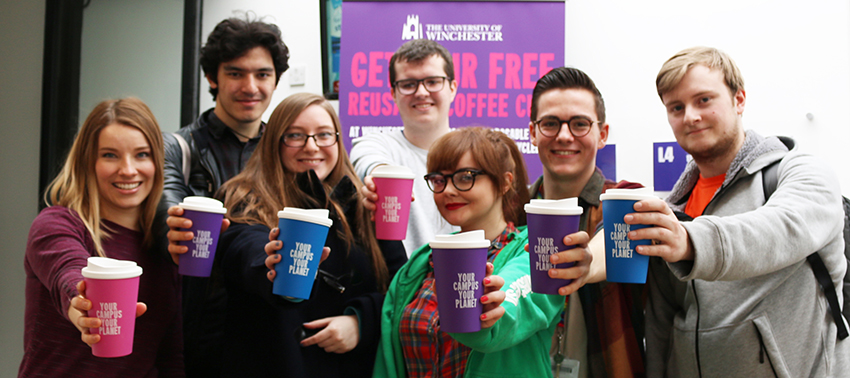 The University of Winchester's successful recycled coffee cups initiative which has helped boost waste reduction and recycling efforts on campus has been shortlisted for a prestigious national recycling award.
Students and staff at the University have increased the use of reusable coffee cups by 900 per cent since the introduction of the University's own reusable cups, which are made in part from recycled chewing gum, in November 2016.
Last November, the University scooped a Green Gown Award for the initiative and now the campaign has been shortlisted for campaign of the year and waste reduction initiative of the year in the public sector category of the MRW National Recycling Awards 2018. Winners will be announced at a ceremony in London in June.
In the academic year 2015-16, the University used almost 200,000 disposable cups which are not fully recyclable. Since November 2016, almost 55,000 non-recyclable disposable cups have been saved as a result of the initiative, which saw a 25p surcharge added to the price of hot and cold drinks purchased on campus in a disposable cup.
Over 5,000 Gumdrop cups, made in part from recycled chewing gum, have also been given away to students and staff. Recycled chewing gum in the cups accounts for 20 per cent of the cup: the rest is made from other recycled plastics. Gum-tec Ltd, the company which manufactures the cups, collects the gum from special pink recycling bins on campus, treats it and turns it into a mouldable composite.
Liz Harris, Environment Officer at the University of Winchester, said: "It's fantastic to have our campaign recognised by making the National Recycling Awards shortlist. Our campaign has been hugely successful, resulting in sales of drinks in reusable cups soaring from three in every 100 drinks to 30 in every 100 drinks. Since this academic year began in September 2017, almost 33 per cent of drinks' sales gave been in reusable cups.
"We have seen a significant change in behaviour, with the 25 pence surcharge on drinks prompting staff and students to buy drinks in a reusable cup and reject a disposable cup. Our recycling rate is now at 64 per cent, and we hope to continue to improve on this even more in the future."
The University is one of the lowest carbon university campuses in the country: since 2008, Winchester has reduced its emissions by 45.53 per cent. None of its waste goes to landfill: any waste that is not recyclable is sent to an energy from waste facility, food waste is sent for anaerobic digestion and waste cooking oil is turned into Bio-diesel.
Robin Latchem, Editor of MRW, said: "Our awards are often the first to highlight innovation and best practice in recycling and waste management and it's exciting to see previous winners establishing themselves as exemplars of resource efficiency."
Back to media centre