Climate emergency, TV licence and Brexit focus of BBC Any Questions? live broadcast from the University of Winchester
7 Feb 2020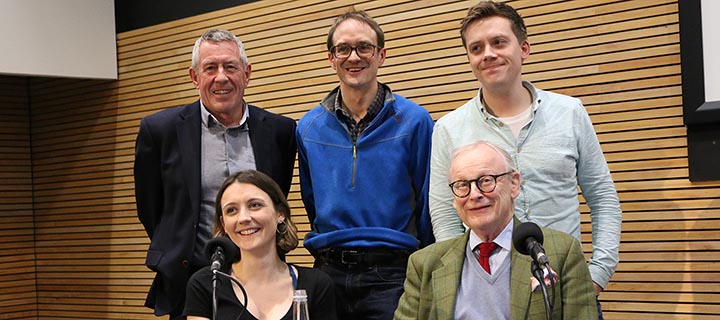 The climate emergency, the TV licence and the indeterminate sentencing of convicted terrorists were just some of the current issues in the news up for discussion when BBC flagship political debate show Any Questions? was broadcast live from the University of Winchester in front of a packed audience on Friday 7 February.
The four panellists debating questions from the audience were:
Lord Deben, Chair of the UK's Committee on Climate Change
Professor John Denham, Centre for English Identity and Politics
Owen Jones, Guardian columnist, and
Olivia Utley, Sun journalist.
The first-ever episode of the popular BBC Radio 4 programme was broadcast from Winchester Guildhall in October 1948 and it returned to the city in 2008 to celebrate its 60th anniversary at Henry Beaufort School and again in 2011, when it was broadcast from Kingsworthy Primary School.
Any Questions? is a topical discussion programme presented by Chris Mason in which a panel of personalities from the worlds of politics, media and elsewhere are asked questions by the audience.
One of the stringent and unchanging rules of Any Questions? is that the panel never sees the questions in advance: the panellists hear them for the first time at the same moment the audience in the venue and at home do. Audience members submit their questions on the day of the broadcast.
The photo above shows (standing left to right): John Denham, Chris Mason and Owen Jones and (sitting left to right): Olivia Utley and Lord Deben.
Press Office | +44 (0) 1962 827678 | press@winchester.ac.uk | www.twitter.com/_UoWNews
Back to media centre