Coronavirus: University supports NHS frontline staff during pandemic
21 Apr 2020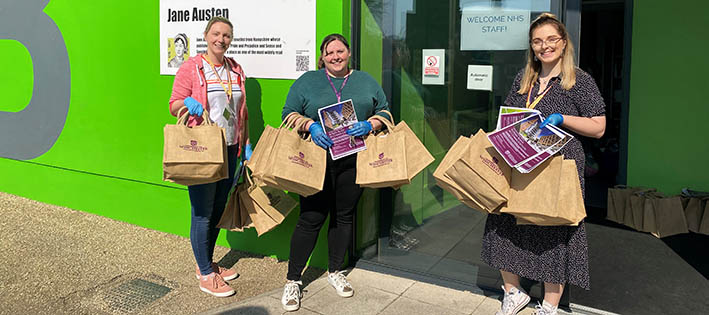 The University of Winchester is supporting the NHS during the coronavirus pandemic, providing campus accommodation to frontline staff who are unable to stay in their own homes.
Around 25 staff from Hampshire Hospitals NHS Foundation Trust (HHFT) and Southern Health NHS Foundation Trust have already moved into vacated student flats on the University's King Alfred Quarter, which is situated close to Royal Hampshire County Hospital. More staff are due to move in over the next week. The University of Winchester has prepared 90 bedrooms in total and is preparing to provide more to the Trusts if they are needed.
Staff from the University's Department of Estates and Facilities, along with volunteers from across the University, worked tirelessly to accommodate HHFT staff as soon as possible, preparing rooms in record time.
All residents received a welcome pack from the University, a jute bag filled with personal toiletries, healthy snacks, tea and coffee, and a reusable cup.
Many frontline NHS staff have made the difficult decision to move out of their homes, to protect family members and those they live with who are vulnerable. Other staff travel long distances from their home for their shifts, which are becoming more demanding as the pandemic nears its peak in the UK.
The move builds on the existing strategic partnership between the University and HHFT, which sees both institutions collaborate on research and education opportunities, and an ongoing alliance with the University's Faculty of Health and Wellbeing.
Professor Joy Carter, CBE, DL, Vice-Chancellor of the University of Winchester, said: "I am hugely proud the University is able make our facilities and resources available to support the critical work of our local NHS to protect and save lives.
"On behalf of everyone at the University, I would like to say a huge thank you to all NHS staff and key workers who are doing amazing work during this pandemic. They truly are heroes and we owe them an enormous debt of gratitude. We are in close contact with the Hospital and other local organisations to continue doing what we can to support the local response to Covid-19".
Alex Whitfield, chief executive of Hampshire Hospitals NHS Foundation Trust, which runs Royal Hampshire County Hospital, in Winchester, as well as Andover War Memorial Hospital and Basingstoke and North Hampshire Hospital, said: "We are incredibly grateful to our staff who have made the difficult decision to temporarily stay away from home to protect their families while continuing their vital role of helping to care for our patients.
"Our partners at the University of Winchester have made this tough time a little bit easier for them and we want to say a huge thank you for the way they have provided members of our team with such a warm welcome. We are delighted that the partnership between our two organisations continues to go from strength to strength, particularly at a time where working together is more important than ever before."
The University has also made 50 parking spaces on its King Alfred Quarter available to NHS workers free of charge.
In addition, more than 3000 sheets of acetate donated to HHFT by the University are being used to make single-use face guards for HHFT staff. The face guards are being made in-house by the Hospital Trust at a rate of 200 a day and the acetate sheets are essential for the production process.
Press Office | +44 (0) 1962 827678 | press@winchester.ac.uk | www.twitter.com/_UoWNews
Back to media centre