Debut novel by Winchester graduate shortlisted for Richard and Judy's 'Search for a Bestseller'
6 Aug 2018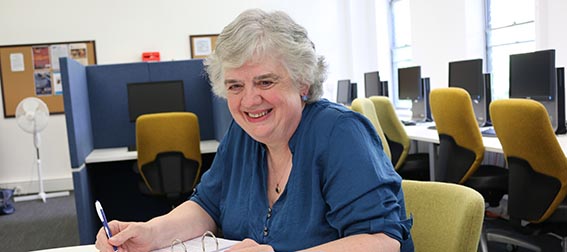 A PhD graduate from the University of Winchester has been shortlisted for Richard and Judy's third 'Search for a Bestseller' competition, which aims to find a first-time author with the potential to become a bestselling writer.
Claire Gradidge is one of five unpublished writers on this year's shortlist. Her historical crime novel Home to Roost is set during World War II in the Hampshire market town of Romsey, where she was born and brought up.
The shortlisted authors submitted 10,000 words plus a synopsis of their novel to a selection panel including Richard and Judy, staff from Bonnier Zaffre publishing and agents at Furniss Lawton.
Claire now has until 28 December to send her completed novel to the panel. The winner will be announced in January 2019 and will receive a £30,000 publishing deal with Bonnier Zaffre and specialist advice from literary agency Furniss Lawton. The winning novel will be published in July 2019.
In Home to Roost, Jo Lester returns to her home town of Romsey after a long absence on a quest to solve the mystery of who her father was. She arrives in the town just after an air raid has destroyed a local pub. Seven known bodies are retrieved from the ruins, but an eighth body - that of an unknown girl - is also recovered.
The coroner, Bram Nash, is convinced that the girl has not been killed in the air raid, but has been murdered and dumped in the ruins. In the face of police indifference, he decides to investigate. Jo - with whom he has a troubled personal relationship - persuades him to employ her as his assistant. As she works to establish the identity of the girl and discover the murderer, she uncovers the solution not only to the crime, but also to her own personal mystery.
Following the news of her novel being shortlisted, Claire said: "I'm very excited to have made the shortlist of 'Search for a Bestseller' and it would be fantastic to see my novel in print. Although the manuscript of my novel is already complete, I'm currently revising it in line with editorial comments received as part of the competition shortlisting process, ready to submit to the panel in December."
Home to Roost was written as part of Claire's PhD in creative writing which she gained at the University earlier this year. Her PhD was supervised by Neil McCaw , Professor in Victorian Literature and Culture and Inga Bryden , Professor of Cultural History. Claire is also a lecturer in creative writing at Winchester.
Professor Neil McCaw said: "Claire is a very rigorous and intelligent writer, whose work is informed and shaped by her wide knowledge of the crime fiction genre; as such, Home to Roost combines many of the familiar elements of the tradition of which it is a part, whilst at the same time offering its own fresh, contemporary take on the historical detective story."
"This competition is a wonderful chance for Claire to become a published author and see her debut novel turned into a bestseller. It could be a life-changing opportunity for her. Inga and I and the rest of the University community wish her good luck for the competition."
Richard Madeley and Judy Finnegan launched the popular Richard and Judy Book Club in 2004, which is estimated to have generated over £60 million in book sales. Find out more about 'Search for a Bestseller' and the Book Club on the Richard and Judy website: www.richardandjudy.co.uk
Press Office | +44 (0) 1962 827678 | press@winchester.ac.uk
Back to media centre