Don't judge a book by its cover: Human Library challenges stereotypes through conversation
2 May 2018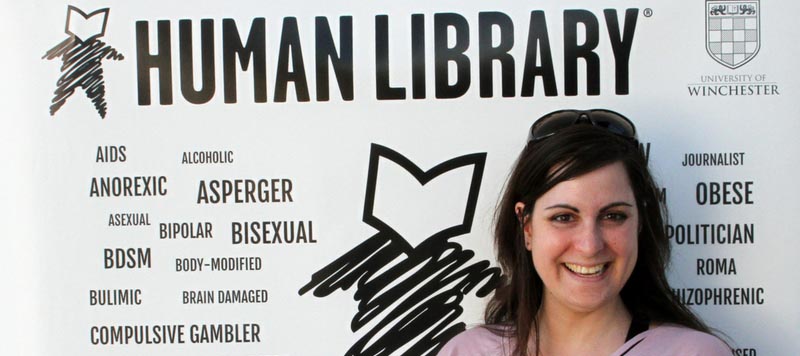 A library with a difference, where 'books' are people and 'reading' is a conversation, is set to challenge stereotypes and prejudice at a special event at the University of Winchester on Tuesday 15 May.
The Human Library event will see volunteers act as human books who are 'on loan' to speak informally to visitors and share personal experiences. Each of the book titles challenges prejudice, stigma and discrimination. Readers can choose from a broad range of titles and be challenged to engage with the people behind the book title during short conversations.
"Just like in a real library, a visitor to the Human Library can choose a book from a range of titles," explains Olena Waskiewicz, Senior Library Assistant at the University of Winchester, who is organising the event.
"The difference is that the Human Library provides an environment for people to engage in conversation, ask questions and share experiences. The aim is to promote tolerance and understanding by creating a space where people from all walks of life can learn more about others they would not have otherwise have a chance to engage with. The conversations are challenging prejudices and questioning deeply ingrained assumptions."
There are twenty four titles available for loan to readers at the University event on 15 May including:
Muslim; Vegan; Animal Rights Activist; Non-Binary; BDSM; Autistic; Bisexual Christian; Mormon; Introvert; OCD; Refugee; Bipolar; Transgender; African American; Home Educator; Post Apartheid; Polyamorous; Borderline/Depression; Immigrant; Hunt Saboteur; Gay Parent; Atheist; Tattooed Professional, and Recovered Alcoholic.
At the first edition of the Human Library hosted by the University last year, the list of books included Vegan, Buddhist, Transgender Man, Transgender Woman, Home Educator, Bisexual Christian, White Immigrant and EU Citizen.
"The event was so well received, I simply knew I had to run it again," says Olena. ''This year it is going to be much bigger, we are going to be open to visitors for longer, and have a much wider selection of Human Books. I can't wait for all the myth-busting conversations!"
The Human Library is an international movement that was created in Denmark in 2000 and is now active in over 70 countries. It aims to build understanding for diversity by providing a framework for open conversations about important issues that can lead to greater acceptance, tolerance and social cohesion in the community.
The Human Library takes place on Tuesday 15 May between 10am and 4pm in The Stripe, University of Winchester, Sparkford Road, Winchester SO22 4NR.
The event is free to attend but booking is essential at this link.
Press Office | +44 (0) 1962 827678 | press@winchester.ac.uk
Back to media centre