Ground breaking ceremony marks important milestone for Winchester's new primary school
17 May 2019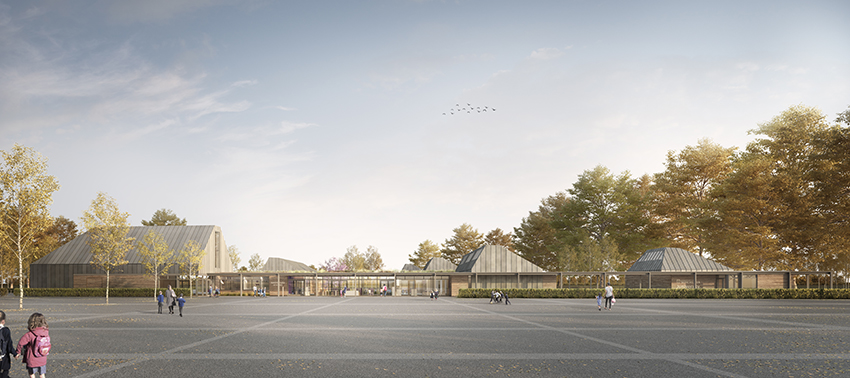 The start of construction of Winchester's first primary academy school was celebrated today (Friday 17 May) with a traditional ground breaking ceremony.
The new Barton Farm Academy, sponsored by the University of Winchester, is a 420 place academy for children aged 4-11 situated at the Kings Barton housing development site. The school opens to its first pupils in September 2020.
Professor Joy Carter, CBE, DL, Vice-Chancellor of the University of Winchester, turned the first sod alongside Steve Brine, MP for Winchester and Chandlers Ford and Trustee of the University of Winchester Academy Trust (UWINAT), which will run the academy. Tom Jenkinson, a Director of construction company Willmott Dixon, was also on hand to mark the construction milestone.
"The University is an outstanding provider of teacher education and has a strong track record of raising aspiration among young people. Academy sponsorship is a natural development of our commitment to education, social justice and the local community," said Professor Carter, who also chairs the Academy Trust.
"Pupils at the school will benefit from our values-driven ethos, extensive regional school partnerships, our evidence-based learning and teaching, our powerful links with local business and community organisations, and our passionate commitment to social justice and sustainability. The innovative Academy buildings, including state-of-the-art indoor and outdoor learning environments, will also meet our very high standards for sustainability."
The University of Winchester was approved as an academy sponsor by the Department of Education in 2014.
Steve Brine said: "This is an exciting day, seeing a school literally built from the ground up. It's a new community, a new school, rich in all the values of the University and an eco school. Those children who attend this school are incredibly lucky and I can't wait now to see it actually open."
"I am thrilled to be at the ground breaking ceremony as the first custodian of this beautiful, state of the art setting," said Nicola Wells, head teacher designate of the new school. "I have designed a curriculum to take full advantage of our extensive indoor and outdoor spaces and, as the first head teacher of the Academy, it is my aim to provide an inspirational and joyful primary school experience for all of our pupils."
Barton Farm Academy has been designed by Hampshire County Council's award winning in-house team of architects and landscape designers to create delightful and functional learning spaces and facilities that meet the highest standards for environmental sustainability. Backed by a solid track record in school place planning, the County Council has a multi-million pound investment programme to expand existing and build new schools to meet forecast demand for places. As part of this programme, the County Council is delivering the new academy school and fulfilling its role to ensure that every child in Hampshire has a school place.
Construction company Willmott Dixon is building the new school. Richard Poulter, Managing Director, said: "Willmott Dixon are delighted to be involved in this project. The new school will provide much-needed inspirational learning spaces. We are always delighted to play a part in supporting the learning of the next generation."
Photograph above shows an architect's impression of the Barton Farm Academy. Image courstesy Hampshire County Council.
Press Office | +44 (0)1962 827678 | press@winchester.ac.uk | www.twitter.com/_UoWNews
Back to media centre