"If you're in the performing arts, it's not about you !" Five minutes with David Suchet CBE
23 Oct 2017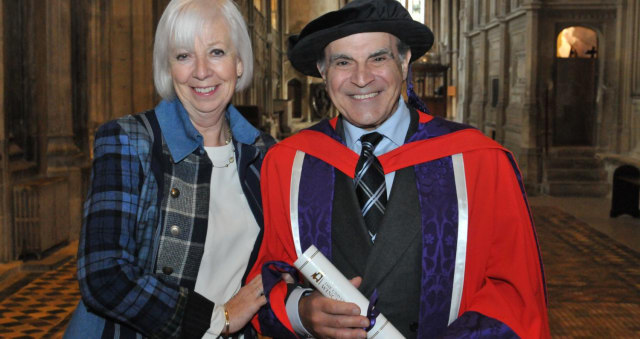 This year at Graduation, we were delighted to recognise award-winning actor David Suchet with an Honorary Doctorate of Arts for services to acting.

David Suchet has pursued a lifelong career in acting both on-stage and on-screen and has won many awards for his stage roles. He was awarded a CBE for services to drama in the New Years' Honours 2011. David is perhaps best known for playing the fictional detective Hercule Poirot in the long-running television adaptation of Agatha Christie's Poirot. This role, which spanned 25 years, earned him a Lifetime Achievement Award from the Royal Television Society.

We spoke to him about his career, his acting philosophies and his thoughts about playing such a well-known character.

Why did you choose to go into acting?

I started to act when I was at school and my English master thought that I would enjoy doing more drama so I joined the National Youth Theatre when I was 16. By the time I was 18, I did a play called Bartholomew Fair at the Royal Court Theatre in London and I came downstairs to watch the scenery being brought down. I remember being on stage and thinking: "This is such a special place, this theatre, this is the world I want to spend my life in." Acting was all I knew, so that's what I chose.
You've played some strong personalities over the years. What do you do to get into character?

I think the thing I use a great deal is the similarities between myself and the character that I'm going to play. But most importantly, I use the differences between them and me. It's those that I really work to try and find within myself, some quality that may join with theirs.

What would you say has been the highlight of your career so far?

I think the highlight has to be the part that I played that seems to have given so many people throughout the world so much pleasure, which has to be (French accent) Hercule Poirot.

Tell us a little bit more about your time playing Poirot. What was it like to play such a popular character?

I think Hercule Poirot came to me at a time which was seemingly perfect in my life. It was like someone just dropped something in my lap. I never knew that I was capable of playing such a fantastic character. Of course, there had been many interpretations of the character before me and there will be many interpretations now that I have finished. Rightly so, because one thing I have to say is no actor can ever own a role and I think that is very important.

What advice would you give graduates as they head out into the world, particularly drama graduates?

https://youtu.be/fNGhVq378lc

For drama graduates, or for any graduates coming into the performing arts, it's not about you! Acting is obviously self-centred to a certain degree, but the main thing is to serve your writers, serve your composer, and to be true to them. You'll overcome all the challenges that you have and then you'll be happy and I think you have a chance of success. But, the chance of success is not the goal! The goal is to serve the creators of the works which you choose to do.
Back to media centre