Leading by influence: training healthcare students in the pandemic
10 Jul 2020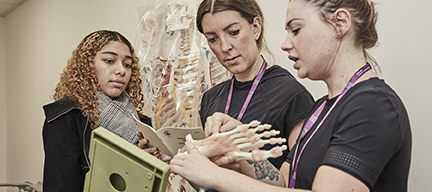 In the latest UoW blog post, Beverley Harden, Allied Health Professions Lead at Health Education England and a Visiting Professor at the University of Winchester, explains how Winchester has been leading the way during the pandemic in driving uptake of training and work placements for students studying on Allied Health Professions courses.
"Leadership is not about titles, positions or flowcharts. It is about one life influencing another." John C Maxwell
It's been a sobering few months on so many levels, yet it has been a time of seeing people flourish and lead in adversity.
In the week that I proudly accepted a new 'leadership' title - as a visiting professor in a committed values-driven academic community - I joined forces with two University colleagues who would lead not by title, but by influence - driven by their courage, passion and values.
As the pandemic took hold, the enormity of the challenge of how to maintain the clinical training of our thousands of allied health professions students escalated; we saw the level of risk increase, a reduction of services and more pressure for clinicians.
As the national lead for the education and training of the Allied Health Professions (AHP) workforce, Health Education England's role was to support the national pandemic student response.
As part of this, I approached the Physiotherapy team at Winchester who normally place students in hospitals, to ask if they would consider placing students in Health Education England as part of a leadership placement, as many clinical placements were unavailable. We discussed the transformational opportunity and built a shared aspiration that, together, we could drive uptake of resilient placements during the pandemic.
It is well understood that the 21st century health care workforce need to not only excel in their clinical and academic studies, but also learn about leadership, research and the wider context of public and population health and yet placements like this still feel revolutionary.
It was impressive to then watch the exceptional leadership of Sophie Gay from Winchester's BSc (Hons) Physiotherapy programme, who proceeded to drive a social media revolution of UK clinical placement activity for students studying on healthcare programmes, leading to an awakening of the opportunity for these placements and a raft of connections being made across the country.
Alongside this she drove a virtual network to connect allied health professionals across the UK to share learning on the utilisation of telehealth and virtual consultations to support student clinical learning. Within weeks we saw one of the newest physio programmes in the UK exhibiting some of the most significant student facing leadership during the pandemic.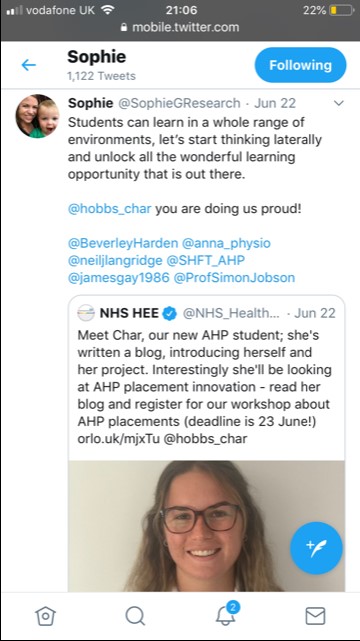 This was matched by the courageous leadership of Charlotte Hobbs, a second-year physiotherapy student who agreed to join our social movement: she joined me on clinical placement and is driving our national crowdsourcing project in Health Education England, with valued colleagues from @CleverTogether and two AHP advisors.
This work will drive the most significant modernisation of clinical learning in the thirty years since I was a second-year physio student. This work is harvesting the learning and wisdom of the AHP crowd - resulting in extensive UK engagement across the 14 allied health professions and across all sectors.
I am proud to be joining an academic community prepared to lead creatively in adversity, driving and supporting new courageous thinking
We seem surrounded by people who talk the theory of leadership, have impressive titles but nothing is so powerful as seeing real leadership in action and seeing the impact.
As the giants before us have told us and forgive me for blending their genius - never judge a leader by their title - judge them by: what they do; the impact of their influence; what they enable people to craft and how they make you feel.
Allied Health Professions are: dietitians, occupational therapists, operating department practitioners, art therapists, drama therapists, music therapists, podiatrists, orthoptists, osteopaths, prosthetists and orthotists, paramedics, physiotherapists, diagnostic radiographers, therapeutic radiographers, speech and language therapists.
Press Office | +44 (0) 1962 827678 | press@winchester.ac.uk | www.twitter.com/_UoWNews
Back to media centre