Live music should be essential in all UK care homes, new research study recommends
12 Nov 2018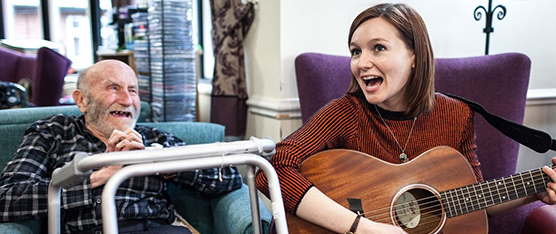 A major new national report is recommending that live music should be essential in all UK care homes. Led by the University of Winchester and Live Music Now, the report presents ground-breaking evidence about how music can benefit people living and working in care, and provides practical guidance about how music can be introduced affordably and sustainably.
The report, Live Music in Care, is the result of a research study that has been supported by 35 national organisations in the social care and arts sectors, working together since 2015 under the banner 'A Choir in Every Care Home', funded by the Baring Foundation. The partners share a vision to inspire and support care homes throughout the UK to introduce more and better music engagement for older people.
Over the past three years, the group surveyed the many creative ways that older people engage with music and explored why the majority of care homes do not regularly offer this opportunity. They uncovered a wealth of evidence supporting the use of music for older people, particularly for those living with dementia. However, they also found there was limited evidence available about how music programmes can impact on a whole care home.
From June 2017 to August 2018, the University of Winchester and Live Music Now worked in partnership with MHA (Methodist Homes) and The Orders of St John Care Trust to investigate the impact of music on residents, staff and the whole care home environment.
The independently-evaluated results showed significant impacts for everyone involved, concluding that: "carefully delivered music can provide significant benefits for older people, care staff and care settings, contributing to person-centred care".
As well as recommending that music should be "essential" for all care homes, the report makes a series of practice recommendations about choosing suitable repertoire, the appropriate use of percussion and the importance of managerial support and careful planning.
The full report and a short four-page summary can be downloaded at: www.livemusicincare.org.uk
Dr David M Walters , FRSPH, Director of the University of Winchester Centre for the Arts as Wellbeing, said: "The University of Winchester is pleased to have been able to work together with all our partners to design and evaluate this participative approach to live music making. These findings add to a growing body of evidence and provide key recommendations as to how music making can implemented in care homes. The report offers an effective, sustainable approach to providing meaningful and beneficial activities that can enhance the quality of live in care for both the residents and the staff."
"At Live Music Now, we provide thousands of evidence-based music workshops for older people each year, throughout the UK. This report shows that we need to go even further, supporting those many care homes who have not yet had the opportunity of seeing the benefits of participative live music, and helping them to rise to the challenge. I hope you will join us on this important journey," said Sir Vernon Ellis, Chairman of Live Music Now.
"We have known for some time that carefully delivered music activities can provide significant benefits for people who live and work in care. At last, this important report presents rigorous evidence showing how music can impact on whole care settings, not just on individuals. There should no longer be any excuses - live music programmes should be essential for all UK care homes. This report shows why, and what practical steps care homes can take to embrace this," said Professor Martin Green OBE, UK Govt Dementia Champion, CEO of Care England.
"The excellent Live Music in Care report is a big step forward in showing what live music can do. This is much more than simply entertainment. If done well, live music can help care homes achieve all the key indicators of quality person-centred provision that CQC inspectors are looking for," said Andrea Sutcliffe, Chief Inspector, Care Quality Commission.
Throughout the world, improvements in medicine, hygiene and nutrition have led to much longer life expectancies. This is a huge achievement, but it has placed greater strains than ever before on the social systems that support older people, particularly those living with dementia. On top of this, a career in adult social care can be very challenging, and staff 'churn' adds significantly to the difficulties placed on care home management. Under such circumstances, many care home managers might reasonably resist the suggestion that they prioritise introducing a new music programme. However, those care homes that have embraced music have seen significant returns on their investment, leading to better living and working conditions for everyone.
The main project partners and funders are: Live Music Now; The University of Winchester; MHA; The Orders of St John Care Trust; The Baring Foundation; The Utley Foundation; The Royal British Legion; the UK Treasury's LIBOR funds; Sound Sense, and Canterbury Christ Church University.
Press Office | +44 (0) 1962 827678 | press@winchester.ac.uk
Back to media centre