October 2019 at the University of Winchester
1 Nov 2019
October saw the transition of our class of 2019 students into graduates. The University recognised their achievements alongside celebrated guests, who were awarded doctorates and fellowships for their contributions to society. As part of our commitment to a more sustainable future, we planted one thousand trees in honour of our graduates and registered our West Downs development for WELL Certification.
Student achievements celebrated and public figures honoured at University Graduation 2019
Over 2,300 students graduated at Winchester Cathedral this year, with ceremonies presided over by Chancellor of the University Alan Titchmarsh MBE VMH DL.
"Graduation is one of life's most significant occasions and is consistently one of my favourite times in the academic year. I am always incredibly proud of our graduates," said University Vice-Chancellor Professor Joy Carter CBE DL.
"As the University for sustainability and social justice, making a difference is key to what we do here at Winchester. We hope our students leave Winchester with the knowledge, wisdom and strength to make a real difference in the world."
Prominent individuals, including actors Dame Judi Dench and Hugh Bonneville, were recognised with Honorary Doctorates and Fellowships for excelling in fields related to the University's values, research and teaching programmes. Interviews with selected Honorary graduates are available on the University's YouTube channel. A full list of all Honorary Doctorates and Fellowships can be found with the full release.
To boldly grow: University of Winchester plants trees in honour of graduating students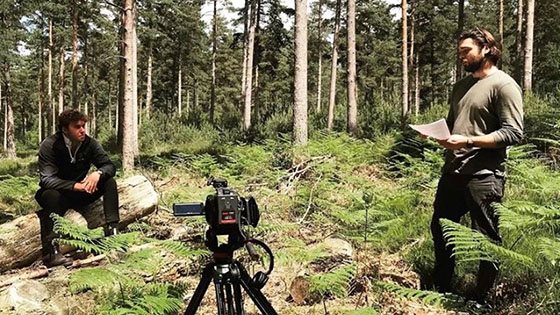 Pictured above Shaun Slaymaker, founder of Rising Forests
One thousand native trees - including oak, willow, beech and pine - are being planted by the University in honour of our 2019 graduates as part of our commitment to a more sustainable future. Each graduate also received a copy of No One Is Too Small to Make a Difference by climate activist Greta Thunberg.
The University partnered with Rising Forests, an environmental organisation set up by Shaun Slaymaker, - a second-year BA (Hons) Business Management student at Winchester - to create woodland which will create a habitat for wildlife and help reduce our carbon footprint.
The initiative underlines the University's pioneering work in sustainability and social responsibility, which this year earned it a place in the top 100 universities worldwide in the Times Higher Education 2019 University Impact Rankings and secured the National Union of Students' Responsible Futures accreditation for its commitment to embedding sustainability and social responsibility in its teaching and other activities. To read more about this incredible project, click here.
Healthier people through better buildings: University of Winchester flagship West Downs development registered for WELL Certification
The University's flagship West Downs development is among one of the first university projects in the UK to be registered to pursue WELL Certification, an accreditation scheme which recognises buildings that support and advance human health and wellbeing.
The WELL Building Standard (WELL) is a performance-based rating system for measuring, certifying and monitoring features that impact human health and wellness in the built environment. The ten concepts of WELL are: air, water, nourishment, light, movement, thermal comfort, sound, materials, mind and community.
Features of the West Downs development that boost wellbeing include a contemplation space for practicing mindfulness; healthy food options; access to nature through the courtyard garden; landscaped areas for encouraging outdoor use; and reduced harmful buildings emissions, including air and water testing. In addition, many workstations have adjustable height sit-stand desks. To find out more about the brilliant additions to this building, click here.
'Movement is the mainspring for children's mental health' says new Parliamentary report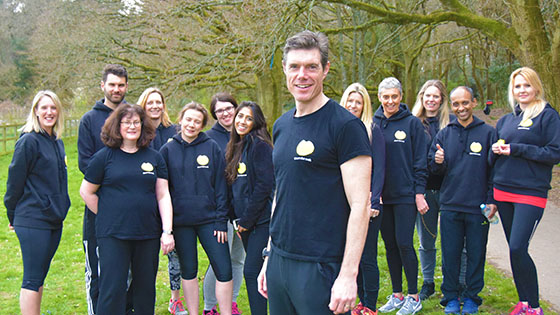 A new All-Party Parliamentary Group (APPG) report celebrates the role of movement in supporting children's mental health.
APPG Chair, Steve McCabe MP, said: "Nobody nowadays will deny that a crisis in children's mental health exists. We're saying that getting children moving is an obvious part of the solution."
The 'Mental Health through Movement' report cites an 'all pervasive' digital culture for instilling a compulsion in children to stay indoors and stay still, alongside draconian reductions in opportunities for outdoor play. Children are 'pushed indoors' by screens and 'pushed away' from outdoor play but there are schemes - such as the ones cited in the report - that offer a way forward.
Dr Vicky Randall, Senior Fellow in the University of Winchester's Institute for Education, and Professor Mike Silk, Bournemouth University, said: "Through this report, we celebrate the many fantastic ways that movement in all its many forms is being realised. The relationship between movement and positive mental health is absolutely crucial, but often ignored." Read the full story and Movement Report here.
Essay Prize in celebration of Keats' Ode to Autumn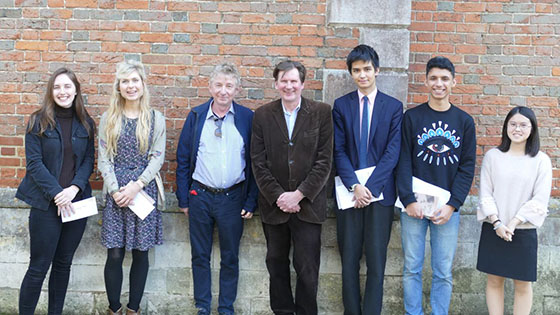 Students from the University of Winchester, Peter Symonds College, St Swithun's School and Winchester College submitted entries to the Keats Foundation 'Living Year' essay competition, which marked two hundred years of John Keats in Winchester.
The competition was split into Undergraduate and Sixth Form categories, with winners announced at a ceremony at Winchester College earlier this month as part of a special event, 'John Keats in Winchester - A Celebration'.
Judge Professor Nicholas Roe, Wardlaw Professor of English Literature, University of St Andrews and chair of The Keats Foundation, remarked: "It has been exceptionally difficult to judge between the competition entries, but after much thought the winners are . . ."
Undergraduate first prize Emily Griffiths, final year BA (Hons) English Literature student at the University of Winchester
Essay: Examine the Idea of Music in John Keats' La Belle Dame Sans Merci.
Undergraduate second prize Rosanna Foster, second year BA (Hons) Creative Writing
Essay: In Keats' 1819 allegorical tragedy, Lamia, to what extent does Keats defend/or criticise the Romantic notions that exist within conflicting social divisions?
Undergraduate third prize Katie Waters, final year BA (Hons) Creative Writing and English Literature
Essay: To Autumn: Keats' Alternative to Tragedy
The Sixth Form Essay Prize winners included:
Alistair Brown, winner
Reuel Armstrong, runner up
Suzanne Mui, third place
The competition, hosted by Winchester College, was made possible by the generous contributions of The Keats Foundation, University of Winchester, and independent bookshop, P&G Wells. You can read the full article here. Alternately, click here to read the winning essay in each category.
Blog Highlight: London Pride 2018: Lessons we still need to learn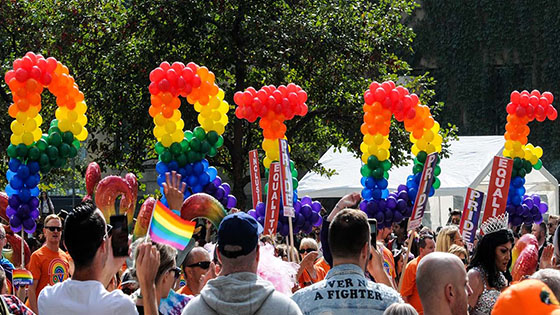 In this month's blog highlight, MA Liberal Arts student Kat Peverell explores the lasting impact of last year's London Pride. She argues the controversy surrounding London Pride 2018 teaches us about social justice and the way in which we approach different challenges. Read more here.
This blog is the second in a short series featuring student research from the Alfred Journal 2019. Click here to revisit the first of the series on The People's War in cinema.
Press Office | +44 (0) 1962 827678 | press@winchester.ac.uk | www.twitter.com/_UoWNews
Back to media centre