Remembering Martial Rose 1922-2021
2 Feb 2021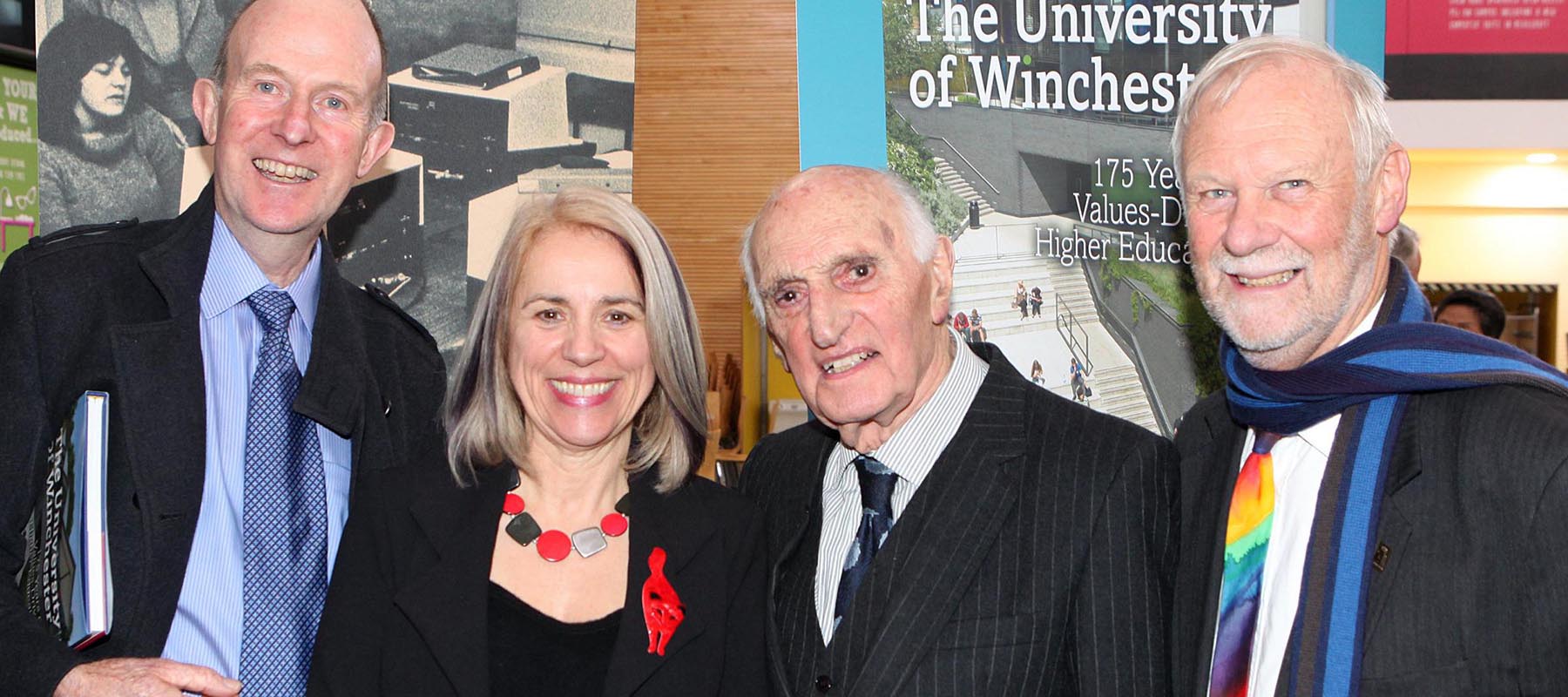 To today's Winchester staff and students, Martial Rose is chiefly commemorated on campus in the University library building which bears his name and in which his portrait hangs. Many alumni and others with long memories, however, will bring to mind the dynamic, creative, forceful, determined leader of the then King Alfred's College at a critical juncture in its history.
Born in London, Martial Rose was educated at Christ's Hospital (where the later eminent conductor Sir Colin Davis was a fellow pupil) and at Cambridge. As a schoolmaster he taught for a time in London - the actor Sir Derek Jacobi was one of his pupils - and then at Bretton Hall College of Education in Yorkshire.
Appointed as Vice Principal to King Alfred's in 1965, Martial Rose became head of the college after the death of John Stripe, his predecessor, within two years. In post thereafter for almost two decades, he retired in 1984. During that period he presided at King Alfred's over a major period of growth in student numbers - only around 700 when he first took office - and the opening of many new teaching and residential facilities, among them the Tom Atkinson and Stripe buildings and the first two-storeyed phase of the present library.
But most fundamentally Martial Rose fought successfully to preserve the institution at a time of major changes in government policy and institutional upheaval in higher education and to give it a significantly different future under the umbrella of the CNAA, the new validating body set up in the 1970s for degree courses in the non-university sector.
From being a college wholly bound up with teacher training, King Alfred's reinvented itself to become a highly successful diversified liberal arts college of higher education with BA as well as BEd degree courses - the beginnings of a broad and firm enough foundation which allowed movement in due course towards the development of a flourishing research culture and university status in its own right.
International links, especially with the United States and Japan, were created and vigorously promoted. King Alfred's became a regional base for the Open University. By contrast, nearby less ably led and less adaptable, teacher-training establishments in Southampton and Salisbury which failed to meet the new stern challenges simply foundered and were taken over or closed down.
Today's vibrant, innovative, outward-looking and well respected University of Winchester with its magnificent campus owes Martial Rose an enormous debt of gratitude. It is no exaggeration to say that he, above all, helped the college not merely to survive but to re-position itself on the academic map, to expand and to flourish.
A specialist in Drama, Martial Rose published as long ago as 1961 the standard edition of the medieval cycle of Wakefield Mystery Plays, subsequently performed professionally in London.
Much more recently (in 2003) he brought out a biography of the actress Dame Gwen Frangcon Davies, contemporary of Sir John Gielgud. And in retirement in Norfolk he busied himself with a steady stream of publications on the history of Dereham and some beautifully illustrated books on the distinctive architectural features of Norwich cathedral, the latest of them appearing as recently as 2006. Old Wintonians, however, will best remember him as the author of A History of King Alfred's College, Winchester 1840-1980 (1981) and of a separately published later postscript which brought the story up to 1990. Arguably the pivotal figure himself in the making of the modern institution, he was also concerned to set the record straight about its past.
Martial Rose remained very active on all fronts in his later years and was keenly interested in the progress of this University; only a few days ago he was in discussion with me about this. He remained in close contact with many former students and colleagues and returned to Winchester for a number of special events and reunions. He became much involved in the assembling of a collective biographical portrait of King Alfred's students caught up, and often killed, in the First World War.
He died peacefully on 30 January, after a short illness and is survived by his wife Heather, one of his former students at Bretton Hall, and by his two children, Jenny - a leading expert on Zoroastrianism who teaches at Claremont Graduate University, California - and Christopher - who still lives in Winchester.
Written by Professor Emeritus R Richardson
Photo above shows Martial Rose (second right) with (from left to right): Professor Emeritus Paul Light (former Vice-Chancellor), Professor Joy Carter CBE, DL and Professor Emeritus Tom James.
Press Office | +44 (0)1962 827678 | press@winchester.ac.uk | www.twitter.com/_UoWNews
Back to media centre