Research roundup August 2017
22 Aug 2017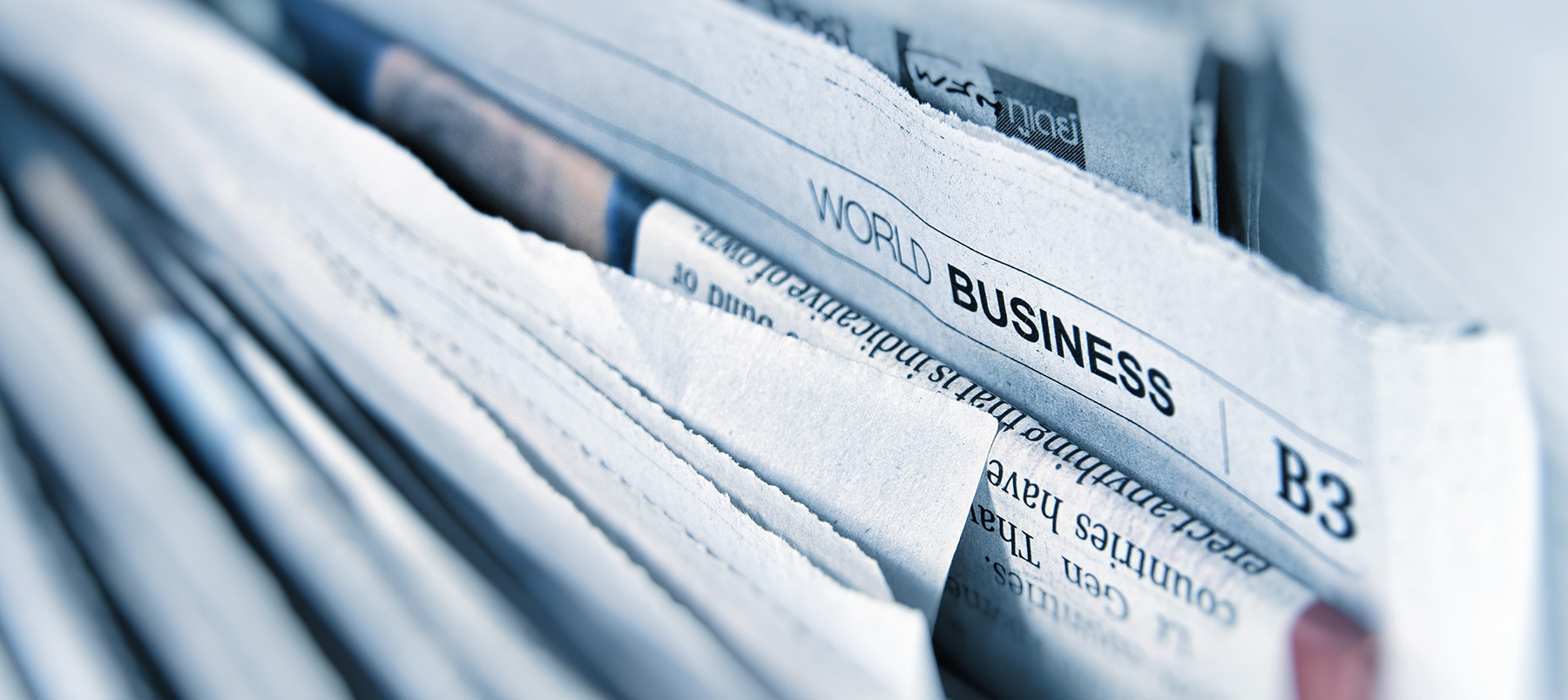 The first in a new monthly feature on the University blog, we take a look at our latest ground-breaking research as our experts help shape the future for the better.
Winchester Business School: PRME Champion
A short film showcasing Winchester Business School was shown to more than 400 attendees from PRME schools and universities from all over the world at the
PRME 10th Anniversary Global Forum
in New York in July.
The
Principles of Responsible Management Education
is a United Nations initiative which includes over 300 business schools worldwide. PRME seeks to establish a process of continuous improvement among management education institutions in order to develop a new generation of business leaders capable of managing the complex challenges faced by business and society in the twenty-first century.
Carole Parkes (Professor of Management) and Dr Roz Sunley (Senior Lecturer in Business Management) led the Global Forum's first main plenary session, based on Educating for Responsible Management: Putting Theory into Practice (Routledge, 2016), which was co-edited by Roz Sunley. Professor Parkes led Forum sessions for the Fighting Poverty as a Challenge for Management Education Working Group and the PRME Regional Chapter.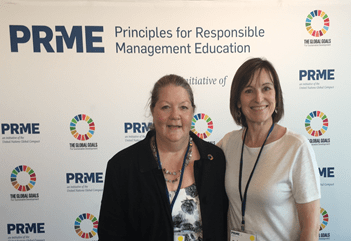 Professor Carole Parkes (left) with Dr Roz Sunley
The opening session of the Forum also saw the launch of the 10th Anniversary PRME Special Issue of the International Journal of Management Education, for which Professor Parkes was guest editor and Professor Neil Marriott, Deputy Vice-Chancellor of the University of Winchester, is editor-in-chief. Read the special issue at this link.

Finally, in the closing session of the Forum Professor Parkes was formally recognised by the United Nations as a Special Advisor to the UN for the PRME initiative. She was also presented with a PRME Pioneer Award for her leadership and commitment in the development of PRME over the last ten years.

Winchester was an early signatory to PRME – the 13th university in the UK to be accepted to join the initiative – and both chairs and hosts the PRME UK and Ireland Regional Chapter. Winchester's stewardship has overseen the Charter's growth from nine to 89 signatory universities in the last ten years.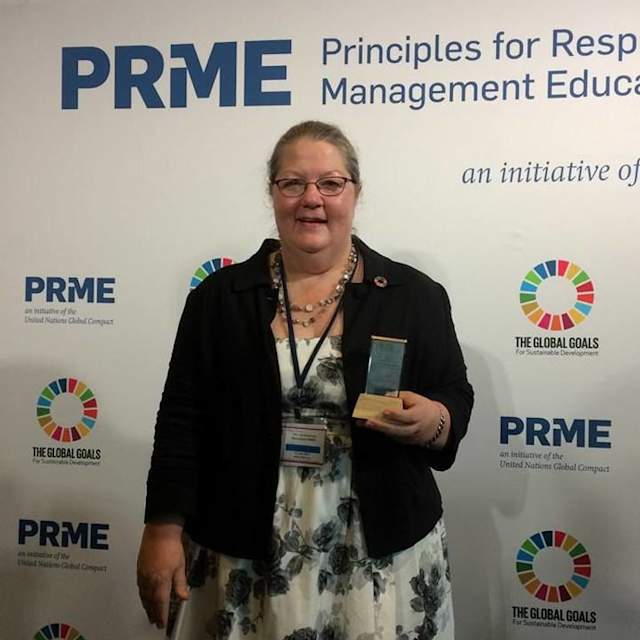 Professor Carole Parkes with her PRME Pioneer Award
Have 'Generation Tagged' lost their privacy?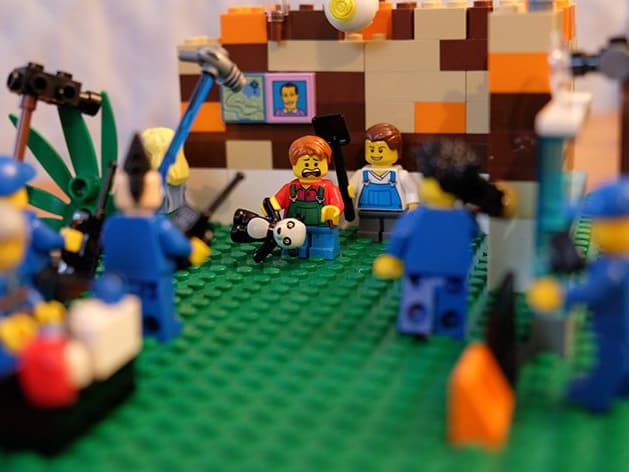 A report by members of the University of Winchester Law department argues that the rise of 'sharenting', YouTube families and 'science entertainment' television programmes like Channel Four's The Secret Life of Four Year Olds has raised important questions about the impact of broadcast and social media on the privacy and best interests of young children.

Have 'Generation Tagged' lost their privacy? contains eight recommendations, including the introduction of a Children's Digital Ombudsman and a limit to the re-contextualising of images and information about children, enforced by new image matching and tracking technologies.

"A child may grow to regret their exposure in the media. We shouldn't put all our eggs in the basket of the so-called 'right to be forgotten'. By the time a child is older, it may be too late." said co-author Dr Marion Oswald, Director of the University's Centre for Information Rights. Find out more.

Download the full report here.
Visiting Fellowship at the University of Helsinki for Winchester sociology expert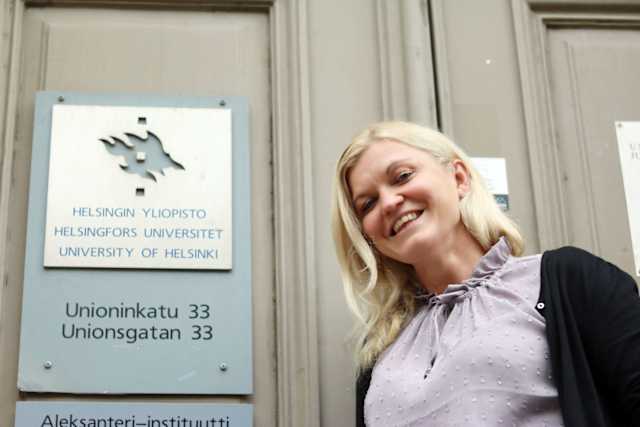 Dr Ulrike Ziemer at the Aleksanteri Institutue
Dr Ulrike Ziemer, Senior Lecturer and Programme Leader for Sociology in the Department of Politics and Society, has been awarded a two-month Visiting Research Fellowship at the University of Helsinki's Aleksanteri Institute. The prestigious Visiting Fellows Programme provides an opportunity for highly-qualified scholars in Russian and Eastern European studies to visit the Institute, which is the Finnish Centre for Russian and Eastern European Studies.

She has also successfully applied to the UCS Institute of Armenian Studies for the project 'Geopolitical challenges and national identity in Armenia: exploring the contours of domestic insecurities and the Russian security discourse' for which she has already conducted ethnographic fieldwork in Gyumri in April 2017.

Ulrike's expertise lies in the sociology of identity and culture, with specific interest in race/ethnicity, diaspora, migration, and women in Russia and the South Caucasus. Her research explores the processes of social transformation in Russian society and more recently in the South Caucasus. Ulrike is currently conducting research on women and socio-political transformations in Armenia and Nagorny-Karabakh.
Winchester Law lecturer provides expert comment on high-profile family law case
Emma Nottingham on BBC Breakfast
Over the last few months, Emma Nottingham, a specialist in family and child law and a University lecturer in Law, has provided expert media comment in the tragic case of baby Charlie Gard who was born with rare genetic disorder mitochondrial DNA depletion syndrome. Charlie died at the end of July after his parents fought a lengthy court battle to prevent his life support being turned off and send him for experimental treatment in the USA.

Emma, who is a member of the Institute of Medical Ethics Research Committee, was interviewed throughout the case on a number of national and regional media platforms, including BBC Radio Five Live, BBC Breakfast and the Victoria Derbyshire show on BBC Radio 2.

Her expertise includes healthcare law, family law, children's rights, medical ethics, bioethics and public interest litigation.
New edition of essential sports text book by University of Winchester authors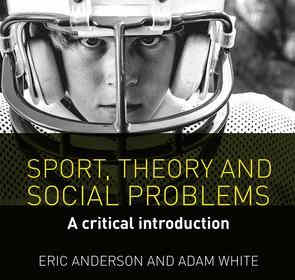 In
Sport, Theory and Social Problems: A Critical Introduction
,
Eric Anderson
(Professor of Sport, Masculinities and Sexualities) and
Adam White
(Doctoral Researcher), both of the
Department of Sport and Exercise
, explore how the structure and culture of sport promotes inequality, injury, and complicity to authority at the non-elite levels of play in Anglo-American countries.
Their focus is on the sociology of sport, sport and social theory, children's health and wellbeing and sport and gender studies. Find out more.
Back to media centre