Research roundup June 2018: Focus on the Faculty of Business, Law and Sport
29 Jun 2018
This month's research roundup looks at activities within the Faculty of Business, Law and Sport, with a focus on research initiatives, new books, papers published and conference presentations.
PRME Working Group on Poverty host international symposium at the European Academy of Management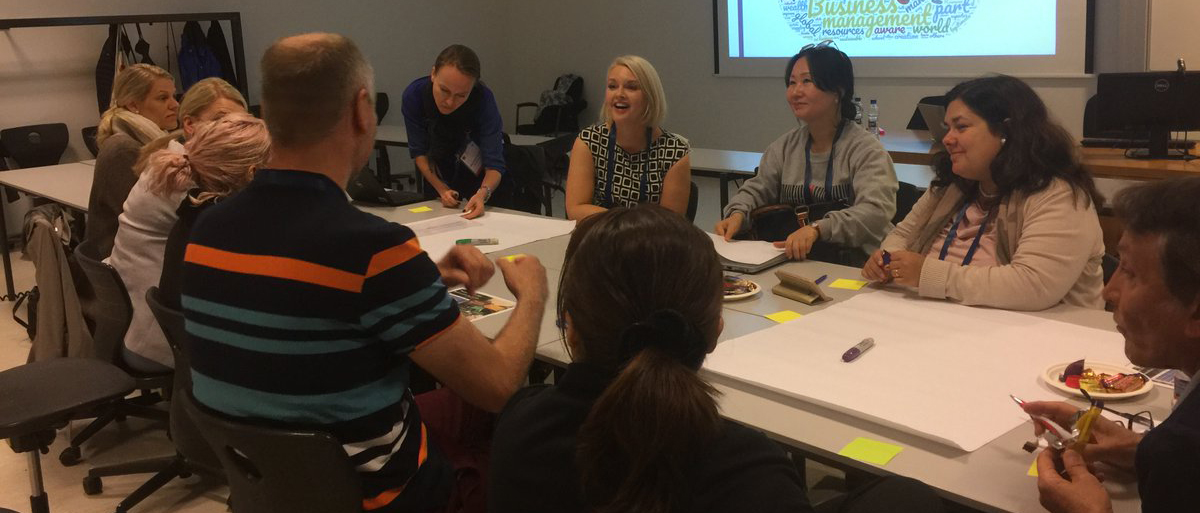 The theme of EURAM 2018, which was held in Reykjavik (19-22 June) was Research in Action - Accelerating Knowledge Creation in Management. Taking up this challenge the PRME working group, including Professor Carole Parkes and Dr Martina Hutton (pictured above centre), hosted a symposium for attendees. The aim of Impact and Action-oriented Research on Poverty and the Sustainable Development Goals was to tackle head on the issue of poverty alleviation (Sustainable Development Goal #1) through innovations in research methods, faculty member success stories, and cross-disciplinary approaches to scholarly publications.
Opening the conference, Katryn Jakobsdottir, the Icelandic prime minister, stressed the importance of research that is more socially responsible and action focused to address pressing social problems related to inequalities and the environment.
Three symposium topics were explored during the term of the conference, including how the PRME Anti-Poverty Working Group's 2017 global survey (replicated and developed from 2012) on the integration of poverty into business/management education uncovered numerous success stories of faculty members changing the learning outcomes for students vis-a-vis poverty and SDG #1.
TRILCON 2018: 'Fake news' and the Dark Net under the spotlight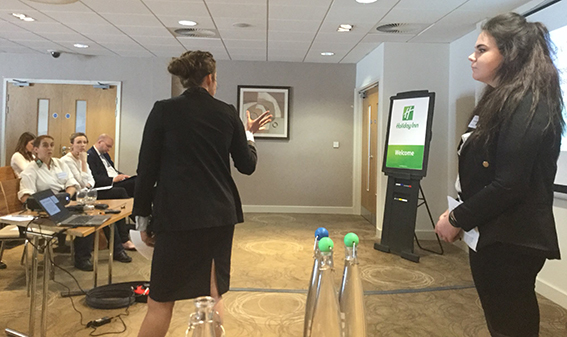 Around 70 attendees, practitioners, policy-makers and academics from a number of disciplines attended the fifth annual Trust, Innovation and the Law Conference (TRILCON) 2018 in Winchester in April.
Hosted by the University's Centre for Information Rights, TRILCON explored the impact of digital technologies and Big Data on the political process. Keynotes were Chief Constable Mike Barton, Durham Constabulary, national policing lead for crime, who gave a wide-ranging talk including his views on the disruptive effect of Internet companies, and Jamie Bartlett, author, commentator and Director of the Centre for the Analysis of Social Media who discussed how society and politics might adapt to the digital future.
Breakout sessions included 'The Transparent Person on Trial', research by Visiting Fellow in Big Data and Public Engagement, Timandra Harkness with two second year Law Winchester Research Apprenticeship Programme students, Scarlett Bradley and Poppy Watson (pictured presenting above).
The conference also included the launch of the Law Department's new Centre for Parliament and Public Law, led by Dr Craig Prescott. Presenters were invited to submit full papers for a special issue of the online journal, Information Rights, Policy and Practice.
Peer teaching in accounting and finance programmes

Alison Bonathan, senior lecturer in financial reporting in the Department of Accounting, Finance, Mathematics and Economics, is currently conducting research into peer teaching on an Accounting and Finance undergraduate degree with three of her students: Lauren Vincent, Jennifer Matthews and Marianne Hægeland (shown left to right above with Alison far right).
Initial findings suggest peer-led sessions can be beneficial to the programme as a whole, as well as to individual students. Benefits found include increased cohesion and conviviality across the student body and more timely reporting of student issues to programme staff.
They presented the research so far to the British Accounting and Finance Association Accounting Education conference in May. Alison says: "We received some excellent feedback from delegates at the conference, in particular because undergraduate students were involved in the work. I feel this work is going to help programme design, but also demonstrates Winchester's commitment to students as co-creators."
New books published on Green events and tourism and International events management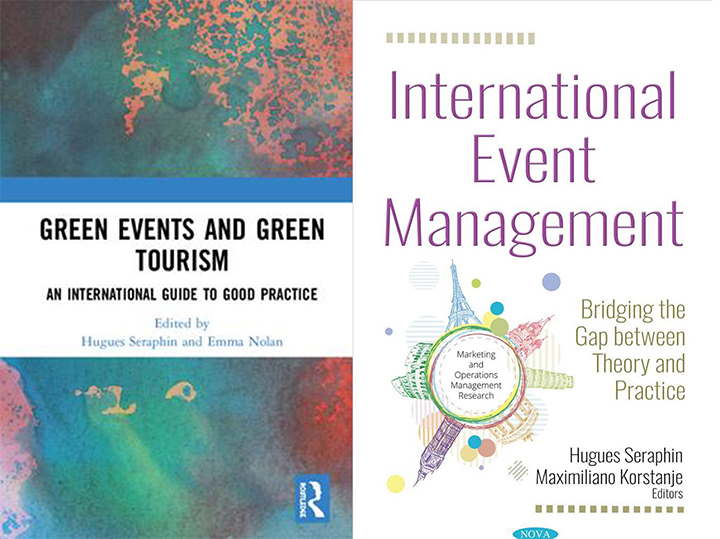 The latest book by Dr Hugues Seraphin, Green events and green tourism: An international guide to good practice, explores the impact of the fast-growing tourism and travel market on the environment and local communities. The book looks at Green approaches to tourism and events, sustainability in practice and new approaches to business, including the Green management of outdoor sites, through case studies and best practice from around the globe.
Also from Hugues, senior lecturer in the Department of Marketing, Event Management and Project Management, comes International events management: bridging the gap between theory and practice, co-edited with Maximiliano Korstanje, University of Palermo, Argentina).
The book provides solutions and strategies for the organisation of successful events and is one of the recommended texts for the Event Management programme. One of the chapters is written by a student who graduated from the programme.
In addition, Hugues' sole authored articles Tourism planning and innovation: The Caribbean under the spotlight and Destination Management through Organisational Ambidexterity: A Study of Haitian Enclaves have been published in the Journal of Destination Marketing and Management.
Law expert supports public engagement with the real-world impacts of Artificial Intelligence

Marion Oswald, senior fellow in the Department of Law, has been invited by the Royal Society of Arts to take part in their joint project with DeepMind, a Forum for Ethical AI, which sees a series of citizens' juries exploring the use of Artificial Intelligence to make decisions. Marion gave expert 'evidence' alongside the Head of Justice from Durham Constabulary in the first event in Birmingham on 12 May.
Marion's involvement in the project builds on research she is already undertaking with Durham Constabulary to develop a guidance framework of some of the key legal and practical concerns that should be considered in relation to the use of algorithmic risk assessment tools by the police.
Whole Earth exhibition launched by Centre for Climate Change Education and Communication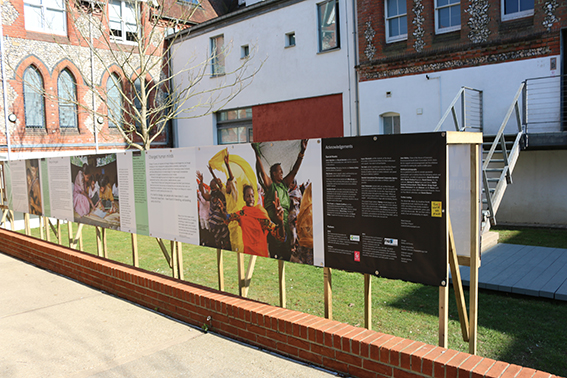 The Centre for Climate Change Education and Communication, led by Dr Tammi Sinha, senior lecturer in the Department of Marketing, Event Management and Project Management, launched the Whole Earth exhibition at West Downs at the end of April. Whole Earth invites students to join the debate about the Earth's future by presenting thought-provoking images of the Earth as it is now. Combining art and science, it aims to help students understand the environmental threats to Earth and showcase some of the solutions universities are developing to counter these. The installation will be in situ in the courtyard at West Downs until July and will then move to the King Alfred Quarter until December 2018.
In addition, Tammi has been presenting at various events to promote awareness of the Centre and share ideas and best practice.
HELP Hampshire initiative to improve the health of stroke survivors
Dr James Faulkner, Reader in the Department of Sport, Exercise and Health, is leading a new initiative as part of the Sport and Exercise Research Centre.
The Health-Enhancing Lifestyle Programme (HELP) for Stroke in Hampshire is a community-based exercise and education clinic, designed to improve the health and quality of life of stroke survivors.
A HELP Hampshire Stroke clinic is currently in the planning stages. The clinic will consist of an eight-week personalised exercise programme, with participants advised to take part in at least two group-based sessions each week. Stroke survivors will be referred to the clinic from Hampshire Hospitals NHS Foundation Trust and local GP and physiotherapy practices. The exercise sessions will be complemented with online educational material. HELP Hampshire hopes to expand to offer a range of clinics including paediatric and cardiac, a falls clinic and a healthy ageing clinic.
Business, Law and Sport academics conference presentations
Professor Maria Burke presented at the 27th Annual Conference of the International Association for Management of Technology held at Aston University in March. The conference brought together researchers, scholars and industry participants from around the world to share their experiences and latest research results in all aspects of technology management, technological innovation, engineering economics, industrial development and sustainability.
Maria presented a paper with colleagues from South America (Claudia Jimenez-RamIrez from the Computer Science Department at the National University of Colombia (pictured above left with Maria) and Ivonne Elizabeth Rodriguez from the Facultad de Informática y Electrónica, Escuela Superior Politécnica del Chimborazo, Ecuador). The paper, An Exploratory Study Regarding Open Data In Developing Countries, discussed the results of a study concerning an exploratory analysis of several government 'open data' sites in Colombia, Ecuador, Mexico and Peru. The results highlighted the need - despite current standardisation efforts - for an integrated management system which will ensure consistent, accurate, quality of metadata for published open data statistics.
Maria also presented the opening keynote at a conference at Fitzwilliam College, Cambridge. Maria's keynote covered a range of issues dealing with the impact of technology in the twenty-first century. Delegates from all over the world attended the conference which was based around systems, environment sensitivities and sustainability. The aim is to form a new international community forum in this area.
Dr Martina Hutton, senior lecturer in the Department of Marketing, Event Management and Project Management, is presenting a paper Researching at the Edges: Emancipatory Praxis for Societal Impact at the Academy of Marketing Conference 2018 at University of Stirling Management School in July. The best papers from the workshops will be developed into full papers and submitted for review for publication in a special issue of The European Journal of Marketing.
Hugues Seraphin and Marie Haverly, lecturer in the Department of Marketing, Event Management and Project Management, are presenting their paper Rethinking Event Management Education Anatomy in England - Toward the Emergence of Wedding Planning in Curriculum at the Association for Events Management Education (AEME) conference Events Education and Research: Coming of Age on 4-5 July at Leeds Beckett University.
Back to media centre