Top customer service accolade for Estates and Facilities Services
15 Jan 2020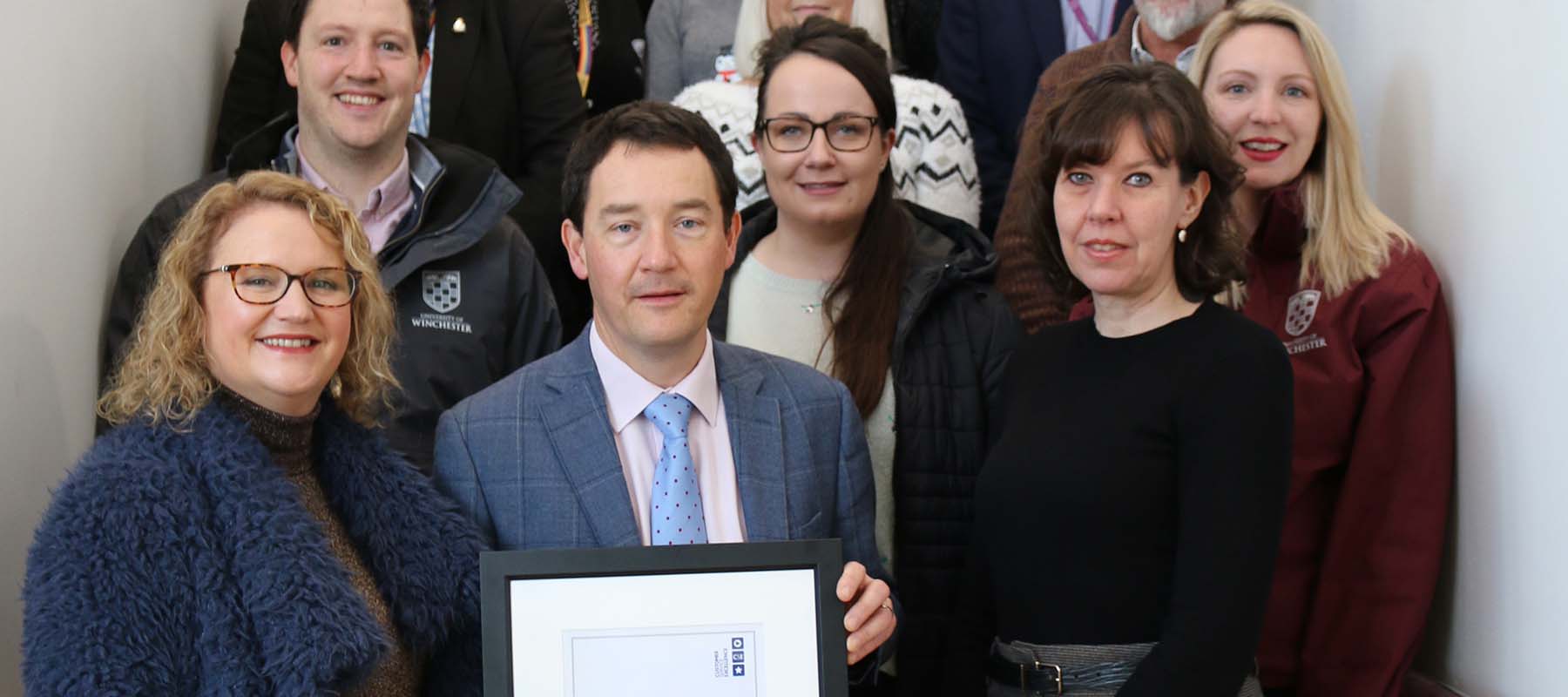 The University of Winchester's Estates and Facilities Services (EFS) department has been awarded the Cabinet Office Customer Service Excellence accreditation for the high quality of its customer services.
The department - the largest professional services department in the University, with around 200 members of staff and seven sections - is one of the University's key operations encompassing catering; student housing services; campus management; maintenance; security, conferences; major capital building projects and reception services, amongst others. The department's customers range from students and staff to external users of the University's high-quality meeting, accommodation and conferencing facilities.
The Customer Service Excellence (CSE) accreditation is a nationally-recognised, government-backed accreditation that helps organisations to put customers at the forefront of their business. It measures areas of service which are important to customers, including service delivery, timeliness, information, professionalism and staff attitude. There is also an emphasis placed on how organisations know what their customers need, how they understand the customer experience and how they measure satisfaction with their service.
Justin Ridgment, Director of Estates and Facilities Services, said: "EFS has always put customers at the heart of everything we do and achieving this independent external accreditation formally recognises and celebrates our commitment to and delivery of customer service."
"Achieving the Standard is a tangible indication of areas where we are excelling. It has also brought many benefits, such as closer engagement with our customers and a greater understanding of how and where we can improve. It will continue to drive our improvements in the future and will help us to continue to meet and exceed our customers' expectations."
Beginning at the end of 2017, a 25-strong Champion group - made up of a lead and deputy from every EFS section - pulled together a self-assessment report and supporting evidence to meet the 57 different CSE Standard criteria, looking at whether services are efficient, effective, excellent and equitable. The final assessment saw a visit by an assessor to meet staff to discuss and validate the evidence.
The assessor's report stated: "Following the assessment, the University of Winchester Estates and Facilities Services were found to have a deep understanding of, and commitment to, Customer Service Excellence. The commitment was displayed from senior management levels through to operations and frontline staff. I would like to take this opportunity to thank everyone involved in the overall assessment process. It has been a pleasure meeting with your team and having the opportunity to observe your service in action."
For more information about the Cabinet Office Customer Service Excellence Standard, visit: www.customerserviceexcellence.uk.com
A print-ready photograph of members of the University's EFS department champions with the award is attached.
Photo: EFS Cabinet Office Customer Service Excellence Award champions with (centre front, left to right): Claire Mitchell, Head of Facilities and Business; Justin Ridgment, Director of Estates and Facilities Services; Liz Sanders, Administration Manager.
Press Office | +44 (0) 1962 827678 | press@winchester.ac.uk | www.twitter.com/_UoWNews
Back to media centre