University exercise expert aids in development of health and wellbeing resilience programme for older people
20 Nov 2020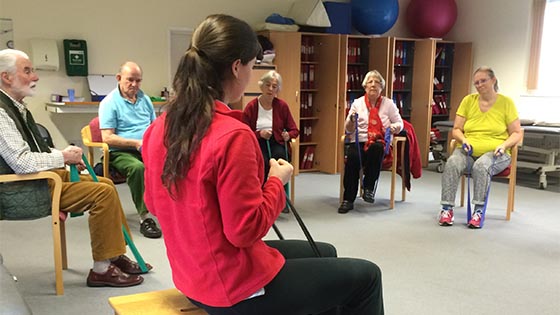 A University of Winchester expert in sport and exercise is one of the contributors to a major new national report which is recommending a National Covid-19 Resilience Programme to improve the health and wellbeing of older people. Older individuals are at higher risk of severe illness from coronavirus – making the report launched during the pandemic by the Parliamentary and Scientific Committee vital to ensure quality care can be provided.
Academic Dr James Faulkner, Reader in Sport and Exercise Physiology was a contributing member on the expert panel of this joint report; a collaboration between the Physiological Society and the Centre for Ageing Better. Through his work with HELP Hampshire Stroke Clinic, he has been continuously providing provisions for the ongoing improvement of physical activity, mental health and wellbeing for those less able during Covid-19; making him a prime candidate to be selected for the panel of this report.
Following the lockdown imposed on 23 March 2020, Dr Faulkner was part of the team of researchers led by the University of Winchester, that launched a study to examine the effect of the Government's lockdown strategy on the population's physical activity levels and wellbeing during the Covid-19 pandemic.
Dr Faulkner said: "Our Covid-19 research has shown that different population groups are affected by the restrictions that lockdowns impose in different ways. We have seen that reductions in physical activity participation due to lockdown is negatively associated with changes to mental health during this challenging time, with older adults potentially particularly vulnerable to this."
This study allowed researchers to be better prepared to advise how best to support people in achieving and maintaining optimal health and wellbeing should we encounter future lockdowns. The study has also has helped to shape the content and recommendations of the Government report for the proposed National Covid-19 Resilience Programme for Older Adults.
The National Covid-19 Resilience Programme includes the following recommended actions to improve the health and wellbeing of older people during the pandemic:
Encourage appropriate exercise – with tailored exercise programmes and intervention to support increased activity levels
Support optimised nutrition – through clear guidance about the importance of a healthy balanced diet
Enhance mental health and wellbeing - using communities, both virtual and physical, to counter loneliness and isolation
Embed behaviour change – enlist the help of relatives, care workers and other professionals to reinforce the messages above around resilience, when interacting with older people.
The report sets out the hope that the Resilience Programme will be supported by a digital platform and national broadcasters, through regular televised activity classes.
Press Office | +44 (0)1962 827678 | press@winchester.ac.uk | www.twitter.com/_UoWNews
Back to media centre