University of Winchester and Hampshire County Council celebrate Hampshire Pride
13 Feb 2017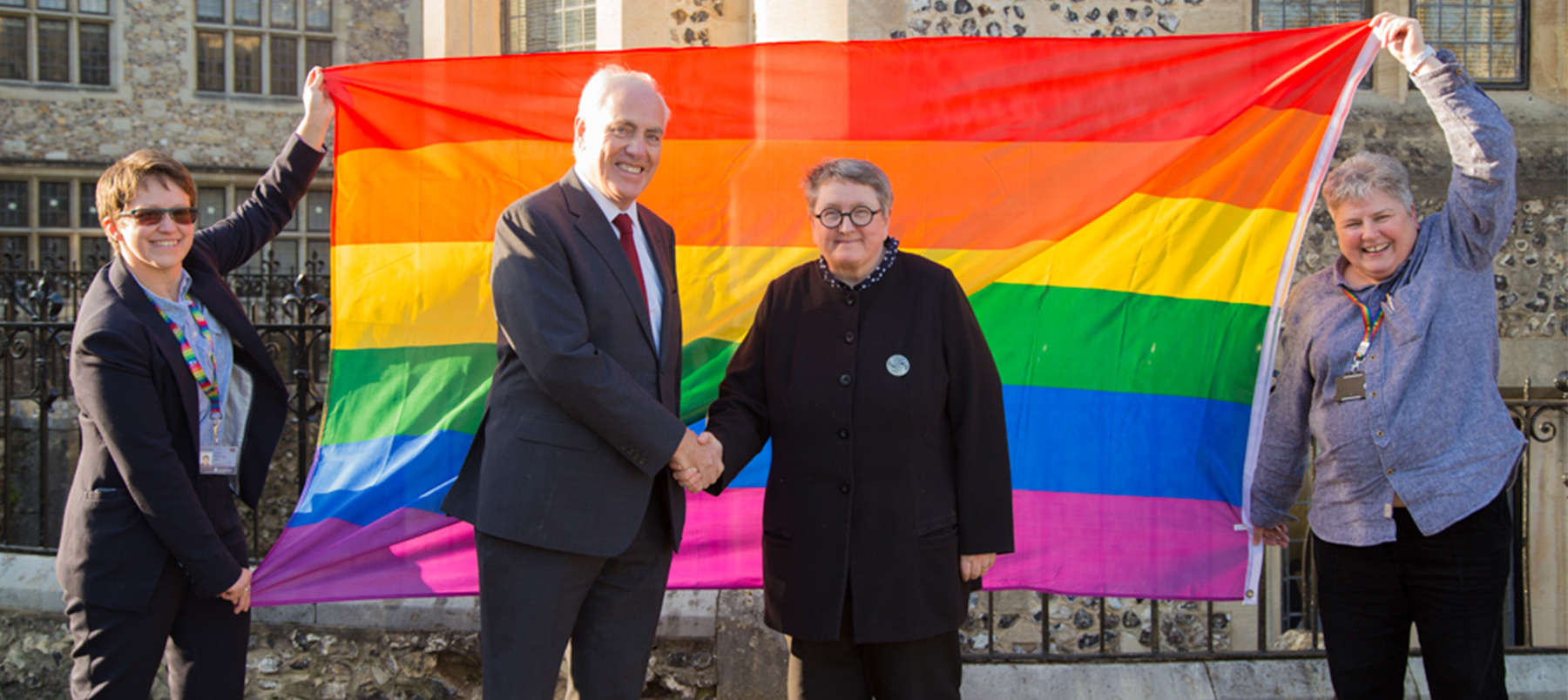 The University of Winchester and Hampshire County Council are joining forces to celebrate diversity and inclusion, at the third annual Hampshire Pride in Winchester on Saturday 25 February 2017.
Organised by the University of Winchester's LGBTI Spectrum Student, Staff and Allies Network and Hampshire County Council's Lesbian, Gay, Bisexual and Transgender (LGBT) employee network,
Hampshire Pride
brings together people from across the county to highlight the contribution of the LGBT community through a number of events, including a symposium and the Pride Parade in Winchester.
Around 300 members and supporters of the LGBT community took part in last year's Pride Parade, in a show of unity to promote the Hampshire Pride mission and values of community, inclusivity and solidarity.
Hundreds of people are again expected to parade from the University of Winchester at 2pm, through the streets of Winchester, to Hampshire County Council's Elizabeth II Court building. From 3pm, the venue will play host to a variety of stalls by local businesses, charities and community groups, as well as a café and canteen - together with street performances.
Throughout Pride week, the Rainbow Flag will fly outside Winchester's Great Hall - and at the County Council's headquarters building, on the day of the Pride Parade.
Leader of Hampshire County Council, Councillor Roy Perry, said: "Hampshire County Council has a long history of being an equal opportunities employer, and we are committed to continuing to improve our approach to delivering inclusive, equal and diverse services. We are delighted to be supporting Hampshire Pride in its third year - and very proud to be able to help bring together people from all walks of life, to respect, embrace and celebrate each other's differences in this celebration of inclusiveness and acceptance."
Professor Elizabeth Stuart, Deputy Vice-Chancellor and Senior Diversity Champion at the University of Winchester, said: "Hampshire Pride embodies inclusion and diversity, both of which are values dear to the heart of the University. We are proud to support this year's Pride Parade and other events, and to celebrate LGBT History Month in partnership with colleagues from Hampshire County Council."
The Pride festival celebrations will continue with an after party at Winchester Guildhall from 7.30pm.
The photo above shows (left to right): Sarah-Louise Collins, Director of Widening Particpation, University of Winchester; Councillor Roy Perry, Leader, Hampshire County Council; Professor Elizabeth Stuart, Deputy Vice-Chancellor, University of Winchester, and Moira Smyth, Chair, Hampshire County Council LGBT employee network.
Pride Parade programme for Saturday 25 February
1pm - Assemble at the University of Winchester
2pm - Parade departs from University of Winchester
3pm - Indoor Street Party, Hampshire County Council
7.30pm - Pride Party, Winchester Guildhall
LGBT History Month events organised by the University of Winchester include:
An LGBT+ exhibition hosted by the University of Winchester's
Modern History Research Centre ​
in partnership with Winchester Discovery Centre, highlights some new and recent research by young historians from different universities around the country. The exhibition is on display at Winchester Discovery Centre until 28 February.
The Hampshire Pride LGBT History Symposium, hosted by the University of Winchester's
Centre for Gender Studies​
, features two different parts of LGBT history: lesbianism in the nineteenth century and the masculinity and heteronormativity of the Viking Age. The Symposium takes place on Thursday 23 February from 7pm-9pm in Room 004, St Alphege Building, King Alfred Campus, University of Winchester, Sparkford Road, Winchester, Hampshire SO22 4NR.
During LGBT History Month, a number of events are also taking place at Winchester Discovery Centre:
16 February 2017: Screening of the Rocky Horror Picture Show
Ends
Back to media centre