University of Winchester becomes first UK university to secure green finance for campus development
29 Jun 2018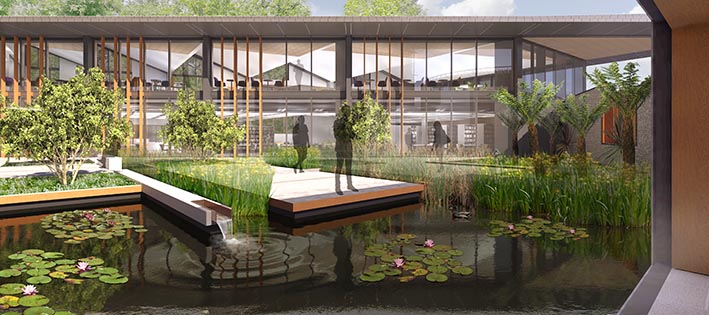 Lending has today been confirmed to fund a landmark new building at the University of Winchester's West Downs Quarter.
A £30m loan from Triodos Bank, Europe's leading sustainable bank, will ensure that the development, which includes a 250-seat auditorium and will increase teaching and support floor space by 20 per cent, will be completed for the 2019-2020 academic year.
The new building boasts cutting-edge sustainability features including:
Combined heat and power plant
Heat recovery systems
Solar photovoltaic panels
Rainwater harvesting
Green roof
Bat and bird boxes to promote biodiversity
All electricity used to power the building will be bought from renewable sources
Once complete, the building promises to achieve a BREEAM 'Excellent' rating, with 'Outstanding' credits for energy contributing to the University's ambition to become the most sustainable higher education institution in the UK.
The £50m development will also feature an art gallery, café, food hall, library and social learning areas. Award-winning Winchester-based architects, Design Engine, have been commissioned to design the building, which will also house the University's Digital Futures computer and digital-related degree programmes.
Professor Joy Carter CBE DL, Vice-Chancellor of the University of Winchester said: "We think it's incredibly important that higher education institutions take social responsibility seriously. That's why we put our ambition to be the most sustainable university in the UK at the centre of all the decisions we make. It is reflected in everything we do from the courses we offer, to the business decisions we make.
"This project – the most ambitious in our history – typifies our commitment to this cause and is made even better by receiving funding from such a like-minded and values-driven bank."
The University projects that the highly-efficient new building will help to deliver its ambitious interim 2025 carbon reduction targets, having already achieved a 45 per cent reduction in carbon emissions by floor area across its estate since 2006/07.
Rebecca Pritchard, head of business banking at Triodos Bank UK, said: "There is a huge opportunity to promote large-scale positive change in the education sector. This is our first loan to a UK university and it represents a significant moment in the bank's history by highlighting our commitment to supporting pioneering educational institutions. Higher education is a cornerstone to building a more sustainable and inclusive society, and in the coming years we are looking forward to working with more universities that are aligned with this mission."
In 2017, approximately 650,000 individuals benefited from the work of 455 education initiatives financed by Triodos Bank. However, the landmark £30 million loan represents a milestone for the bank's commitment to higher education by being the first loan made to a UK university.
Triodos Bank is a global pioneer in sustainable banking using the power of finance to invest in projects that are good for people and the planet. Triodos uses its €14.5 billion (2017) in assets to create social, environmental and cultural value in a transparent and sustainable way.
With UK operations based in Bristol, Triodos Bank has branches in the Netherlands, Belgium, Spain, Germany and an agency in France. Globally, Triodos Bank has microfinance projects in Central Asia and Eastern Europe, and is a founding member of the Global Alliance for Banking on Values (GABV), a worldwide network of 43 banks seeking to transform finance into a vehicle of positive influence.
CGIs courtesy Design Engine Architects
Back to media centre